Sports Blackouts Could Be Gone by Next Year's First Kickoff
The FCC might change its broadcasting rules to keep games on the air — even when they're sparsely attended.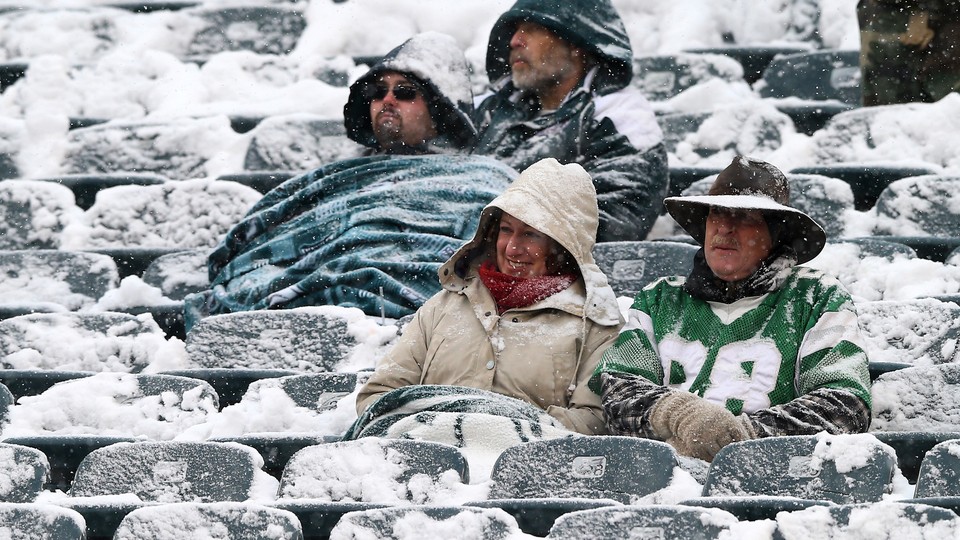 Take heart, Chargers fans (wherever you are). By next year, the NFL may no longer be able to prevent you from watching your team's games — even if Qualcomm Stadium is full of empty seats.
The Federal Communications Commission announced Wednesday it is proposing to roll back rules that keep pay TV providers from showing games that are blacked out on local stations. Currently, the NFL keeps games off of local airwaves if less than 85 percent of tickets are sold. It's helped out by the FCC, which prevents cable and satellite providers from bringing blacked-out viewers their game if the local network is barred from showing it.
But that could be about to change. The rationale behind the rule — teams' reliance on ticket sales as a revenue source — is outdated, FCC says. A 1975 finding from the agency posited that an imported signal of a local game could cause gate receipts to plummet. Blackout-free broadcasts, the thinking went, would cause teams to stop selling airing rights to their games, forcing fans to attend in person. But increasing revenues from broadcast rights — The Los Angeles Dodgers just earned $7 billion for a deal with Time Warner Cable — make such a scenario unlikely.
"Changes in the marketplace raised questions about whether these rules are still in the public interest, particularly at a time when high ticket prices and the economy make it difficult for many sports fans to attend games," said an FCC official. The agency's report singled out the NFL — the source of most blacked-out games — and noted its climbing broadcast profits. "[T]he importance of gate receipts has diminished dramatically for NFL clubs in the past four decades, particularly in relation to television revenues," it stated.
Several groups quickly voiced support. "Eliminating these rules is a small, but important step," said Public Knowledge attorney John Bergmayer. "[T]he FCC should not be in the business of putting its thumb on the scales in a way that harms viewers."
But allowing cable subscribers a blackout work-around not offered to over-the-air viewers isn't fair, says one broadcasters' group. "We're concerned that the FCC proposal may hasten the migration of sports to pay-TV platforms," said the National Association of Broadcasters' Dennis Wharton. "Allowing importation of sports programming on pay-TV platforms while denying that same programming to free broadcast-only homes would erode the economic base of local television."
The proposed change will first go through a 30-day public comment period, followed by another 60-day period for replies. After a review, the proposal would then have to earn the support of a majority of commissioners before taking effect.
Sens. John McCain, R-Ariz., and Richard Blumenthal, D-Ct., proposed legislation in November to limit blackouts. McCain took to Twitter to praise FCC's proposal.