Somehow, Americans Think Congress Can Do Something in 2014
United Technologies/National Journal Congressional Connection Poll finds that many people see a chance for lawmakers to pass immigration, even gun control.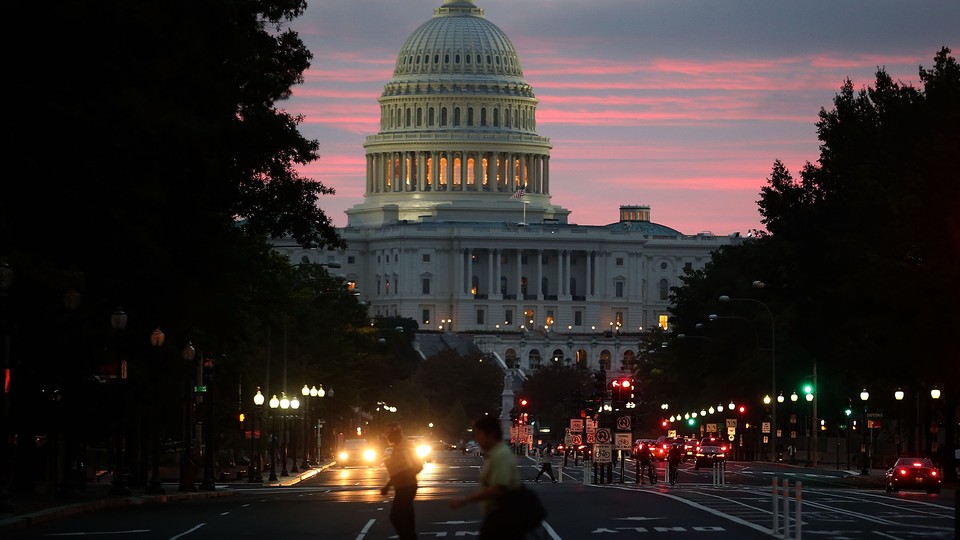 Despite dismal productivity in 2013 and what looks to be a disruptive 2014 campaign season, more Americans than not believe Washington can enact major legislation next year, even on the most divisive issues.
The latest United Technologies/National Journal Congressional Connection Poll found people are optimistic about the odds that Congress can pass gun-control and immigration legislation in 2014. But respondents were decidedly more pessimistic about whether Washington could enact major fiscal reforms.
Those attitudes stand in stark contrast to an astounding level of gridlock in Washington this year, which saw the fewest public laws enacted since at least 1947, recorded the first government shutdown in 17 years, and drove congressional approval ratings to record lows.
Of all survey respondents, 56 percent said they thought it was "very" or "somewhat" likely that Congress and the president enact legislation "creating jobs by increasing federal spending on infrastructure projects like roads and bridges" in 2014, while 39 percent see that as "not too likely" or "not at all likely."
Another majority — 53 percent — said they thought it was at least somewhat likely Congress would pass gun-control legislation requiring "universal background checks on all gun sales" next year, while 43 percent thought it was less likely. A bipartisan Senate bill that would have mandated a less strict expansion of background checks was blocked in April.
Americans also see immigration reform that increases border security and provides "a pathway to citizenship for people in the U.S. illegally" as more likely to pass than not in 2014, this time by a narrow plurality: 49 percent of respondents said such legislation was very or somewhat likely to be passed and signed in 2014 while 46 percent said it was more unlikely. The Senate passed such a bill in June but the House has not taken action on comprehensive legislation in this Congress.
Optimism on those policy fronts is tempered: In every category, respondents who thought action was "somewhat likely" outnumbered those who thought it "very likely." (Just 17 percent of respondents said increased infrastructure spending was "very likely" compared with 39 percent who thought it somewhat likely. See the graphic for more.)
And those opinions are matched by a distinct lack of faith in action on other fronts: When asked about the chance of Washington approving deficit-reduction legislation in 2014, "even if that means raising taxes and cutting spending," 42 percent said that was very or somewhat likely, while 53 percent said it was "not too likely" or "not at all likely." On the subject of job creation by way of cutting taxes and reducing regulation, just 32 percent said they thought it was very or somewhat likely to happen, while 63 percent thought it was more likely not to happen. The Republican-controlled House and the Democratic-controlled Senate have consistently failed to come to terms on fiscal matters so far this year, though several bipartisan groups are currently working on compromise tax-and-spending measures.
Americans also see repeal of President Obama's health care reform law as unlikely: 56 percent of respondents thought repeal was "not too" or "not at all" likely while 39 percent thought it was very or somewhat likely to happen in 2014. Even Republican respondents, whose elected officials have made Obamacare repeal a top priority, don't think that the president's signature law will be repealed next year: 57 percent of them rated that outcome as "not too likely" or "not at all likely."
Several groups — 18-to-29-year-olds, those making less than $50,000 per year, and nonwhites — demonstrated consistently higher expectations about Washington's productivity in 2014, while several other groups that tend to be bigger consumers of news, including those with college degrees and older white respondents, were collectively more pessimistic about Congress's chances for legislative accomplishment next year.
The patterns largely held regardless of those groups' preferences about the policies. For example, just 29 percent of whites over 50 think the successful repeal of Obamacare is at least somewhat likely in 2014, compared with 39 percent of all respondents, even though a majority of older whites said that they would be pleased to see Obamacare repealed (in response to another question). Meanwhile, younger respondents were more confident in Washington's ability to act on each policy question by margins of at least 8 percentage points over the general pool of respondents.
The United Technologies/National Journal Congressional Connection Poll, conducted by Princeton Survey Research Associates International, surveyed 1,003 adults by landline and cell phone from Nov. 21-24. It has a margin of error of plus or minus 3.6 percentage points.