Some Americans Will Get an Individual-Mandate Delay After All
Anyone who lost their plan and has no new coverage—about 500,000, according to the administration—will receive an exemption from Obamacare's obligation to be insured.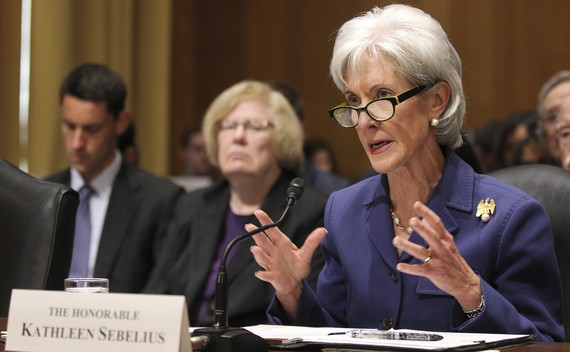 The Obama Administration will not require the millions of Americans who received health-insurance-plan cancellation notices to purchase a new policy next year.
They're granting those consumers an exemption from the Affordable Care Act's individual mandate, a Department of Heath and Human Services spokeswoman confirmed. The mandate requires everyone to have health insurance or face a tax penalty, the greater of $95 or 1 percent of income in 2014.
The administration will also allow those consumers to sign up for catastrophic coverage. Those bare-bones plans are available to people who are under 30 or qualify for a "hardship exemption."
HHS Secretary Kathleen Sebelius wrote in a letter to Senator Mark Warner, Democrat of Virginia, that the administration is granting a "hardship exemption" to Americans whose plans were canceled and "might be having difficulty" paying for standard coverage.
The allowance comes after months of political fallout from the president's promise that "if you like your plan, you can keep your plan," which proved untrue this fall after millions of people received notices from insurance companies informing them that their current policies did not meet coverage requirements under the new law and therefore would not be offered next year.
Problems plaguing sign-ups on the federal-exchange website Healthcare.gov added to the pressure. With the deadline to sign up for coverage beginning January 1, just days away, the move could help the law's favorability rating among consumers—and save the skin of congressional Democrats facing challengers in next year's midterm elections.
Earlier this fall, a group of Democratic senators sent the administration a letter asking for clarification on the "hardship exemption."
Warner—alongside Democratic Senators Jeanne Shaheen of New Hampshire, Mary Landrieu of Louisiana, Heidi Heitkamp of North Dakota, and Tim Kaine of Virginia, and independent Angus King of Maine—said that individuals who received plan-cancellation notices and considered their new premiums unaffordable should qualify for the exemption and be able to purchase a catastrophic plan. Landrieu and Shaheen are both facing reelection next year.
The White House estimates the allowance will affect roughly 500,000 people, whom it has determined received cancellation notices but have not yet purchased a new plan. The number was released late Thursday after officials compiled data from states and insurance companies.
But the deal for consumers is yet another burden for insurers, who earlier this week went along with the White House's request to grant leniency to consumers paying premiums in January. Consumers will now be allowed to send payments until January 10 and receive coverage retroactively to January 1.
This change could have a more long-term impact. Catastrophic-coverage plans were priced with a 30-and-under consumer base in mind. And with thousands who were barred from the market due to preexisting conditions expected to purchase the new coverage, allowing people who already had coverage to go without it could upset the balance of the risk pool. The Affordable Care Act exchanges need enough healthy people to balance out the costs of care for the sick or premiums could rise in 2015, creating a "death spiral" and jeopardizing the law's success altogether.
Consumers have until 11:59 p.m. EST on December 23 to sign up for coverage that begins January 1.