Senate Moves Closer to a Budget Deal
Cloture vote is approved, paving the way for final passage later this week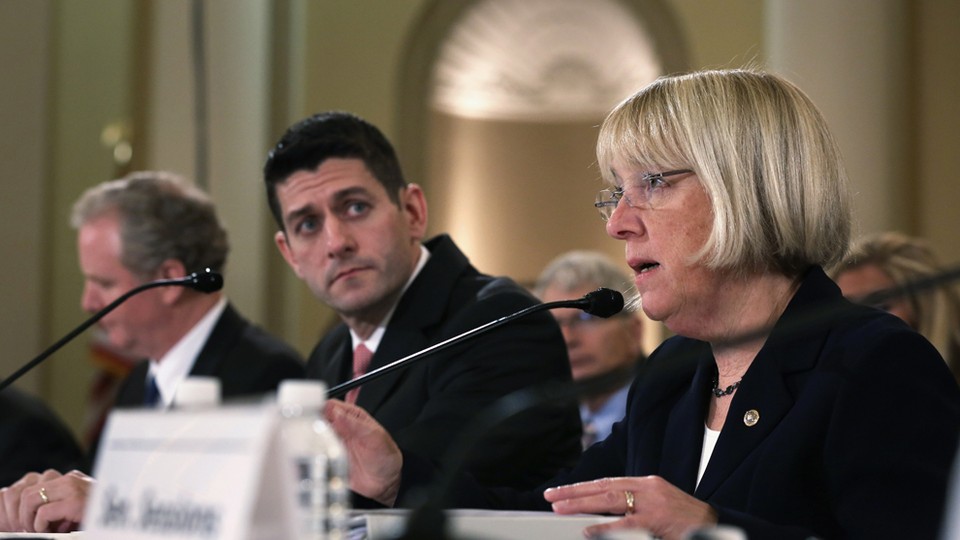 The Senate moved closer to passing the bipartisan budget agreement Tuesday, invoking cloture on a 67-33 vote and setting up final passage for later this week.
A dozen Republicans joined Democrats to clear the 60-vote threshold needed to invoke cloture and send the bill to the floor, where it is expected to pass easily, likely on Wednesday, when just a majority is needed.
"This deal is a compromise, and it doesn't tackle every one of the challenges we face as a nation. But that was never our goal," Sen. Patty Murray said on the Senate floor shortly before the vote. "This bipartisan bill takes the first steps toward rebuilding our broken budget process. And,  hopefully, toward rebuilding our broken Congress."
With Democratic leadership backing the deal brokered by Murray, the cloture vote represented the last chance Senate Republicans had to derail the budget agreement over their concerns, which include busting the Budget Control Act caps and making cuts to military retirement accounts.
But Republicans reasoned that blocking the deal would amount to shutting down the government again come January, because of the difficulty of passing any spending framework through the divided Congress and a Democratic White House. The wide margin in last week's House vote, in which a majority of Republicans approved it, also gave Senate Republicans cover to vote in favor of the bill.
The Republicans who supported the cloture vote were Sens. Lamar Alexander of Tennessee; Roy Blunt of Missouri; Saxby Chambliss and Johnny Isakson of Georgia; Susan Collins of Maine; Jeff Flake and John McCain of Arizona; Orrin Hatch of Utah; John Hoeven of North Dakota; Ron Johnson of Wisconsin; Lisa Murkowski of Alaska; and Rob Portman of Ohio. Several of those senators have already indicated that they will not vote for the final bill, although that will not pose a danger to the agreement.
Some Democrats worried that the final deal did not include an extension of unemployment insurance benefits, which expire shortly after Christmas, but their opposition wasn't enough to stop the deal from moving forward. Majority Leader Harry Reid has said the Senate will take up the issue when the Senate returns from the holiday break.
With the White House signaling its approval of the measure, Congress will turn to the appropriations process next. The House and Senate Appropriations Committee chairmen — Rep. Harold Rogers, R-Ky., and Barbara Mikulski, D-Md. — have already begun stitching together an omnibus spending bill. Mikulski said her committee will meet the Jan. 15 deadline to fund the government.