Sen. Lamar Alexander's Chief of Staff Put on Leave Following Child Pornography Allegations
The Tennessee Republican is "stunned" about his staffer, Ryan Loskarn.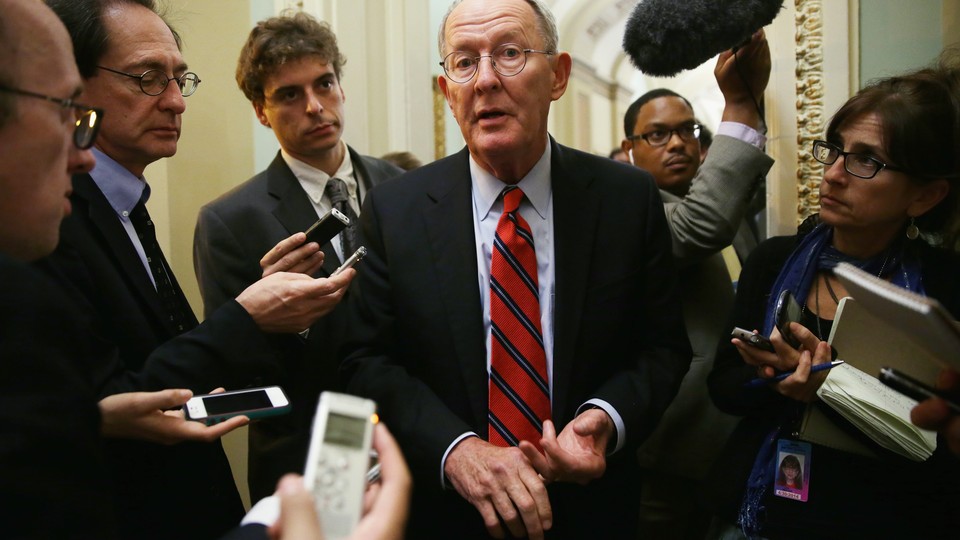 Sen. Lamar Alexander, R-Tenn., sent out a release Wednesday morning announcing that his chief of staff, Ryan Loskarn, is being put on leave over allegations involving child pornography. "I am stunned, surprised and disappointed by what I have learned," the senator said in a statement.
Loskarn, 35, was arrested in the afternoon by the Postal Inspection Service "based on probable cause for possession and distribution of child pornography charges," said Justice Department spokesman Peter Carr.
Loskarn is in custody pending a court hearing, expected Thursday at a federal courthouse in D.C.
Alexander's office announced Wednesday morning that Loskarn is on leave without pay, and the senator's office is fully cooperating with the investigation. Law enforcement agents are searching Loskarn's home Wednesday, according to Alexander's statement.
By Wednesday afternoon, Alexander had replaced Loskarn with David Cleary as his chief of staff. Cleary is the Republican staff director for the Senate Health, Education, Labor and Pensions Committee, which Alexander serves on as ranking member.
"The courts will judge Mr. Loskarn's guilt or innocence, but under these circumstances, he cannot continue to fulfill his duties as chief of staff of this office," Alexander said in a statement. Therefore, as of today, I have removed him from the payroll."
The investigation is being led the the the Postal Inspection Service. Spokeswoman Lori McCallister tells National Journal that her agency conducted a "law enforcement" action in Southeast D.C. Wednesday morning. "All documents related to the law enforcement action are under seal," she said.
On Thursday, Washington City Paper reported that police had searched his home Wednesday and found "hundreds of videos of underage boys engaged in sexually explicirt conduct and some videos with young girls on the hard drive." When they arrived, reportedly, Loskarn was "leaning outside the middle second window," attempting to get the portable hard drive outside of his home.
It wasn't long ago that things were looking rather good for Loskarn. A former staff director of the Senate Republican Conference, he was on Roll Call's 2009 "Fabulous 50 Movers and Shakers" on Capitol Hill list. He became Alexander's chief of staff at the end of 2011. Before then, he was the staff director of the Senate Republican Conference for more than two years and worked in the House as an aide for seven years for various Republican lawmakers.
{{ BIZOBJ (video: 4617) }}
---
Sarah Mimms contributed to this article