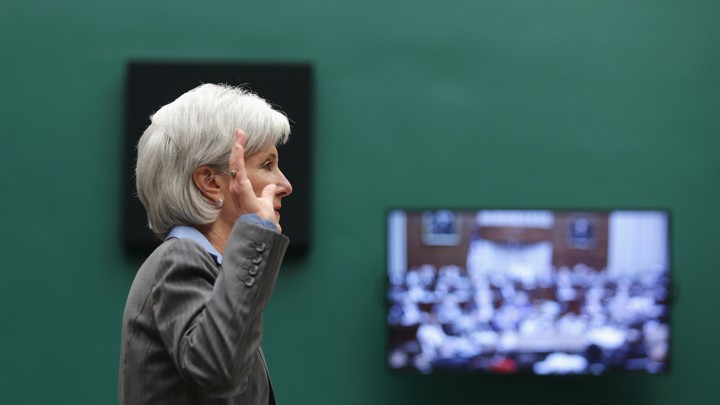 This article is from the archive of our partner

{{ BIZOBJ (video: 4620) }}
Just hours before she was set to testify before Congress about the failures of HealthCare.gov, Health and Human Services Secretary Kathleen Sebelius announced her own investigation into the site's flaws.
HHS announced Wednesday morning that Sebelius has asked the department's inspector general to review the contracting processes for the Obamacare enrollment website. She sought an audit of the contractors that built the site and the federally run insurance marketplaces it supports, as well as HHS's management of those contractors.
"The launch of HealthCare.gov was flawed and simply unacceptable.... I believe strongly in the need for accountability, and in the importance of being good stewards of taxpayer dollars," Sebelius said in a blog post Wednesday.
She pledged "full cooperation" with the inspector general's review.
Her statement was posted just a few hours before she was scheduled to testify before the House Energy and Commerce Committee, which is pursuing its own investigation of the website's failures. Since retaking control of the House, Republicans have turned investigations into the administration's missteps into something of a specialty, dragging them out for months — or years — at a time with incremental releases of material aimed at embarrassing the administration.
By requesting a separate probe, the White House hopes to get ahead of the congressional inquiries, handing focus to a nominally less partial inquisitor and creating the perception that they are serious about getting to the bottom of the website's techincal missteps.
In her last appearance before the committee, Sebelius said lawmakers should hold her responsible for the website's botched launch — a move that provided political accountability but didn't resolve the substantive questions of how such an important and expensive project went so far off the rails.
Blame for the site's dramatic failures seems to rest with both contractors and HHS officials. Contractors — notably CGI Federal, the firm that built the bulk of HealthCare.gov — appear to have missed deadlines and left gaps in their code.
But HHS officials have also been accused of mismanaging the site's contractors, failing to coordinate various parts of the system, and insisting on deadlines at the expense of a pragmatic review of what was working and what wasn't.
The Obama administration has so far resisted calls to fire someone over HealthCare.gov's failures, saying its first priority was to get the site functioning.
This article is from the archive of our partner National Journal.
We want to hear what you think about this article. Submit a letter to the editor or write to letters@theatlantic.com.
Sam Baker
is a healthcare correspondent at
National Journal
.