This article is from the archive of our partner
.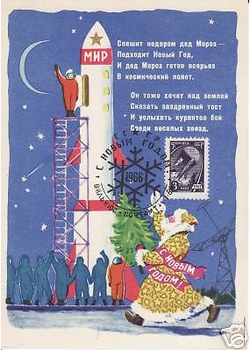 "Santa is what he is," Fox News' Megyn Kelly declared on Wednesday night. Or is he? Kelly was insisting that Santa Claus must be white, because one must respect "the legacy of the story." And here, it seems, Kelly is a victim of the propaganda of her ideological foes. Because we have good evidence that Santa was in fact a communist.
At left, you can see Old Saint Nick shamelessly doing propaganda for the Soviet Union and its aggressive pursuit of the space race in 1963. As The Wire's Abby Ohlheiser explained this week, some of the fiercest fighters of the war on Christmas were the Puritans, on whose ideals we built this country. They were right to be skeptical, because centuries later, Santa Claus would be seamlessly folded into the ideology that opposed all of their God-and-capitalism ideals.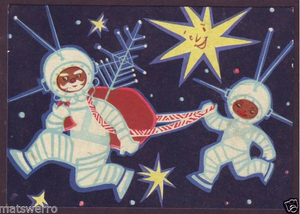 The Russian Santa is called Ded Moroz, which roughly translates to Grandfather Frost. Like the Puritans, the Bolsheviks initially opposed Russians' Christmas-like New Year's celebration, including its fir tree and its gift-bearing old man. As Karen Petrone explains in Life Has Become More Joyous, Comrades, the holiday was considered "bourgeois," and Ded Moroz was banned in 1928, having been "unmasked as an ally of the priest and the kulak." But less than a decade later, the Soviets admitted they had misjudged Ded Moroz.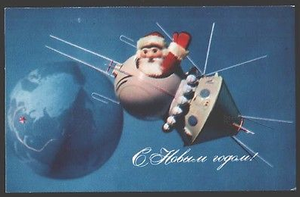 In 1937, Ded Moroz returned to Russia, with Joseph Stalin ordering him to wear a blue cloak so he wouldn't be confused with the American capitalist Santa (or should we say, Grandfather Frost's American identity?). "In Soviet usage [Ded Moroz] is presented as a good spirit who inspires hard work in Soviet children," The Virginia Advocate explained December 22, 1949. That's right — he's ultimately a tool to force children to be compliant with communist ideology.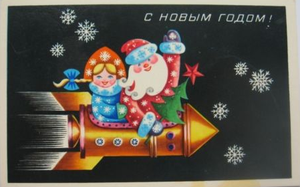 The Advocate continued:
At children's gatherings in the holiday season… grandfather frost lectures on good Communist behavior. He customarily ends his talk with the question "to whom do we have all the good things in our socialist society?" To which, it is said, the children chorus the reply, 'Stalin.'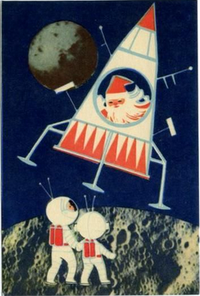 On
December 15, 1953, The Free Lance-Star
reported that communist Czechoslovakian President Antonín Zápotocký explained the communist take on the holiday, which should put fear in the heart of every Fox News star who worries the Christ is being taken out of Christmas:
"The story of the birth of the Christ Child is only an exploiter' myth… Times have changed. The little Jesus has grown up and now is Grandfather Frost. He no longer is in tatters and naked, but well dressed in a fur hat and coat."
And lo, look at the propaganda campaign Santa — sorry, Ded Moroz — enthusiastically participated in as the Soviet machine continued to crunch its people under its brutal wheels. At right, he sees you when you're sleeping, he knows when you're awake — and he also taps your phone and broadcasts propaganda into your living room for as many hours a day as you have electricity.
In America, Santa sneaks around in the dead of night with a secret list, never showing his face to the American people. In the USSR — as well as Vladimir Putin's Russia — he shows his face to children, unashamed. Is this because Ded Moroz is Santa's true identity? Is it because only in Russia is he free to be himself? 
This article is from the archive of our partner The Wire.