Ryan and Murray Are Already Playing Defense on Their Budget
The Republican and Democratic negotiators have reached a budget deal. Can they sell their parties on it?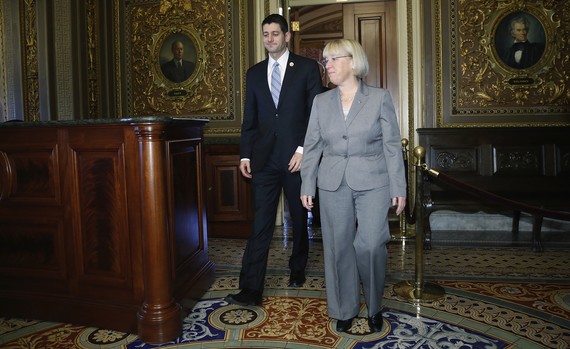 It's premature to pop any corks, but what happened around 6:15 Tuesday night was something unseen in Washington for quite some time: Representative Paul Ryan, the House Republican budget boss, and Senator Patty Murray, his Democratic counterpart, walked to a dais in the Capitol and announced they had a deal on the budget.
Here's a quick rundown of the major points; National Journal has more:
The budget for fiscal year 2014 is $1.012 trillion
$85 billion in total savings over 10 years.
$63 billion in sequester relief over two years, split evenly between defense and non-defense budgets.
$23 billion in net deficit reduction over 10 years.
Ryan and Murray didn't quite look like old friends having a good time, and both were at pains to describe how the budget fell short of what they wanted. But they were in lockstep on message, with remarks aimed at convincing members of their own parties that while what they were getting wasn't a full loaf, it was definitely half a loaf. Or at least a few slices.
"I see this agreement as a step in the right direction," Ryan said. "In divided government, you don't always get what you want."
"For far too long here in Washington, D.C., compromise has been considered a dirty word," Murray said. "This isn't the plan I would have written on my own; I'm pretty sure Congressman Ryan wouldn't have written it on his own."
In a statement, President Obama said much the same. "This agreement doesn't include everything I'd like—and I know many Republicans feel the same way," he said. "That's the nature of compromise. But it's a good sign that Democrats and Republicans in Congress were able to come together and break the cycle of short-sighted, crisis-driven decision-making to get this done."
The big sell—to both parties, and to voters—is that while they may hate the policy details, the budget will at least promise a little stability, a chance to stop "lurching from crisis to crisis" (a phrase both Ryan and Murray used) and to prevent government shutdowns in January, when the current continuing resolution runs out, or in October, when the fiscal year begins.
When a reporter asked Ryan about opposition from conservative groups, who blasted the plan well before its official release, he responded that as a conservative he had to deal with reality, not what his fantasy.
"Nobody here had to sacrifice core principles," he said.
The defensive tone offers a preview of what to expect from the debate over the bill. As soon as details of the deal began to leak last week, they met resistance from Senate Democrats, who found the cuts too harsh and the lack of new tax revenue tough to swallow (there are other revenues), and House Republicans, who thought the bill ought to go farther and find any new revenues unacceptable.
The House will vote on the plan first, by Friday. Ryan's work is cut out for him: It was a conservative faction of House Republicans, of course, who managed to shut down the government in October.