Poll: End Workplace Discrimination Against Gays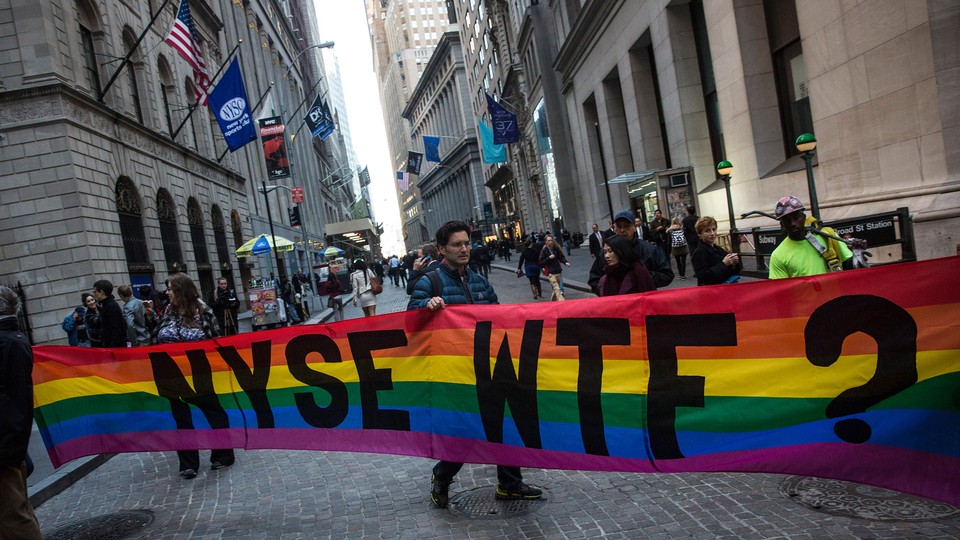 A strong majority of Americans say they support the Employment Non-Discrimination Act, legislation that would ban most private businesses from workplace discrimination based on sexual orientation or gender identity, according to the latest United Technologies/National Journal Congressional Connection Poll. A plurality of Republicans dissent, the survey found, but their objections fade if the measure applied only to sexual orientation.
The numbers underscore the degree to which public opinion has swung in favor of expanding gay rights, even if support lags for transgender men and women. And they demonstrate the predicament facing Republicans, who more often than not now find themselves on the losing end of the culture war. Like immigration, some types of gun control, and — increasingly — gay marriage, the GOP opposes legislation that draws support from a majority of the country.
In November, 10 Republicans joined with Democrats to approve ENDA in the Senate. But the GOP-controlled House has shelved the legislation, and there's little hope among its supporters that it will receive a vote on the floor.
In the poll, respondents were told the Senate had passed legislation that supporters "say is necessary to ensure that all workers are treated equally whether they are heterosexual or homosexual," while opponents "say it will lead to unnecessary lawsuits and impinge on religious freedom." They were then asked if they supported the measure and if it should include transgender people.
Fifty-six percent of those surveyed said they would support a measure protecting both groups; 28 percent oppose it outright. Another 9 percent fell in between. They supported the legislation if it protected only gay men and women and not transgender people.
That pattern held across most educational, gender, and racial lines: Support for including transgender protections lagged roughly 10 points behind those for sexual orientation. Among Democrats, for example, 75 percent favored a measure that included only sexual orientation, while just 65 percent supported one for gay and transgender people.
The gap will frustrate transgender advocates, but they should also find reason for optimism. They don't have as much public support as the gay-rights movement, whose high-profile fight over gay marriage is known to most everyone in the country. But support for transgender men and women appears to have grown just as it has for causes like gay marriage — so much so that after being stripped from a 2007 version of the ENDA, transgender protections were included in the current itineration that passed the Senate on Nov. 7.
Republicans, however, have less reason to smile. In addition to an overall majority, support for ENDA cuts across most demographic groups. And it even draws significant support from rank-and-file GOP voters, 43 percent of whom support the legislation. A plurality — 49 percent — oppose it, but the numbers flip if only sexual orientation is protected. In that case, 53 percent of Republicans would back ENDA, while 40 percent wouldn't.
The strong public support comes nearly a year after the GOP vowed to broaden its appeal by, in part, distancing itself from criticism that its agenda is discriminatory. Few voters will pick their candidate based on support or opposition to a relatively minor issue like ENDA, but it — along with the party's much higher-profile continued opposition to gay marriage — squeezes its ability to attract growing parts of the American electorate like young people, minorities, and white professionals. United Technologies/National Journal Congressional Connection Poll showing that a majority of Americans support legislation to bar employers from treating workers differently due to their sexual orientation.
It's why some Republican operatives are adamant the party needs to embrace the legislation. "Support for ENDA should be a no-brainer: An overwhelming number of Americans believe Congress should pass this bill," said Alex Lundry, a strategist who has worked to persuade his party to support the legislation and gay marriage. "Regardless of where Republicans are on gay marriage, there is majority agreement among the party's voters that no one be discriminated against in the workplace."
More education predisposes people to support the bill. Fifty-one percent of blue-collar whites back a measure protecting transgendered and gay people, 12 points lower than the 63 percent of white-collar whites who do. Among nonwhites, the split is 60-35.
And like gay rights, the legislation does produce a pronounced generational difference. Support is overwhelming among 18-to-29-year-olds, at 67-29 percent. That's a 44-point shift from senior citizens, a plurality of whom — 48 percent — oppose it. Forty-two percent of seniors back legislation that offers protections for gay and transgendered people.
Interviews for the United Technologies/National Journal Congressional Connection Poll were conducted by landline and cell phones with a nationally representative sample of 1,002 adults by Princeton Survey Research Associates International from Dec. 5-8. The margin of error for the poll was plus or minus 3.7 percentage points.