Phil Robertson's America
The Duck Dynasty star's warped vision of civil-rights history feeds his warped view of today's gay-rights struggle.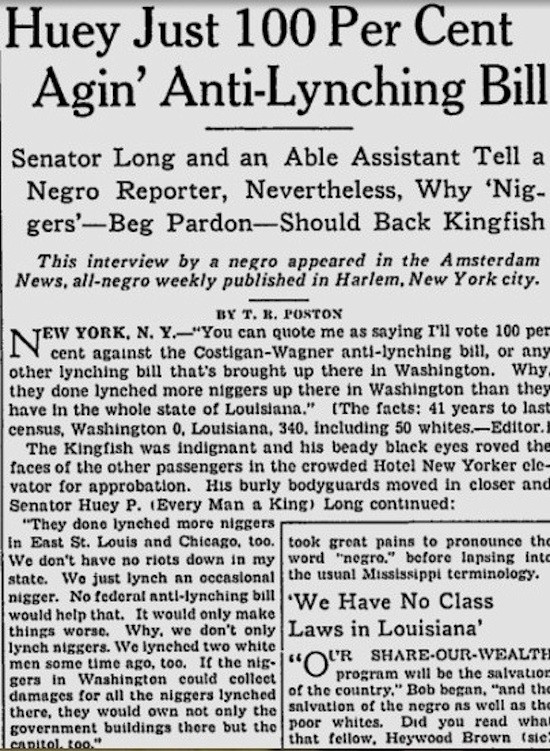 I've yet to take in an episode of Duck Dynasty. I hear it's a fine show, anchored by a humorous and good-natured family of proud Americans. I try to be good natured, and I have been told that I can appreciate a good joke. I am also a proud American. With so much in common, it seems natural that I take some interest in the views of my brethren on the history of the only country any of us can ever truly call home:
I never, with my eyes, saw the mistreatment of any black person. Not once. Where we lived was all farmers. The blacks worked for the farmers. I hoed cotton with them. I'm with the blacks, because we're white trash. We're going across the field .... They're singing and happy. I never heard one of them, one black person, say, 'I tell you what: These doggone white people'—not a word! ... Pre-entitlement, pre-welfare, you say: Were they happy? They were godly; they were happy; no one was singing the blues.
That is Robertson responding to a reporter's question about life in Louisiana, before the civil-rights movement. I am sure Robertson did see plenty of black people who were singing and happy. And I am also sure that very few black people approached Robertson to complain about "doggone white people."
The corpse of 16-year-old Freddie Moore, his face showing signs of a severe beating, hands bound, remained hanging for at least 24 hours from a metal girder on the old, hand-cranked swing bridge spanning Bayou Lafourche.

Hanged by the neck the night of Oct. 11, 1933, in a mob lynching, the black youth had been accused in the death of a neighbor, a white girl ...

Arrested Oct. 10, 1933, in the slaying days earlier of Anna Mae LaRose, a 15-year-old girl who was his friend, Moore was pulled from the parish jail in Napoleonville the next night by an angry mob of 50 to 200 armed and unmasked people who had the prison keys.

Some accounts say the lynchers were unknown and from out of town, as far away as New Orleans, while others say the mob was known to authorities. A coroner's jury, impaneled by then-parish Coroner Dr. T.B. Pugh, said Moore "met death by a mob of unknown persons," according to news accounts.

After being hauled from the jail, Moore was brought to the field where LaRose's body was found, according to an Oct. 14, 1933, account in the black-owned New Orleans newspaper, The Louisiana Weekly. With a rope around his neck and clothes stripped to his waist, the teen was then marched, while being beaten, from the murder scene to the bridge and subjected to a branding iron whenever he fell.

Hanging from his body, a sign offered the final indignity: "Niggers Let This Be An Example. Do-Not-Touch-In 24 Hr. Mean it."

As white people reviewed the scene on the bridge and black residents were warned to stay away, Moore's body remained within sight of a school and the venerable St. Philomena Catholic Church, its spire above the fray.
One should not be lulled into thinking that the murder of Freddie Moore was out of the ordinary in Louisiana. Between 1882 and 1936, only Georgia, Texas and Mississippi saw more black people lynched. For part of that period four of Louisiana's parishes led the nation for counties with the most lynchings.
That is because governance in Phil Robertson's Louisiana was premised on terrorism. As late as 1890, the majority of people in Louisiana were black. As late as 1902, they still lived under threat of slavery through debt peonage and the convict-lease system. Virtually all of them were pilfered of their vote and their tax dollars. Plunder and second slavery were enforced by violence, as when the besiegers of Colfax massacred 50 black freedmen with rifles and cannon and tossed their bodies into a river. Even today the Colfax Massacre is honored in Louisiana as the rightful "end of carpetbag misrule."
The black people who Phil Robertson knew were warred upon. If they valued their lives, and the lives of their families, the last thing they would have done was voiced a complaint about "white people" to a man like Robertson. Ignorance is no great sin and one can forgive the good-natured white person for not knowing how all that cannibal sausage was truly made. But having been presented with a set of facts, Robertson's response is to cite "welfare" and "entitlement" as the true culprits.
The belief that black people were at their best when they were being hunted down like dogs for the sin of insisting on citizenship is a persistent strain of thought in this country. This belief reflects the inability to cope with an America that is, at least rhetorically, committed to equality. One can clearly see the line from this kind of thinking to a rejection of the civil-rights movement of our age:
Start with homosexual behavior and just morph out from there. Bestiality, sleeping around with this woman and that woman and that woman and those men," [Robertson] says. Then he paraphrases Corinthians: "Don't be deceived. Neither the adulterers, the idolaters, the male prostitutes, the homosexual offenders, the greedy, the drunkards, the slanderers, the swindlers—they won't inherit the kingdom of God. Don't deceive yourself. It's not right.
This is not just ignorance; it is a willful retreat into myth. And we must have the intellectual courage and moral strength to follow the myth through. If swindlers, goat-fuckers, and gay men are really all the same—disinherited from the kingdom of God—why not treat them the same? How does one argue that a man who is disfavored by the Discerner of All Things, should not be shamed, should not jeered, should not be stoned, should not be lynched in the street?
Further retreat into the inanity of loving the sinner but hating the sin—a standard that would clean The Wise Helmsman himself—will not do. Actual history shows that humans are not so discriminating. Black people were once thought to be sinners. We were rewarded with a species of love that bore an odd resemblance to hate. One need not be oversensitive to be concerned about Phil Robertson's thoughts on gay sex. One simply need be a student of American history.