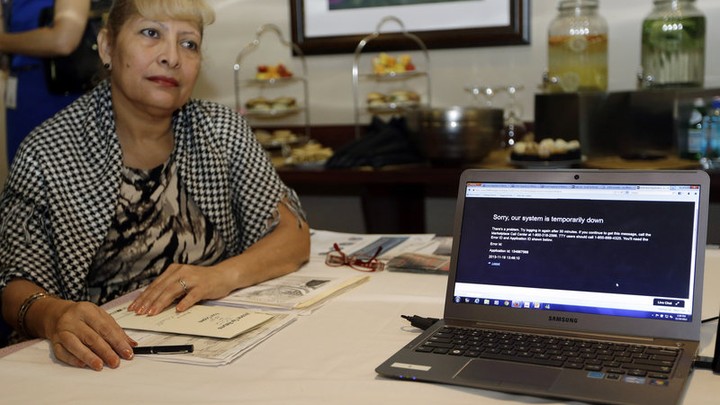 This article is from the archive of our partner
.
About one third of enrollment records processed by Healthcare.gov have errors, according to two anonymous health and government officials interviewed by The Washington Post. The Centers for Medicare and Medicaid Services "disputed" the number, but did not offer up a correction and has been dodging reporter requests for the figure.
Three reporters from major papers - WashPost, LAT, WSJ - asked for the 834 error rate. None of us got answers. Frustrating.

— Sarah Kliff (@sarahkliff) December 2, 2013
Still, according to ABC News, Obama administration officials acknowledged on Monday that as many as 126,000 people think they have insurance, though their insurer has no record of it. Other mistakes include: "failure to notify insurers about new customers, duplicate enrollments or cancellation notices for the same person, incorrect information about family members, and mistakes involving federal subsidies," according to the Post. 
The figure is cumulative, covering all of the online federal exchange applications submitted since October 1. Insurers have been reporting these problems since October. Nearly three weeks after the exchange launched, The Wall Street Journal reported that insurers were receiving "duplicate enrollments, spouses reported as children, missing data fields and suspect eligibility determinations." At the time insurers were fixing the applications manually, but an improved site means a greater flow of applications.
Luckily, there should be fewer errors from here on out. Some insurers reported that they've had to do less to fix the 834s coming in, according to CNN. On Monday Medicare Services said that they had fixed the bug responsible for 80 percent of those errors. And, according to White House senior communications adviser Tara Mc­Guinness, the administration is working with the insurance industry to make sure that all past and present applications are correct. The Post reports that the Obama administration has also managed to reduce the rate of blank 834s generated by the system from three percent to 0.5 percent, which is something.
But the real issue here, beyond the fact that Healthcare.gov is still glitchy, is that thousands of Americans could end up uninsured next month, though they think they bought insurance. If the 834 is wrong, insurers might not be able to bill them, and you're not insured if your haven't paid your first month's premium. Anyone who bought insurance through the federal exchange should probably call their insurer to double check, but that's not exactly the message the administration wants to send out right now. Then again, given the way people reacted to "if you like your plan," anything would be better than thousands of uninsured on January 1.
This article is from the archive of our partner The Wire.
We want to hear what you think about this article. Submit a letter to the editor or write to letters@theatlantic.com.
Arit John
is a former politics writer for
The Wire
.