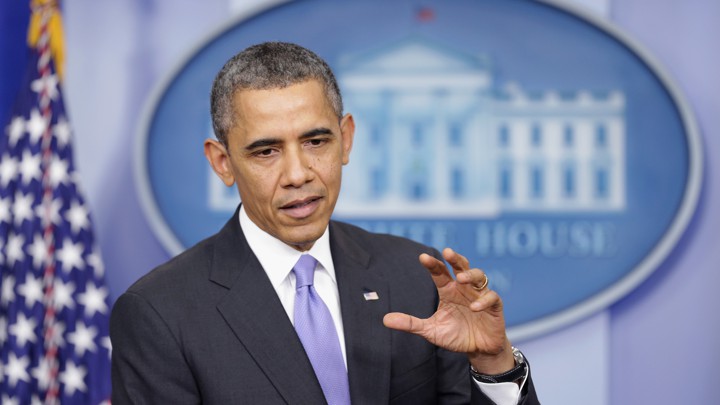 This article is from the archive of our partner

{{ BIZOBJ (video: 4638) }}
President Obama began his year-end press conference with a corny joke and a statement on the economy and Obamacare. But the mood quickly shifted with the first question: "Was this the worst year of your presidency?"
"If I was interested in polling I wouldn't have run for president," he responded, adding that he was polling at 70 percent approval when he was in the Senate. It would take more than a pointed question to get this president off his positive talking points. At this point, Obama said, "my goal every single day is just to make sure that I can look back and say we're delivering something. Not everything, because this is a long haul."
The tone of the questions were downright feisty, pressing the president on the lowness of his polling. "My question is, do you have any personal regrets?" Ed Henry of Fox News said, for example.
It didn't get brighter from there. "I probably beat myself up even worse than you or Ed Henry does on any given day," Obama said in response to the next question from ABC's Jonathan Karl. But the president won't admit that he's done, as the downward poll numbers might imply to some presidential critics. There are still three more years, and plus, he's eager to point out that much of the trouble in government over the last year stemmed from Congress. "You know, I think that hopefully folks have learned their lesson in terms of brinksmanship," he said.
After a question on what Obama's New Year's resolution is, the press conference began to sound something like an intervention or therapy session. "My New Year's resolution is to be nicer to the White House press corps," he said.
The president also reiterated that "we're not going to negotiate" over raising the debt ceiling, which needs to be raised by early March at the latest.
Addressing the week's NSA news, the president said he's "going to make a pretty definitive statement about all of this in January." Obama again defended the agency's bulk collection, saying that "I have confidence that the NSA is not engaging in domestic surveillance and not snooping around." But "we have to refine this to give people more confidence."
Obama did open the door slightly to allowing phone companies — and not the government — to collect and store customer metadata that can be requested on an as-needed basis. But he remained resolute that section 215 of the Patriot Act is being used to correctly justify surveillance for national security purposes, and that addressing public confidence in the NSA's programs is his top concern.
"There have not been actual instances in which the NSA has acted inappropriately in use of this data," he said. "But," he said, "people are concerned about the prospect and possibility" of that happening.
When pushed on whether he would ever grant NSA leaker Edward Snowden amnesty, Obama repeatedly demurred, saying he would leave the matter to the courts and the attorney general.
Surprisingly, given everything that happened in the last week, the president did not mention the NSA in his opening statement.
On Obamacare, the president allowed he'd made mistakes when it came to the health care rollout. "Even though I was meeting every other week, every three weeks with folks and emphasizing how important it was that consumers have a good experience "¦ the fact is it didn't happen in the first month, first six weeks in a way that was at all acceptable, and since I'm in charge, obviously we screwed it up."
But he also defended his record on health care, saying that all told millions of Americans, despite the problems with the health website, are poised to have better insurance than ever before. Ultimately, he said, that's what matters.
The president also talked about the U.S. delegation to the Winter Olympics in Sochi, Russia. "I think the delegation speaks for itself," Obama said. "When it comes to the Olympics and athletic performance, we don't make distinctions on the basis of sexual orientation."
But yes, there were also some very corny jokes.
"I know you're all eager to skip town and spend time with your families," the president said at the presser's opening. But, "you know what they say, it's the most wonderful press conference of the year." Obama continued, more seriously, saying, "I firmly believe 2014 can be a breakthrough year for America."
The president's last presser was in November, pegged to the sloppy Obamacare rollout. It got panned by media commentators. The president's bad luck goes past recent sessions with reporters; he's also spent the last week being faced with poll after poll of record-low approval ratings; was recently awarded Politifact's "Lie of the Year" for his "if you like your insurance, you can keep it" soundbite; and was crowned winner of "the Worst Year in Washington" by The Washington Post's Chris Cillizza.
This time last year, the president held a very different kind of press conference. Just a week after the Newtown shooting, Obama opened his 2012 year-end presser with an emotional statement on gun control. "I will use all the powers of this office to help advance efforts aimed at preventing more tragedies like this," he said then. As it turned out, 2013 didn't deliver for reformers.
Obama last held a press conference discussing the NSA's surveillance activities in August, during which he said he wanted to "put the whole elephant out there" and "examine what is working, what's not, are there additional protections that can be put in place." He outlined four specific steps: working with Congress to reform Section 215 of the Patriot Act, restoring public confidence in oversight of the Foreign Intelligence Surveillance Court, increasing transparency, and forming a presidential advisory panel to review the government's intelligence-gathering technologies.
The panel's 300-page review was released by the White House earlier this week and featured 46 recommendations for the administration to consider, including ending the phone-records collection program as currently practiced and making the director of the NSA and the chief of the military's cybercommand two different positions, held by two different people.
This article is from the archive of our partner National Journal.
We want to hear what you think about this article. Submit a letter to the editor or write to letters@theatlantic.com.
Matt Berman
is a former online editor at
National Journal
.
Brian Resnick
is a former staff correspondent at
National Journal
and a former producer of
The Atlantic
's National channel.
Dustin Volz
is a former staff correspondent for
National Journal
.