Obamacare's Unlikely Winners
Dems hope these tales of success post-insurance cancellations will take the wind out of critics' sails.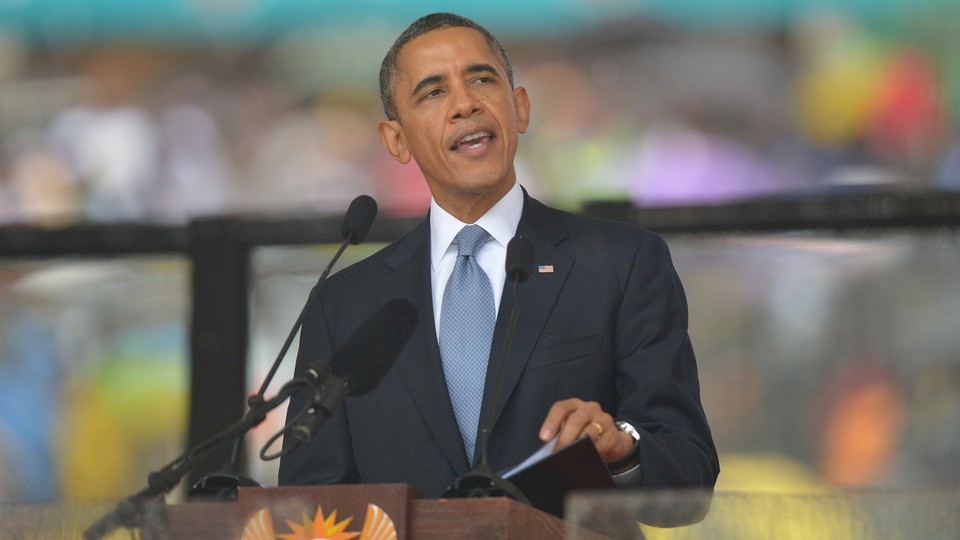 Sue Spanke of Missoula, Mont., was highly displeased this fall when she learned her health insurance had been canceled.
"I got so mad that I went to my phone and started calling all the political people and giving them what for," Spanke told The Billings Gazette. That was before she learned she was eligible for a policy at a much lower cost.
After angrily calling her state auditor's office, Spanke, a self-employed artist in her 50s, found she was eligible for a federal subsidy. Her new insurance will cover her for a mere $30 to $40 a month with a deductible of only $500. She had been paying $350 a month for a Blue Cross policy with a $5,000 deductible. "I went from a horrible policy that didn't cover anything, that was breaking me, to the best policy at the best price I've had since I was in my 20s," she said.
With the website largely fixed, one of the last lines of attack against Obamacare is that the president lied when he said if people like their insurance plans, they can keep them. The White House is hoping stories like Spanke's will inoculate them against those arguments. And the positive stories abound.
Another man interviewed by The Billings Gazette, Gary Mermel, said he received cancellation notices for his family's Blue Cross policies only to find later that he and his family were eligible for much more affordable insurance. Mermel, a retired physician with a preexisting health condition, had been paying almost $1,700 a month to cover his family, and last month Blue Cross informed him his rates would go up to nearly $2,100 a month for the remainder of the year. Under the Affordable Care Act he was able to find insurance covering his entire family for just $1,200 a month with comparable benefits and a lower deductible than he'd had previously.
He also won't have to worry about being denied coverage or getting charged more for preexisting conditions. "Before, the insurance companies had full control," he said. "They were allowed to place people at risk [of financial ruin] and they no longer can do that."
Other local outlets have documented the success post-insurance cancellation stories as well.
In Lancaster, Pa., Lori Lapman, 58, learned her health plan was being canceled in September — by October things were looking up. Per The Sunday News: "Sitting at a laptop with a certified health law helper, Lapman went to HealthCare.gov, found it running smoothly, and bought a subsidized Highmark plan that allows her to keep her doctors while saving her money. Her canceled plan cost her $520 a month. Her new coverage? Only $111.73."
In Harrisburg, Pa., The Patriot News documented the case of Lynn Keltz, one of the hundreds of thousands nationwide who received a cancellation notice. Keitz, who happens to be one of the federally funded navigators helping state residents find new coverage under the Affordable Care Act, said her new policy provides her better coverage and costs $80 per month less.
In a letter to the editor in The Santa Maria Times, Allan Pacela told the story of how after his wife lost her insurance this fall, she found much better coverage under Obamacare. The couple is now saving $8,000 per year for a "much better plan."
These stories can be found in national media outlets as well. The Huffington Post relayed the story of an HIV patient from Michigan who, after learning his old plan was canceled, found a cheaper plan under Obamacare with better coverage (not to mention he got it with a preexisting condition). Meanwhile, NPR told the story of 58-year-old Doug Normington, who, after receiving a cancellation letter, found a plan that will cost him half what he had been paying in premiums and a third the deductible. Another NPR story interviewed a number of Californians who greeted their canceled insurance policies with smiles. And The New York Times ran the story of Stephanie Lincoln, who, with the help of a navigator signed up for coverage costing $113 a month with no deductible. The entire process took just one hour. "I am one of the people whose plans were canceled," she said. "It was just the easiest thing in the world."
No doubt there will be some Obamacare losers — most of them healthy, wealthy people who will have to pay a bit more. And there will be plenty of libertarian critics who will denounce the perceived paternalism of the situation. But there is no shortage of winners.