Obamacare Is Costing Democrats the White Women They'll Need at the Ballot Box 
Polls show that when it comes to the troubled health care law, Democrats should be most concerned about one of their key constituencies.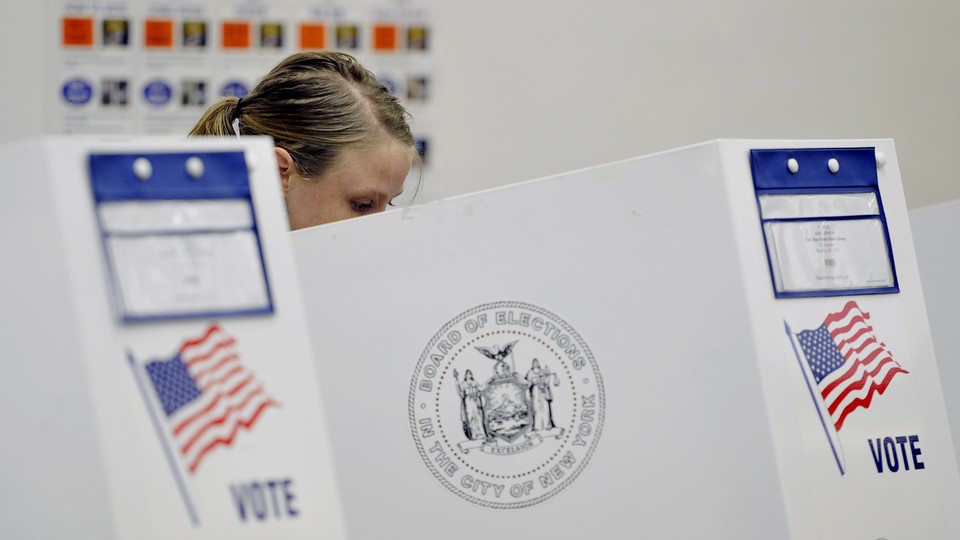 It's not the voters who hate Obamacare the most who are going to matter in next year's elections. It's the independents who frequently side with Democrats but could, if propelled by a distaste for the health care law, take a serious look at the GOP in 2014. And on this front, Democrats have a big problem with one of their most crucial constituencies — white women.
Polling provided to National Journal by the Kaiser Family Foundation shows that white women have soured considerably on the law, especially in the month since its botched rollout. The skepticism runs especially deep among blue-collar women, sometimes known as "waitress moms," whose deeply pessimistic attitudes toward the Affordable Care Act should riddle Democratic candidates with anxiety.
Certainly, the law's unpopularity gives Republicans a tool to counter the Democratic claim of a GOP "war on women" — something Republicans failed miserably at in 2012. But more significantly, it demonstrates that Democrats will have to fight just to retain core elements of their constituency. With 2014's most important campaigns already lying in hostile territory like Alaska, Arkansas, and South Dakota, it's a battle many of these candidates can ill afford.
The Kaiser poll, which has been conducted monthly since Obamacare's inception, shows the law has never been a big hit with white women. But this group's opinions took a sharply negative turn in the November results.
According to Kaiser, 40 percent of college-educated white women hold a "very unfavorable" view of the law — 10 points higher than a month ago. An additional 10 percent view the law "somewhat unfavorably." A month ago, those two groups together totaled just 42 percent.
That's not damning in and of itself, but this is the one slice of the white electorate where Democrats usually perform well. President Obama won 46 percent of the group in 2012, and even that was an underwhelming showing compared with recent Democratic presidential candidates.
And that's not all. Democrats should be far more worried about white women who do not have a higher education. The numbers are astounding: In the latest Kaiser poll, 50 percent have a "very unfavorable" view of the law — 9 points higher than in October. An additional 13 percent view it "somewhat unfavorably." Indeed, antipathy among blue-collar white women runs even deeper than the most conservative white demographic group, blue-collar white men (59 percent of whom hold an unfavorable view, Kaiser found).
Remarkably, only 16 percent of blue-collar white women have a favorable view of Obamacare. They disapprove of it by a 4-1 ratio. (The poll found 21 percent did not know enough about the ACA to hold an opinion.) These voters are by no means a strongly Democratic group: Obama won just 39 percent of them last year. But they do lean further left than their male counterparts, and Democratic candidates in 2014 will need to perform even better with them to win reelection. In 2008, for example, Democrat Mark Begich won his Senate race in Alaska by claiming 54 percent of the white female vote, which constituted 41 percent of the state's electorate. He's a top GOP target in 2014.
Republicans suggest that white women's deep pessimism is rooted in the cascade of negative media surrounding the law. "Women are more interested in having health care than men are," said Keith Emis, an Arkansas-based GOP pollster who works for Rep. Tom Cotton, the likely Republican challenger to Democratic Sen. Mark Pryor. "They have paid a whole lot more attention to this."
Obamacare's unpopularity runs deep in other Democratic constituencies too. A new poll by Harvard's Institute of Politics, for one, found millennials turning away from the law. And some GOP pollsters argue that focusing on the effects of just one group is misguided. "This isn't just small segments of the electorate; these are huge, broad topics that affect everybody," said David Winston, a Republican pollster with close ties to the House GOP. "Who isn't interested in health care?"
But groups such as the millennials aren't as important to Democratic candidates like Begich and Pryor who are up for reelection. Women are crucial to their causes. And while Democrats might ultimately be able to sell voters on a "fix it, don't repeal it" approach to Obamacare, the data show they've still got a lot more work to do.