Obamacare Fixes Calm Democrats — For Now
Democrats are relieved by website repairs, but don't expect a celebration.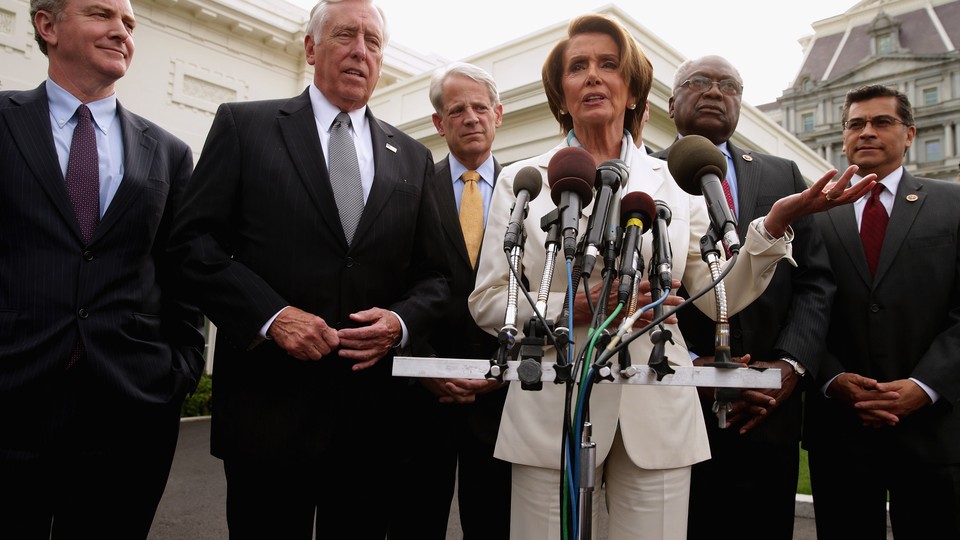 House Democrats are hardly ready to pop the champagne for HealthCare.gov, the Obamacare enrollment website whose terrible rollout sent the party into a full-blown panic. But tensions eased Tuesday after White House officials briefed them on the site's progress.
"Prior to the recess, there was deep and significant frustration, as there should have been. The rollout was a disaster," said Rep. Steve Israel, D-N.Y., who chairs the Democratic Congressional Campaign Committee. "As the improvements are being made and access is more successful and as the White House focuses on the successes of the Affordable Care Act, then the frustration in the Democratic caucus obviously lessens."
The White House declared victory this past weekend on the technical side of its repair effort, but getting the site functional by Dec. 1 was largely a political deadline. And the site seems to meet Democrats' standards for "good enough."
"We listened to our constituents and said to the administration, 'You need to get to work in fixing these problems. You need to make this law work for the American people.' And to the credit of the president and his team, they got to work doing that," Rep. Rob Andrews, D-N.J., said.
Vulnerable Democrats have rushed over the past six weeks to distance themselves from the law, but party leaders said that after the repairs, Democrats may not need to fear "Obamacare" ahead of next year's midterms.
"I don't know about rebranding. The Affordable Care Act is the Affordable Care Act. It doesn't need to be rebranded," House Minority Whip Steny Hoyer, D-Md., said. "The brand is okay. It's the process of getting to the brand that hasn't been okay."
Whether Democrats actually campaign on Obamacare next year remains to be seen — the law polls poorly, as it has since it passed. But Democrats at least seem to feel they have regained their footing after standing by for two months while Obamacare's political implications ballooned.
"If we make progress at the rate we've been making progress over the last 30 days, I think we're going to be fine," Hoyer said.
Democrats acknowledged that HealthCare.gov still needs work, especially on back-end processes that transmit information to insurance companies. Insurers say the site continues to send them inaccurate or incomplete information about the people who try to enroll, and the administration still hasn't built the computer system that will reconcile gaps in enrollment information.
Because of those gaps in the system, the law's supporters could face another political headache over enrollment errors: people who thought they had signed up but got lost in the chaos, for example, or who were quoted a lower premium than what they will actually have to pay.
"People are more upbeat but you want to make sure the administration keeps its focus on fixing the problems that remain," said Rep. Chris Van Hollen, D-Md. "In some ways, we've turned a corner but we need to make sure that we anticipate future bumps and fix them before they're smacking you in the face."
Still, Democratic leaders said they were "pleased" with improvements in the site's user experience, and declared that they were back on offense over the Affordable Care Act.
President Obama is scheduled to address the law this afternoon, and the Democratic National Committee launched a new website, TheGOPHealthCarePlan.com, to highlight Republicans' failure to coalesce around a plan to replace Obama's health care law.
Israel said the White House knows it has to be more aggressive highlighting the law's popular provisions, but could also do a better job on focusing on the Republican alternative, which is simply to repeal the law.
"That will bring us back to a broken system," Israel said. "So it's good to talk about successes, but it's also important to talk about contrasts."