Millennials Abandon Obama and Obamacare
A majority of America's youngest adults would vote to recall the president.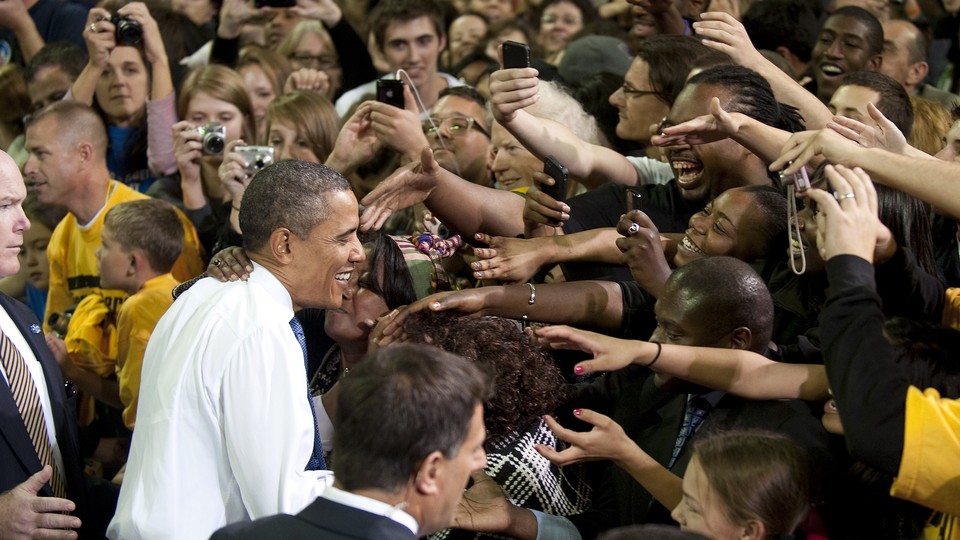 Young Americans are turning against Barack Obama and Obamacare, according to a new survey of millennials, people between the ages of 18 and 29 who are vital to the fortunes of the president and his signature health care law.
The most startling finding of Harvard University's Institute of Politics: A majority of Americans under age 25--the youngest millennials--would favor throwing Obama out of office.
The survey, part of a unique 13-year study of the attitudes of young adults, finds that America's rising generation is worried about its future, disillusioned with the U.S. political system, strongly opposed to the government's domestic surveillance apparatus, and drifting away from both major parties. "Young Americans hold the president, Congress and the federal government in less esteem almost by the day, and the level of engagement they are having in politics are also on the decline," reads the IOP's analysis of its poll. "Millennials are losing touch with government and its programs because they believe government is losing touch with them."
The results blow a gaping hole in the belief among many Democrats that Obama's two elections signaled a durable grip on the youth vote.
Indeed, millennials are not so hot on their president.
Obama's approval rating among young Americans is just 41 percent, down 11 points from a year ago, and now tracking with all adults. While 55 percent said they voted for Obama in 2012, only 46 percent said they would do so again.
When asked if they would want to recall various elected officials, 45 percent of millennials said they would oust their member of Congress; 52 percent replied "all members of Congress" should go; and 47 percent said they would recall Obama. The recall-Obama figure was even higher among the youngest millennials, ages 18 to 24, at 52 percent.
While there is no provision for a public recall of U.S. presidents, the poll question revealed just how far Obama has fallen in the eyes of young Americans.
IOP director Trey Grayson called the results a "sea change" attributable to the generation's outsized and unmet expectations for Obama, as well as their concerns about the economy, Obamacare and government surveillance.
The survey of 2,089 young adults, conducted Oct. 30 through Nov. 11, spells trouble for the Affordable Care Act. The fragile economics underpinning the law hinge on the willingness of healthy, young Americans to forgo penalties and buy health insurance.
According to the poll, 57 percent of millennials disapprove of Obamacare, with 40 percent saying it will worsen their quality of care and a majority believing it will drive up costs. Only 18 percent say Obamacare will improve their care. Among 18-to-29-year-olds currently without health insurance, less than one-third say they're likely to enroll in the Obamacare exchanges.
More than two-thirds of millennials said they heard about the ACA through the media. That's a bad omen for Obamacare, given the intensive coverage of the law's botched rollout. Just one of every four young Americans said they discussed the law with a friend or through social media. Harvard's John Della Volpe, who conducted the poll, said the president has done a poor job explaining the ACA to young Americans.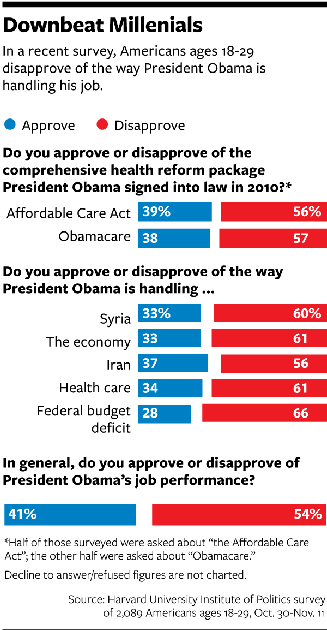 Republican and Democratic leaders should find little solace in the results. The survey said that 33 percent of young Americans consider themselves Democrats and 24 percent identify with the GOP. The largest and growing segment is among independents, 41 percent of the total.
Democrats' advantage among young voters is fading. Among the oldest millennials (ages 25 to 29), Democrats hold a 16-point lead over the GOP: 38 percent say they're Democrats, and 22 percent call themselves Republicans. Among the youngest of this rising generation (ages 18 to 24), the gap is just 6 points, 31 percent for Democrats and 25 percent for Republicans.
Approval ratings of Congress have declined steeply in the past few years, with congressional Democrats now at 35 percent and congressional Republicans at just 19 percent.
Young blacks say they are much less likely to vote in the 2014 midterm election than they were in November 2009, signaling a worrisome level of engagement among a key Democratic constituency.
In addition to health care, domestic spying is an issue that puts Obama on the wrong side of the rising generation. While split on whether Edward Snowden is a "patriot" or a "traitor" for revealing Obama's surveillance programs, strong majorities of 18-to-29-year-olds oppose the government collecting information from social networks, Web-browsing histories, email, GPS locations, telephone calls, and text messages.
College loans are a big issue with young Americans, too. Nearly six of 10 called student debt a major problem, and another 22 percent called it a minor one. Seventy percent said their financial situation played into their decision whether to attend college.
Respondents were given a list of options for shrinking the nation's debt. Majorities favored suggestions to tax the rich, cut foreign economic aid in half, slash the nuclear-warhead arsenal, and reduce food stamps.
The results conform with a story I did this summer with the help of the IOP ("The Outsiders: How Can Millennials Change Washington If They Hate It?"), arguing that while Millennials are deeply committed to public service they don't see government as an efficient way to improve their lives or their communities.
The IOP report issued today said: "This is not to say that young Americans are rejecting politics, the role of government and the promise of America more generally. They are sending a message to those in power that for them to re-engage in government and politics, the political process must be open, collaborative and have the opportunity for impact -- and not one that simply perpetuates well-worn single issue agendas."
The survey was conducted online. The National Journal generally refrains from covering online-only polls but has made past exceptions. In this case, Harvard's IOP survey uniquely focuses on millennials with accumulated data set and a credible polling operation.
(Find full poll results here: http://www.iop.harvard.edu/)
{{ BIZOBJ (video: 4600) }}