Jerry Brown on California Health Care Roll-Out: 'Satisfaction Would Be Too Strong a Word'
The governor says the state's exchanges are doing well but warns against too much preemptive optimism.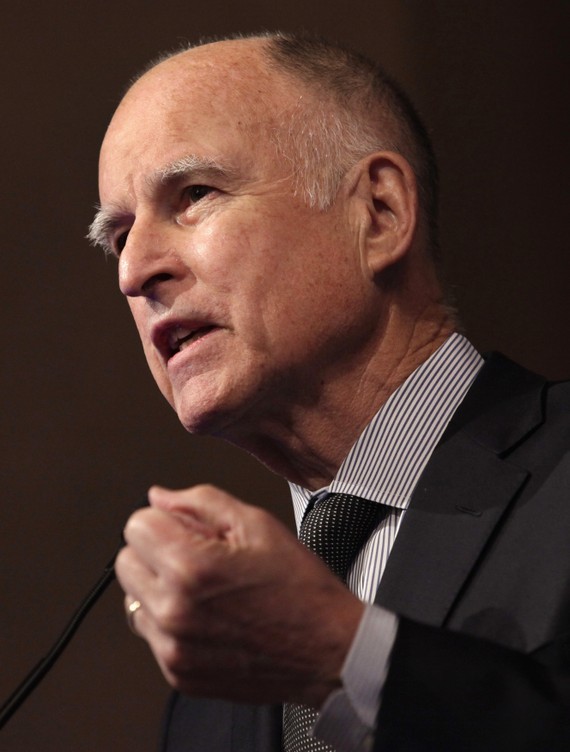 As states rolled out new marketplaces for buying health care insurance this fall, California got mixed reviews. The state's administration bragged that enrollment numbers are high, indicating that it would hit its target for getting people signed up for insurance in 2013. But over the last several weeks, reporters have wondered whether low enrollment among the state's Latinos portends bad news to come: The Hispanic population is one of the youngest and least-covered in the country, and both the White House and California's state governments were eager to see high enrollment numbers among that group.
At The Atlantic's Silicon Valley Summit on Monday, Governor Jerry Brown was hesitant to declare California's enrollment efforts a success. "We're rolling it out, but there are unknowns. Satisfaction would be too strong a word," he said in an interview with Atlantic Editor-in-Chief James Bennet. Although leaders of the state's health care team have praised the program in the press, Brown reported a more cautious posture among his staff. "We have very good people working on it, but they're cautious in their optimism," he said.
Brown was equally hesitant about criticizing the Obama administration. California is one of 15 states (including D.C.) to create its own exchange instead of relying on the federal government's, and that has allowed the state to dodge some of the widespread criticism about logistical problems with healthcare.gov.
Whatever success his state has seen, Brown refused to add to the criticisms of the White House. "The president is bringing to bear reasonable thoughts and initiatives," he said. "Health care was a big bite to digest, and we're going to make it work."