Is the Republican Advantage on Obamacare Eroding?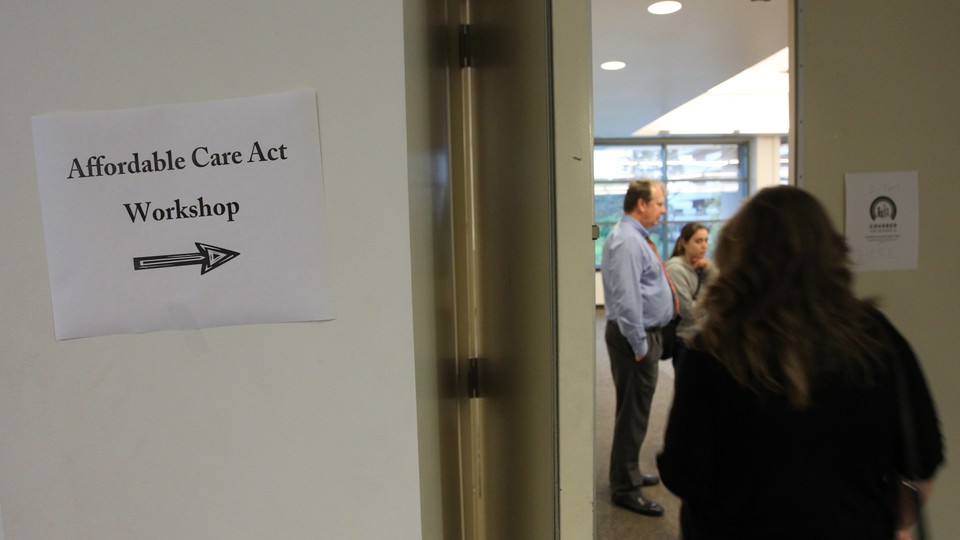 With HealthCare.gov finally working, Democrats are able to fight back in the Obamacare anecdote war.
The White House and its outside allies are already ramping up a massive effort to emphasize the personal stories of people getting coverage under the health care law — ground that Democrats were largely forced to concede to the GOP during the uproar over canceled insurance policies.
Collecting constituent stories has been a focus of the Republican strategy against the health law for several weeks. But now, with HealthCare.gov working better and enrollment beginning to surge, Democrats are prepared to launch a deluge of pro-Obamacare anecdotes as they try to promote enrollment and make a political sales pitch for the Affordable Care Act.
"For a while we've been very focused on lifting up personal stories as a really good way to communicate what's out there. Especially with the problems with the site, we wanted to — wherever we could — push stories to show it's possible," said Jessica Barba Brown, national communications director for Enroll America, a group dedicated to helping individuals sign up for coverage through the law. "Now stories are obviously much better in terms of process, with people saying they sailed through the application process in 45 minutes."
An anti-Obamacare "playbook" released by the House Republican Conference before Thanksgiving emphasized gathering stories over the holiday to use as ammunition against the law, and the strategy will continue over December break.
"Recognizing that health care is much more than the website, House Republicans have been sharing stories primarily about canceled plans, lost access to doctors and hospitals, and higher costs," a House leadership aide wrote in an email to National Journal.
Republican lawmakers have held Google "hangouts" and reached out to constituents through email and social media to collect stories.
"Senate Republicans continue to share the stories they've received from constituents on the Senate floor, in weekly columns, in interviews, and elsewhere," AshLee Strong, communications director for the Senate Republican Conference wrote in an email.
Although the law's supporters clearly lost ground during the past two months, there are good reasons to think they'll have an upper hand in the anecdote war. Some negative stories may become positive ones, as people who had their previous plans canceled find new coverage through the law's exchanges. Without unity around a health care plan of their own, Republicans have no alternative to suggest to those sharing their negative experiences.
The Democrats' case is also more dramatic. While Republicans rolled out stories of people's premiums going up, the administration and its allies have already begun to identify people with chronic illnesses who are getting health care coverage for the first time, or who have not been able to afford insurance until now.
"I think that we are in a good upswing, and I think it will continue to gain steam," said Lauren Weiner, deputy communications director for Americans United for Change.
A White House official said the administration has recently launched new tools to collect pro-Obamacare anecdotes and push them into the broader debate over the law. The White House helps members of Congress find anecdotes in their area or that are relevant to the specific issues they want to discuss, the official said, and Obama has highlighted several personal stories in his renewed sales pitch for the law.
This week, Enroll America and some of its partner organizations — including Families USA and Planned Parenthood — is launching a major new initiative to highlight positive experiences of those enrolling in coverage. The push will involve a coordinated weekly theme that highlights stories of certain demographics.
"Next week it will be women and moms," Barba Brown explained last week. "In the future it could be people enrolled in Medicaid, African-Americans, Latinos, youth. On Valentine's Day we may highlight couples and loved ones getting covered." She says that the strategy is separate but complementary to the White House's anecdotes push.
Like the administration, the organization's efforts have ramped up following the website fixes. In the three weeks leading up to the Dec. 23 deadline to enroll in coverage beginning Jan. 1, Enroll America will hold over 1,000 events across the country — primarily enrollment fairs where staff, partners, and navigators will continue to collect Obamacare success stories.
The numbers should work in favor of the law's supporters as well, as long as they are able to reach enough of those who are newly eligible for coverage.
"There's a myriad of experiences out there," Barba Brown said. "I think the kinds of stories we're highlighting represent the experiences of most people."
Democrats were supposed to be able to count on positive stories about people gaining coverage as a counterweight to the bad publicity over plan cancellations. But because HealthCare.gov was functioning so poorly, hardly anyone was able to enroll and the site's problems overshadowed the few success stories there might have been.
"The website functioning better is a very good thing for anyone who supports this law. I think that has been a huge help," Weiner said.