Ingredients of a White House Shake-Up: Dash of Bush, Dab of Clinton, and Roll Heads
Adding Podesta and Schiliro is just layering. Like Bush, Obama is averse to change.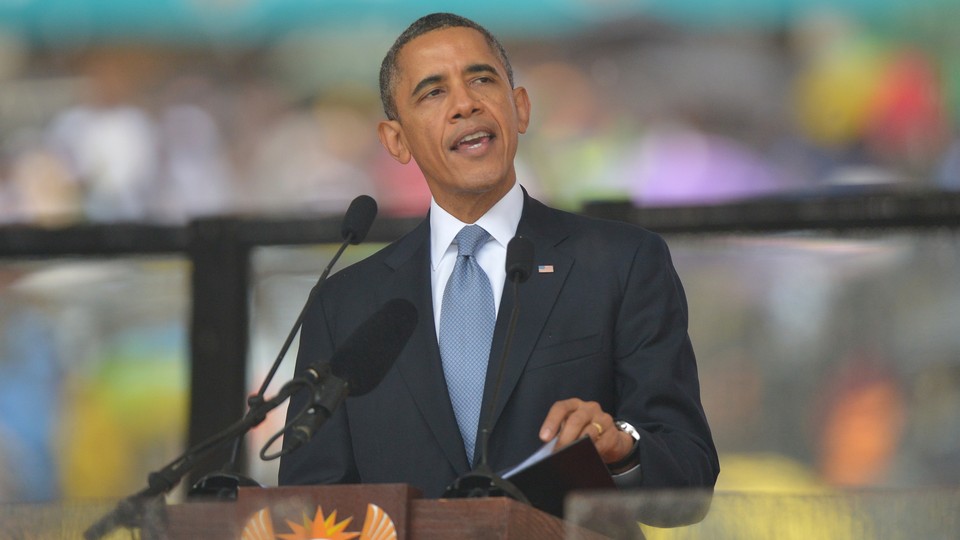 "Mr. President, I think I need to resign." In July 2003, six months after President Bush falsely declared in his State of the Union address that Saddam Hussein had tried to buy yellowcake uranium powder from Africa, Stephen Hadley wanted to take the fall. The CIA had told him before the address that the evidence was dubious, and it was his job to vet the speech.
"Ugh, Hadley," Bush said, brushing off his deputy national security adviser. According to Peter Baker's book Days of Fire, Hadley persisted. He explained that the president should expect the highest standards and those who work for him were invested with the national trust. It was no disgrace to accept responsibility for a mistake, he told Bush. "In fact, that is exactly how the system should work, and that is what needs to happen here."
Bush refused to accept Hadley's resignation. Separately, he also rejected Vice President Dick Cheney's offers — three of them, according to Baker — to drop off the 2004 reelection ticket. While the president later fired Defense Secretary Donald Rumsfeld and Attorney General Alberto Gonzales for ineffectiveness, he dithered far too long before pulling the trigger.
Reading Baker's book, it struck me that Bush and his successor, Barack Obama, share an aversion to jettisoning dead weight. Casting aside loyal lieutenants is a sign of weakness in their eyes — even when it needs to be done, and especially when the chattering class demands it. This personality quirk leads to a lack of accountability and a delay in fixing broken policies. It's part of what ensnared Bush in Iraq and caused him to clumsily defend the government's response to Hurricane Katina.
A president deserves the best advice, the public demands accountability, and there's no shame in admitting failure.
While there is no comparing a war and a hurricane to health care reform, we'll see soon if Obama has learned from the past, because Hadley was right: A president deserves the best advice, the public demands accountability, and there's no shame in admitting failure. Obama needs to shake up his team over the rollout of the Affordable Care Act, a process so mismanaged that a majority of the public now mistrusts the president and the White House will almost certainly fall short of critical ACA enrollment targets. Insularity, deceptive communicatations, and a lack of attention to detail played into second-term controversies beyond Obamacare, including issues involving the IRS and the National Security Agency.
Obama so far has taken baby steps. He brought back his former chief congressional lobbyist, Phil Schiliro, to help on health care issues. Schiliro's return should bolster a White House legislative-affairs team that has drawn pathetic reviews from Democrats and Republicans on Capitol Hill.
The White House will also benefit from the addition of John Podesta, former chief of staff to President Clinton and the founder of the Center for American Progress, a liberal public-policy group that has provided personnel and policy ideas to the administration. He has agreed to serve a year as a counselor to Obama.
But Podesta is no outsider. In addition to his work at CAP, he led Obama's transition team in 2008, stocking the administration with political appointees. So if Obama is going to broaden his circle and embrace constructive criticism, he's still got work to do.
This is no shake-up. It's a gentle layering. White House officials insist that Podesta's hiring reaffirms Obama's support for Chief of Staff Denis McDonough, the one person, besides Obama, who is ultimately responsible for any management failures. Health and Human Services Secretary Kathleen Sebelius, who reportedly mocked McDonough for micromanaging the ACA implementation, still has her job — as do others who fumbled Obamacare and other issues.
I wrote last week that Obama needed more than a sacrificial lamb or a couple of new faces. He needs to fire those responsible and hire people who compensate for his weaknesses, a ruthless management team that will force him to remain engaged in the nitty-gritty of politics and governing.
Interestingly, Bush's predecessor, Bill Clinton, had the opposite problem. He was too engaged in the minutiae of White House management. In The Survivor, biographer John Harris wrote of the time in 1993 when Clinton grew angry at five aides and told White House Deputy Chief of Staff Roy Neel to fire them. "Neel dutifully went about this unpalatable assignment," Harris wrote. "Within days, he learned — though not from Clinton — that all five people had appealed directly to the president, who had reversed the firings."
Others weren't so lucky. Clinton perhaps went too far in tossing aside longtime friends and allies. If Obama decides to actually shake up his team, maybe that's the sweet spot — somewhere between Bush and Clinton.