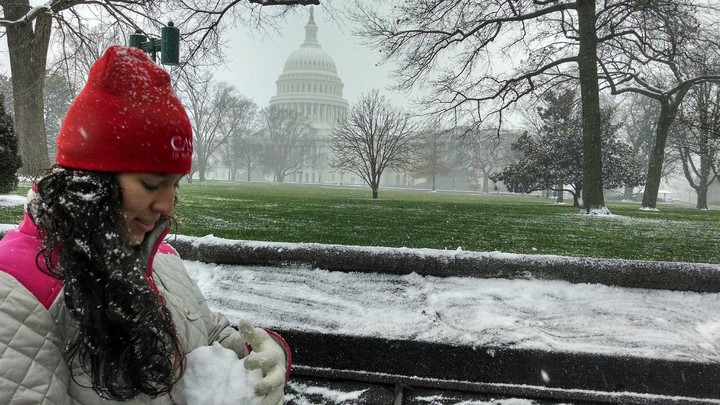 In many ways, Berenice Ramirez is a typical 17-year-old — hanging with friends in Florence, Texas, and waffling on which college she might want to attend to pursue her dream of becoming a doctor. In other ways, as a native of Mexico without American citizenship, she is very different. She has been granted Deferred Action for Childhood Arrivals status but worries about the prospect of being split from her parents and other undocumented family members.
It's that difference that led her to Washington this week where she walked the halls of the Rayburn Building on behalf of We Belong Together. The group, also known as Women for Common Sense Immigration Reform, assembled kids as young as 8 — appealing to the spirit of the holidays — to tell members of Congress of their concerns for their families. In reading their letters, some kids spilled tears, but Ramirez showed poise and later explained why she's become involved in political activism. The letter she wrote to members of Congress appears below.
This interview, conducted by Jody Brannon, has been edited for length and clarity.
My brother was the one who got our family involved in immigration action because he thought our voice needed to be heard. You never see people like us going out there and speaking out.
I came to D.C. in September for an all-women's action, and that's when I really started to share my side of the story and how it's impacting my family. And that's when I felt empowered. I may just be one voice, but it matters, and we just need to fix our broken immigration [system].
We live in fear of deportation and arrest. We decided we needed someone to take action — someone to tell people that you don't need to be afraid, and people need to know we're important. And we need to take action for immigration reform. The more people we get involved from the community, the more we'll be heard.
My oldest sister just turned 24, my brother is 21, and my other sister came with me to the U.S. and she recently turned 20, then there's me and my little sister who is 11 — she was born here. My mom is a domestic worker. My dad has a small business, in fence-building, and he's also a welder. So when he's not working at a metal-recycling facility, he's working at small jobs like landscaping and taking care of other people's yards.
My little sister, she's afraid of our family being split up. But actually, my family is one of the luckier families, because we haven't been separated by deportations yet. My dad came [to the U.S.] first and started sending money so that our mom could support us, and then my mom had to leave us with my aunt in Mexico.
My mom left with my eldest sister and older brother, and we wondered when we'd see them again.
Both my parents came here for us to be happier. When my sister and I came to the U.S., we pretended to be someone else's grandchildren, and we crossed through a checkpoint, which was different from my mother and other siblings who had to cross the desert.
We were one of the luckier ones, and just hearing these other kids' stories was even eye-opening for me because I didn't know it could be as bad as that, and now I'm more determined to help people.
I've always wanted to be a doctor. My parents would buy me toys like syringes and I'd practice on them. But I always cared about people, and I guess that comes from the family that we are. Our parents work hard to provide for us, and we are close-knit and get together all the time. My parents are very supportive of us, telling us that no one can tell us no if we set our mind on it. If we believe in it, we should fight for our voice to be heard.
But I've always had a passion for helping people out, even people who I see on the streets. I want to be able to help them have a better life, just like I'm fighting for my family. I know how it feels to live in fear and be underprivileged, and I want to help with other people overcome their situations, especially those in Third World countries. [My parents] taught me I'm very privileged and to be grateful for what I have and work hard to achieve greater things. I've always just been like that — that's what I live for.
[Regarding college], I'm actually not decided yet. I want to do everything. But my brother got into the University of Texas at Austin, and that was the big step for us. He is graduating early and going to study abroad in China. We're very proud of him and all that he has achieved. (People can say), "There's someone who's underprivileged but who is making his dreams come true."
I'm looking into the University of Texas at Austin, too, but I also want to be more independent, to show people if that if you really want something and strive for it, you can get it. So I'm also looking into Berkeley — I heard there are a lot opportunities there, and ever since I came to Washington, I have been thinking about applying to Georgetown University. It'd be a great opportunity to get involved in even more actions here.
[My friends at school] are really supportive. They're so proud of me. [They tell me], "You're getting out and letting your voice be heard!" But they don't really understand about what's happening around the world in situations such as mine and other underprivileged people. But it's really exciting for my family, and we're all happy that I got the chance to go to D.C., but there's no victory yet.
[When an immigration measure passes] "¦ it'll change everything. It'll be one of the best moments that could ever happen. I'd be crying and overwhelmed with all the emotions that will come to me all at once. But it'll definitely be very exciting. It'll be a great moment because I'd know that my parents are not left out. All the hard work that they did for us has paid off and all the things they've ever said will finally be coming true. My parents, all they really asked of us was to get an education and be someone in the world and, being able to do that to make them proud, it'll be amazing. Knowing that they and other people never give up is so inspiring, and I admire it. They're the reason we started doing this — letting our voices be heard. We're fighting for them and other people who are living in the shadows, afraid of what might happen to them and their families. Their contributions to our country will finally be recognized, and we won't have to have to be frightened any more.
Berenice Ramirez's introduction and letter to Congress:
My name is Berenice R. and I am a 17 year old DREAMer. When I was just 2½ years old, I immigrated from Guanajuato, Mexico, to Texas to reunite with my parents, older brother, and eldest sister after having been separated from them for almost a year.
Although I've been granted DACA, my parents, siblings, and many other members of my family are undocumented. I believe in the spirit of "Si Se Puede!" and have complete faith that we can achieve a just solution to our failed immigration system. I will not give up in the struggle.
Berenice Ramirez is active with the immigrant-reform organization We Belong Together. (Courtesy photo)Here is my letter to Congress:
Dear members of Congress,
My name is Berenice Ramirez Campos. I am 17 years old and live in Florence, a small town located in Central Texas. I came to this country when I was just 2 years old. I care about repairing the broken immigration system because I am an undocumented DREAMer aspiring to becoming a doctor.
Not only does this issue affect me, but it also affects my undocumented parents, siblings, and many other family members, as well as my 11-year-old documented sister.
The broken immigration system has kept my eldest sister from pursuing her dream of becoming a dental assistant, my parents from acquiring drivers' licenses, and it almost kept another one of my sisters and my brother, from attending the university of their dreams, the University of Texas at Austin.
My eldest sister was denied from the colleges she applied to simply because she could not provide the Social Security number they asked for. After much more hard work and persistence from my brother and other sister, they have been accepted to the University of Texas at Austin.
Although Deferred Action for Childhood Arrivals (DACA) has greatly helped my family, we still live in constant fear that our parents could be deported at any moment, and DACA is only a short-term solution.
What my family, and thousands of other families, need is just immigration reform that provides a roadmap to citizenship for all 11 million undocumented immigrants and not just a piecemeal solution. We need immigration reform that takes into account the unique needs of young women and children and that keeps families together.
With comprehensive immigration reform, not only will my dream of becoming a doctor come true, but also, my eldest sister can pursue her dream of becoming a dental assistant. My parents will be able to drive safely and legally without the fear of being separated from my siblings and I; they will be able to legally work and provide for our family without the fear of sudden deportation in their workplace. Furthermore, my little sister will no longer live in fear of being left alone if her whole family were to be deported.
This is my wish for the holidays and it represents the wishes of thousands of others across the country. But I know exactly who has denied this wish in 2013, and we are here to tell House Republicans that WE WON'T BE DENIED. I speak for thousands of other young people when I say that I hope that you gain the courage to stand up for my family and others in 2014.
Sincerely, Berenice Ramirez
'MY VIEW' OF THE NEXT AMERICA
Are you part of the demographic that is the Next America? Are you a catalyst who fosters change for the next generation? Or do you know someone who is? The Next America welcomes first-person perspectives from activists, thought leaders and people representative of a diverse nation. Email us. And please follow us on Twitter and Facebook.
'MY VIEW' OF THE NEXT AMERICA
Are you part of the demographic that is the Next America? Are you a catalyst who fosters change for the next generation? Or do you know someone who is? The Next America welcomes first-person perspectives from activists, thought leaders and people representative of a diverse nation. Email us. And please follow us on Twitter and Facebook.
---
Jody Brannon contributed to this article
We want to hear what you think about this article. Submit a letter to the editor or write to letters@theatlantic.com.