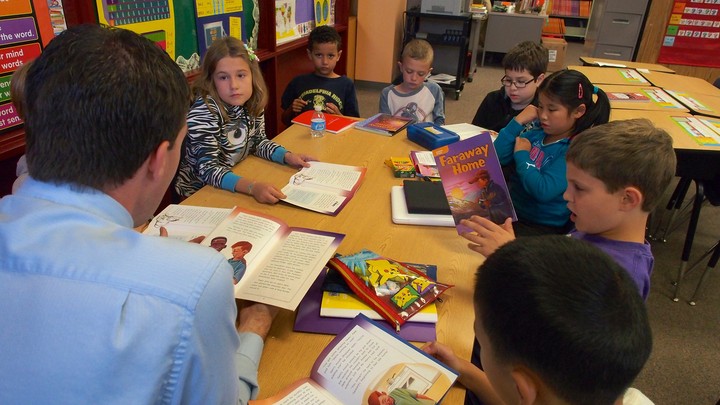 These stories, reflecting issues relevant to race and health disparities, are from November.
MOST POOR CHILDREN LAG BEHIND IN COGNITIVE SKILLS, HARMING COLLEGE READINESS. Only 19 percent of low-income third-graders have "age-appropriate cognitive skills," according to a policy report released by the Annie E. Casey Foundation. That number is a substantial drop from children in higher-income families, with 50 percent of those third-graders hitting the age milestones. Seventeen million kids under 9 are considered low income, a population the report says is at strongest risk for long-term developmental setbacks. The data show that by grade three, only 36 percent of students scored at or above the national average on math, reading, and science exams, with even more discouraging results for black, Hispanic, and low-income students. Only 14 percent of black students, and fewer than 20 percent of low-income and Hispanic students, scored at or above the national average. A third-grader who reads below grade level is four times less likely to graduate from high school on time. NBC Latino
MORE ABOUT 'THE FIRST EIGHT YEARS: GIVING KIDS A FOUNDATION FOR LIFETIME SUCCESS.' Hechinger Report
HEALTH DISPARITIES PERSIST AMONG MINORITIES IN U.S. Despite progress in some areas, health disparities remain for many Americans in 29 evaluated categories, including inequalities related to race and ethnicity, says a U.S. Centers for Disease Control and Prevention report. Among the key findings: Hispanics, low-wage earners, those with only a high school education, men and those born outside the United States are most likely to take high-risk jobs; tuberculosis remains disproportionately high among racial and ethnic minorities and those born outside the U.S.; diabetes rates are highest among Hispanics and blacks; the infant death rate for blacks is two times higher than for white infants; and blacks are 50 percent more likely to die of heart disease or stroke prematurely than whites. Health
SURVEY: AMERICAN CHOICES AROUND DEATH DIFFER BY RELIGION AND RACE. Death may be inevitable, but one in three Americans — and about two-thirds of blacks and Hispanics — want doctors to fight it, according to a report by the Pew Research Center's Religion and Public Life Project. Also, recent statistics from the National Hospice and Palliative Care Organization show 83 percent of hospice patients are white, compared with blacks (about 9 percent) and Hispanics (7 percent), reflecting a discomfort among some with end-of-life issues. Religion News Service
LATINO ELDERS AND PREPARING FOR THE LAST PHASE OF LIFE. Latina Lista 
BINGE DRINKING COMMON FOR HIGH SCHOOL SENIORS. About 20 percent of U.S. high school seniors report binge drinking, or consuming five or more alcoholic drinks in a row, according to a study published by JAMA Pediatrics. In a nationally representative sample of 16,332 high school seniors (52.3 percent female, 64.5 percent white, 11 percent black, 13.1 percent Hispanic, and 11.5 percent of other race/ethnicity),  boys, whites of either gender, and students whose parents are college educated are the most likely to binge. Booze News 
HEALTHYHISPANICLIVING.COM LAUNCHES. The Center for Hispanic Leadership has started a preventive care online educational portal aimed at America's growing Latino community. Targeting the 16.2 percent of the U.S. population that is Hispanic/Latino (or 55 million people), the site will provide health care information targeted at Hispanics and address specific needs such as improving vaccination rates and obesity. PR Newswire 
BLACK PATIENTS SKIPPING LOWER-COST MEDS. African-American patients may feel less comfortable than white patients asking doctors if they can take cheaper drugs, a recent survey from an emergency department shows. The researchers support recommendations that doctors talk with patients about drugs cost and ways to reduce costs, which may also help people adhere to their prescribed medications. Reuters 
RACISM LINKED TO DEPRESSION AND ANXIETY IN YOUTH. Children and young people experience poor mental health, depression, and anxiety following experiences of racism, according to a review of 461 cases that linked racism and health. "The review showed there are strong and consistent relationships between racial discrimination and a range of detrimental health outcomes such as low self-esteem, reduced resilience, increased behaviour problems, and lower levels of well-being," the lead researcher said. Most studies reviewed were conducted in the U.S. with people of color ages 12 to18. University of Melbourne 
THE PHYSICIAN WILL TEXT YOU NOW. Social-media follow-ups between diabetic patients, especially Latinos, and their physicians after a visit to an emergency room showed improvement in their level of control over their condition and their medication, according to a study in the Annals of Emergency Medicine. The Examiner
U.S. RANKS WORST IN PREEMIE BIRTHS. The United States rated average for preterm birth rates and ranks behind other developed countries despite the number falling for the sixth-consecutive year. The 2012 nationwide rate for premature babies dropped to 11.5 percent, a 15-year low, according to the March of Dimes Premature Birth Report Card. "We would like to see them go down at a faster rate, but ... Vermont ranked highest with a rate of 8.7 percent, but Mississippi placed in last with 17.1 percent," a March of Dimes official said. This year the foundation added race and ethnicity as a factor to analyze because of concern about health care inequalities. The rates for premature birth were African-Americans (16.8 percent), followed by Hispanics (11.7 percent), native Americans (13.6 percent), whites (10.5 percent), and Asians (10.3 percent). MSNBC 
OUTREACH TO HISPANICS MAY BOOST ORGAN DONATION. Latino/Hispanic-Americans, the fastest growing segment of the U.S. population, have a growing need for donated organs, researchers say, and creative outreach programs could raise the number willing to donate organs. After a radio and TV blitz in four Southern California communities, researchers found a 55 percent increase (from 12 percent to 18 percent) in Hispanics who said they would donate their organs Reuters 
INSURANCE AND THE AFFORDABLE CARE ACT
ENROLLING ASIAN-AMERICANS BRINGS CHALLENGES. Health care workers and advocates must consider dozens of languages and dialects — from Bengali to Tagalog — when communicating Affordable Care Act details with the approximately 3 million Asian-Americans who have trouble speaking and understanding English. About 2.5 million Asian-Americans lack coverage, according to 2012 census data, which is about 4 percentage points higher than the average for non-Hispanic whites. "It's not one size fits all — you have to tailor the messages," said Priscilla Huang of the Asian and Pacific Islander American Health Forum. About 12 percent of Asian-Americans live in poverty, though statistically Chinese and Indian Americans are more likely to be insured as they earn more than Vietnamese and Bangladeshi families, for instance. Kaiser Health News
OBAMACARE TO IMPROVE MENTAL HEALTH CARE FOR HISPANICS. One area of Hispanic health that will benefit from the ACA is the realm of mental health care. Approximately 16 percent of Hispanics self-report an issue with mental health, according to the National Survey on Drug Use and Health, but only one in five Hispanics will seek care with a general practitioner for their troubles, and fewer still — one in 11 — will seek the aid of a mental health specialist. Voxxi
RACE A BIGGER HEALTH CARE BARRIER THAN INSURANCE STATUS. Blacks, Hispanics, and Asians are less likely than non-Hispanic whites to visit a health care professional, even with health insurance, the Journal of Health Care for the Poor and Underserved reports. One reason might be because of fewer health care professionals serving minority communities. Health Behavior News Service via Newswise 
OPINION: HISPANICS WANT CULTURALLY COMPETENT HEALTH CARE PROVIDERS. Elena V. Rios, a physician who is president of the National Hispanic Medical Association, says that communication barriers and finances are likely the biggest hurdles to Hispanics seeking health care, but many Hispanics also do not trust their health care providers due to a lack of culturally sensitive care. Voxxi 
OBESITY AND NUTRITION
TOO MANY EMPTY CALORIES: A LOOK AT A TEXAS COMMUNITY WITH BIG PROBLEMS. A diet fueled by food stamps is making South Texans obese but leaving them hungry. Hidalgo County has one of the highest poverty rates in the nation, with about 40 percent of residents receiving food stamps and relying cheap, processed foods. In turn, the community has diabetes and obesity rates double the national average and the highest per-capita spending on health care in the nation. For one of the first times anywhere in the United States, children in South Texas have a projected life span that is a few years shorter than that of their parents. The Washington Post explores a crisis at the heart of the Washington debate over food stamps: Has the massive growth of a government feeding program solved a problem, or created one? 
GIRLS' DIET TIED TO EARLIER PUBERTY. An important study of young girls has determined that childhood obesity is most likely the key driver behind the disturbing, and now widely acknowledged, phenomenon of girls starting puberty at a younger age. The study, published in the journal Pediatrics, tracked the breast development of girls ages 6 to 8 in San Francisco, Cincinnati, and New York City. According to the report, "Girls with greater BMI reached breast stage 2 [development] at younger ages." Ethnicity, too, was an important factor: The "median age at onset of breast stage 2 was 8.8, 9.3, 9.7, and 9.7 years for African-American, Hispanic, white non-Hispanic, and Asian participants, respectively," researchers report. Health
COMMENTARY: GIRLS AND EARLY PUBERTY: IS IT MORE THAN JUST OBESITY? WBUR
OBESITY RATE ON RISE, EXCEPT AMONG KIDS. The U.S. adult obesity rate is 27.2 percent, the highest level at this point in the year since Gallup-Healthways started tracking it. Nearly every demographic and socioeconomic group has experienced increases in obesity, particularly people ages 45 to 64 and people who make between $30,000 and $74,999 a year. African-Americans are the heaviest group, with a 35.7 percent obesity rate. Earlier this year, federal figures showed that childhood obesity is in decline. Huffington Post
THE MESSY, MESSY RELATIONSHIP BETWEEN INCOME (AND RACE) AND OBESITY. The groups with the lowest obesity rates? The richest white women and the poorest black men. The irony of obesity is that, according to conventional wisdom, it's a disease for poor people in rich countries. But Pew Research figures indicate that obesity rises with income for black and Hispanic men, but it falls with income for black and Hispanic women. The Atlantic
MORE THAN 3 MILLION U.S. HISPANICS AFFECTED BY THE DIABETES. About 3.2 million Latino adults — 13 percent of the overall Hispanic population — are living with diabetes, according to the Health and Human Services Department's Office of Minority Health. "Hispanics are 1.7 times as likely have diabetes as whites," with Mexican-Americans even likelier to be diagnosed, HHS reports. Also, the death rate among Latinos from diabetes-related causes is 50 percent higher than non-Hispanic whites. FOX News Latino
RESEARCH AND STUDIES
LATINOS' PROPENSITY FOR ALZHEIMER'S: LIKELY THE RESULT OF CHRONIC DISEASES. Latinos comprise about 17 percent of the U.S. population, and despite no genetic predisposition to Alzheimer's disease, this demographic is disproportionately affected by it. According to the Alzheimer's Association, by 2050, the rate of Latinos with Alzheimer's is projected to increase 600 fold. According to past studies, Latinos are 1.5 times as likely to develop the disease, probably more because of chronic illnesses such as obesity, diabetes, cardiovascular disease, hypertension, and stroke, not because of heredity. Voxxi 
HOW KIDS' BRAINS ARE AT RISK FROM A BARRAGE OF COMMON CHEMICALS. A longtime study of families in Harlem, N.Y., shows a greater occurrence of asthma, obesity, and learning disabilities. In 1998 researchers started to track 700 pregnant women from hospitals in parts of New York City with high rates of pollutants. By age 3 their kids tested 6 points lower on motor skills and 3 points lower on mental development, with signs of attention-deficit and hyperactivity problems. One researcher estimated that, nationwide, mercury exposure that affects  IQ can result in "decreased lifetime economic productivity valued at $8.7 billion annually." This lengthy, highly informative article by Florence Williams was backed by the NRDC Science Center Investigative Journalism Fund. On Earth
WOMEN MORE LIKELY TO DIE IN HOSPITAL AFTER HEART ATTACK. Younger Hispanic, black, and white women are more likely to die in the hospital after a heart attack than white men are, a study finds. Researchers examined data from about 207,000 American adults hospitalized for heart attack — including more than 6,500 Hispanic and black women younger than 65 — and found significant racial, gender, and age disparities. Younger Hispanic, black and white women were 1.5, 1.4, and 1.2 times, respectively, more likely to die in the hospital than white men. The researchers do not explain why the differences in treatment exist but differences in health care access, doctor biases and patient mistrust could be factors. Reuters 
STUDY SHOWS MURKY STATE OF CHILD SUPPORT IN U.S. Americans owe more than $14 billion in back child-support payments, accounting for 38 percent of what should be received annually, a U.S. Census Bureau study shows. According to "Custodial Mothers and Fathers and Their Child Support: 2011," fewer than 50 percent of custodial mothers are white, more than 25 percent are black, and 21 percent are Hispanic. Among custodial fathers, most are white; 16 percent are black; and 18 percent are Hispanic. Courthouse News Service 
YOUNG LATINAS FACE HIGHER RISK OF DEATH FROM HEART ATTACKS. Hispanically Speaking News
AFRICAN-AMERICAN WOMEN LESS LIKELY TO GET HPV VACCINE COMPARED WITH WHITE WOMEN. News Fix
BLACKS WITH COLORECTAL CANCER LESS LIKELY TO SEE SPECIALISTS. Health
LANDMARK FINDINGS SHIFTS IDEAS ON HEPATITIS C IN AFRICAN AMERICANS. PR Web 
HISPANICS RECEIVE FEWER SURGERIES FOR VASCULAR DISEASE. MedicineNet
LOW VITAMIN-D LEVELS DURING PREGNANCY ASSOCIATED WITH PRETERM BIRTH IN NONWHITE MOTHERS. E Science News
RACIAL AND ETHNIC DISPARITIES EXIST IN ER PAIN MANAGEMENT FOR KIDS WITH ABDOMINAL PAIN. NewsFix
RACIAL DIFFERENCES SEEN IN PANCREATIC-CANCER DEATH RATES.  Medline Plus
BED SHARING AMONG BLACK, HISPANIC INFANTS STILL INCREASING. NewsFix
MINORITIES RECEIVING SUBPAR ANXIETY CARE. Brown Daily Herald
BLACK STUDENTS WITH BLACK TEACHERS HAVE LOWER RATES OF TEEN PREGNANCY. The Atlantic
VITAMIN-D DEFICIENCY MIGHT BE OVER-DIAGNOSED IN BLACKS. MedLine Plus
GENE PUTS AFRICAN-AMERICANS AT HIGHER RISK FOR KIDNEY FAILURE. Science Daily
We want to hear what you think about this article. Submit a letter to the editor or write to letters@theatlantic.com.