Gingrich vs. the Right on Apartheid: 'What Would You Have Done?'
A message about Nelson Mandela that conservatives sorely need to hear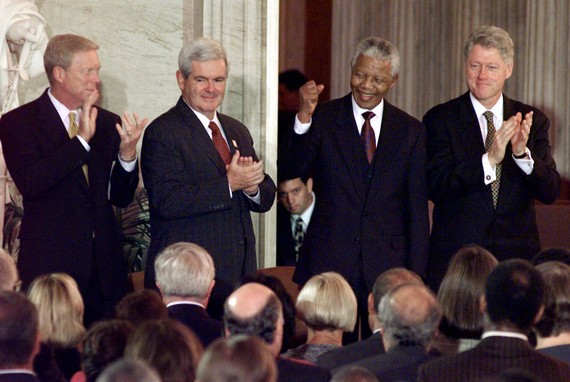 I think this is a fairly noteworthy statement from Newt Gingrich on Mandela's passing that should get some airing. Gingrich is addressing the rather disgraceful response to Mandela's passing that we've seen in some quarters:
Some of the people who are most opposed to oppression from Washington attack Mandela when he was opposed to oppression in his own country.
After years of preaching non-violence, using the political system, making his case as a defendant in court, Mandela resorted to violence against a government that was ruthless and violent in its suppression of free speech.

As Americans we celebrate the farmers at Lexington and Concord who used force to oppose British tyranny. We praise George Washington for spending eight years in the field fighting the British Army's dictatorial assault on our freedom.

Patrick Henry said, "Give me liberty or give me death."

Thomas Jefferson wrote and the Continental Congress adopted that "all men are created equal, and they are endowed by their Creator with certain unalienable rights, among which are life, liberty, and the pursuit of happiness."

Doesn't this apply to Nelson Mandela and his people?

Some conservatives say, ah, but he was a communist.

Actually Mandela was raised in a Methodist school, was a devout Christian, turned to communism in desperation only after South Africa was taken over by an extraordinarily racist government determined to eliminate all rights for blacks.

I would ask of his critics: where were some of these conservatives as allies against tyranny? Where were the masses of conservatives opposing Apartheid? In a desperate struggle against an overpowering government, you accept the allies you have just as Washington was grateful for a French monarchy helping him defeat the British.
I think it's important to note that Gingrich's position here is not particularly new. This is not an attempt to rewrite history, or claim someone in death whom Gingrich opposed in life. Newt Gingrich was among a cadre of conservatives who opposed the mainstream conservative stance on apartheid and ultimately helped override Reagan's unconscionable veto of sanctions. At the time, Gingrich was allied with a group of young conservatives including Vin Weber looking to challenge Republican orthodoxy on South Africa. "South Africa has been able to depend on conservatives to treat them with benign neglect," said Weber. "We served notice that, with the emerging generation of conservative leadership, that is not going to be the case."
Something else: There's a video attached to the post in which Gingrich gives his thoughts on Mandela's passing. When Gingrich compliments Mandela on his presidency he doesn't do so within the context of alleged African pathologies, but within the context of countries throughout the world. It's a textbook lessons in "How not to be racist," which is to say it is a textbook lesson in how to talk about Nelson Mandela as though he were a human being.
More soon.