Energy Secretary: Fracking Won't Cook the Planet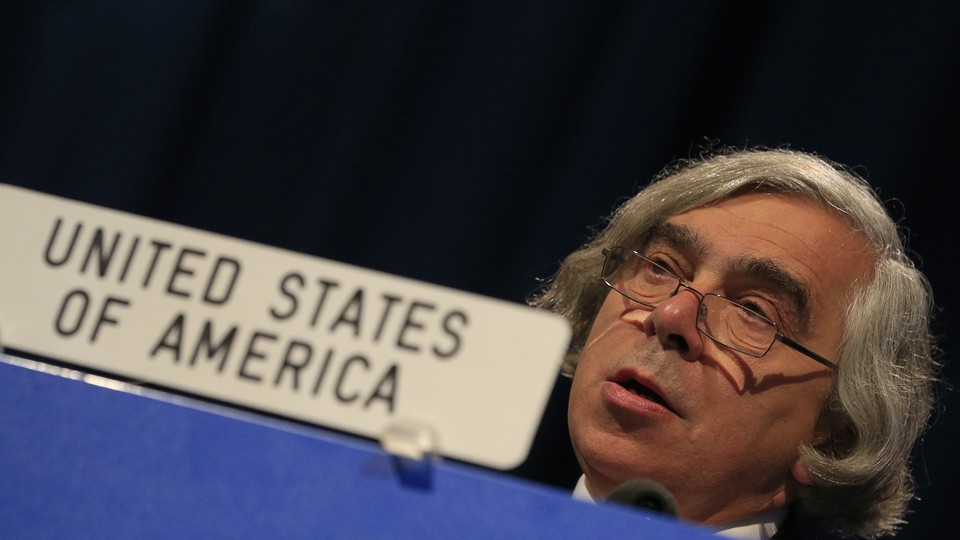 Energy Secretary Ernest Moniz is ending the year with a reminder: Carbon dioxide is the biggest enemy in the fight against climate change.
Moniz, in a new interview, offers a quick tour of recent studies on methane emissions from natural-gas development — a topic that's plenty controversial amid the U.S. fracking boom.
"We need more data," he tells the news service Platts. But, he adds, methane is far from public enemy No. 1. That's carbon dioxide.
"We do have, after all, measurements of the methane concentrations in the atmosphere and what they tell us is that the carbon dioxide concentrations remain by far the biggest forcer of climate change," he said in an interview that aired Sunday.
"So CO2 remains the dominant concern for us," Moniz said on Platts' Energy Week TV.
The comments are the latest sign that Moniz does not see methane leaks undercutting the climate advantages that natural gas holds over coal.
Natural gas, which has been eating into coal's market share in power generation, emits just half as much carbon dioxide when burned to create electricity.
It's one of the major reasons U.S. carbon emissions are falling, and Moniz sees gas as an ally in the fight against global warming — at least for a while, although he believes that eventually much steeper carbon cuts will be needed.
But leaks of methane from gas wells and elsewhere on the supply chain, critics say, threaten to erode a big part of that carbon advantage over coal (or all of it, according to a Cornell University professor's controversial and contrarian analysis).
Moniz is not dismissive of the threat from methane — a gas that's pound-for-pound about 20 times more heat-trapping that carbon dioxide, but emitted in much lower volumes and doesn't stick around nearly as long.
His department is part of an interagency group crafting a methane strategy under President Obama's second-term climate plan.
And Moniz is keeping up on his reading. In the interview, he cited the recent University of Texas study, a product of work with the Environmental Defense Fund that had industry funding, which found low methane emissions from gas wells surveyed.
Moniz, in noting that more data is needed, also cited more troubling research: A recent Harvard University study that found overall U.S. methane emissions are far above EPA estimates. That study looked at a wider array of sources, including gas distribution infrastructure.
But Moniz, a former Massachusetts Institute of Technology physics professor, offers a quick lesson.
"Carbon dioxide has a very, very long residence time in the atmosphere. We are talking centuries. If we emit CO2 now, we are living with that, our children are living with it, our grandchildren are living with it," Moniz said.
"Methane, you are talking more the order of a decade. If we can clamp down, measure . . . reduce those methane emissions, a lot of that will, in fact, go away in a one or two decades time scale," he said.
Elsewhere in the interview, Moniz reiterated his view that it's time to revisit laws and policies that effectively ban U.S. crude oil exports.
Check out the full interview here.