Detroit's Gone Broke. Now Can It Go Smart?
The Motor City could benefit from Big Data. But it will have to do it on a budget.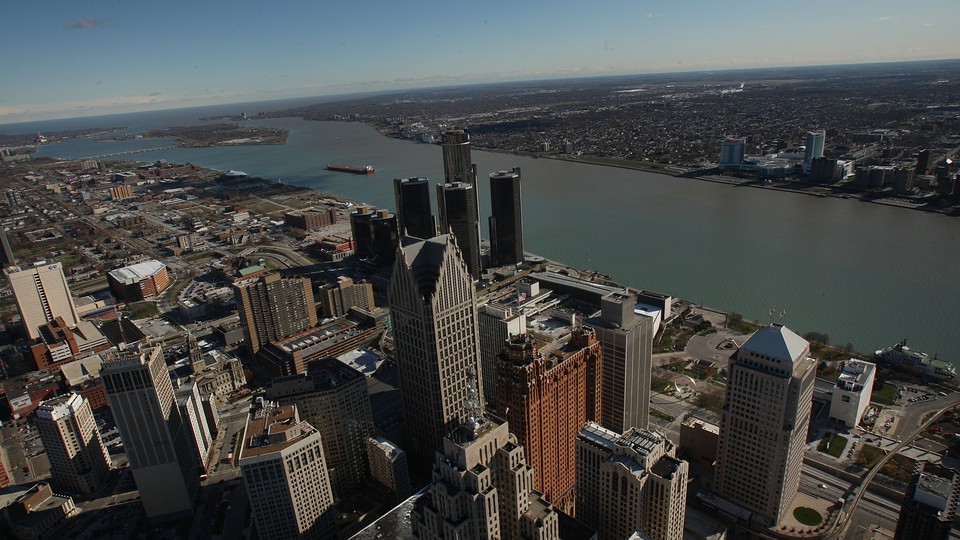 Boston is using data to make traffic more efficient and reduce greenhouse gases. Edmonton now offers an open data "Citizen Dashboard" that tracks government productivity in real time. Chicago is using records to predict where rats will show up and stopping them before they start an infestation.
As cities go "smart," they're using data to make government faster, less wasteful, and more responsive.
But what good does that do Detroit? The Motor City can barely keep half of its streetlights functional. Emergency response times average nearly an hour. Surely a city that can't handle the basics of governance isn't a candidate for high-tech bells and whistles.
Or maybe it's the perfect candidate.
What if City Hall's efforts, in real time, could send resources where they're needed, when they're needed? What if the police department could use data to predict and deter crime, getting the most out of a force that's spread thin? What if a city that has been forced to close offices and cut back hours for its departments could start providing services and public information around the clock with smartphone apps and updated websites?
These solutions aren't as out-of-reach as they sound. And for a government with little money to spend, they're surprisingly cost-effective.
Chicago's WindyGrid, said city IT head Brenna Berman, was based on open-source software and very inexpensive, especially for a program that's already getting results.
The city's pest control workers, for example, are no longer waiting for citizens to call in with complaints. Instead, they're tracking rat sightings and using that information to predict where the vermin will show up next. That approach, Berman said, is like taking preventative medicine instead of waiting until an ailment requires an emergency room visit.
It's a model that's being applied throughout the Windy City's departments — apps track snow plows and street sweepers, garbage trucks are directed along more efficient routes and citizens can track their service requests as they make their way through the system.
"Things like that make people feel closer to the city government and make people feel like they're more in control," Berman said. "Being heard is key, and a lot of these technical solutions to that are not expensive."
If anyone knows what it feels like to be unheard, it's Detroiters — and even the ability to see how their requests are handled could go a long way toward closing the disconnect between citizens and government. "Detroit's got a huge opportunity to take on innovation in terms of how they reach their residents," Berman said.
That sentiment — especially when it comes to government spending — is shared by Mark Wilson, who teaches urban planning at Michigan State University. "Transparency will bring a number of things," he said. "One could be that those spending the money think twice about how it's being used. The public would have a clearer idea of where money goes."
Chicago residents, with just a couple clicks, can see a department-by-department breakdown of where their money is spent. Compare that with Detroit, where — thanks to insufficient digital records — it took a team of Detroit Free Press staffers weeks of pouring over audits at the local library to get an idea where the city's money went.
Perhaps the gold standard in open-government technology is Edmonton, Alberta's "Citizen Dashboard," which chronicles everything from tree pruning to pet rescues to pothole repairs. It's also preparing to add information on the city's economics and government spending. That's a marked contrast from Detroit, where shady contracts and under-the-table payouts have helped put the city in a financial hole.
"You have to engage the community," said Chris Moore, Edmonton's chief information officer. "It's not doing stuff in the back room and coming out and going, 'Tada! Here's the plan.' "
Moore sees potential for Detroit to implement innovations that have been tested elsewhere, but only if it's willing to ask for help — and other cities join as ready partners. "Cities just need to be available to help other cities," he said. "[But] you can't just show up and say, 'Hey, things are really going terribly for you. We're here to help.' "
Governments aren't the only partners that can help Detroit go high-tech. The city should also be looking for private companies, Wilson said, that will provide free or reduced-cost technologies in exchange for a platform to use and promote their innovations.
Wilson cited the Detroit 24/7 project, a privately funded game that gathered feedback from thousands of users in order to assess the city's needs and opportunities. It's an example, he said, of how the city can engage and inform young people who may be less likely to attend public meetings and government forums.
While information is important, it's not the only investment Detroit needs to make if it's to become a "smart city." Better-planned transportation and education objectives are key to making the city more livable, said Jack Belcher, chief information officer for Northern Virginia's Arlington County.
Like Detroit and the auto industry, Belcher said Arlington County had become overly dependent on the federal government to supply a workforce — and, consequently, a stable population. But by improving residents' commutes and their childrens' schools, the county will retain much of its appeal even if its job market loses steam.
Still, those improvements require a significant financial investment on the front end, which Wilson acknowledges is a problem. A city on the verge of cutting employee pensions has little money to spare for new technologies. "There's a certain limit now to what Detroit can do," he said. "When you don't have the resources, it really cripples you."¦ Detroit is almost the toughest case we have."
Detroiters — having heard decades worth of solutions to what ails their city — can be forgiven for rolling their eyes at buzzwords like the "cloud," data-sharing and responsive interfaces.