Deportation Anxiety Is Making Latinos Obamacare Shy
Latinos are an essential component of the health insurance marketplace. But how do mixed-immigration status families know information they provide to the exchanges won't be used against them?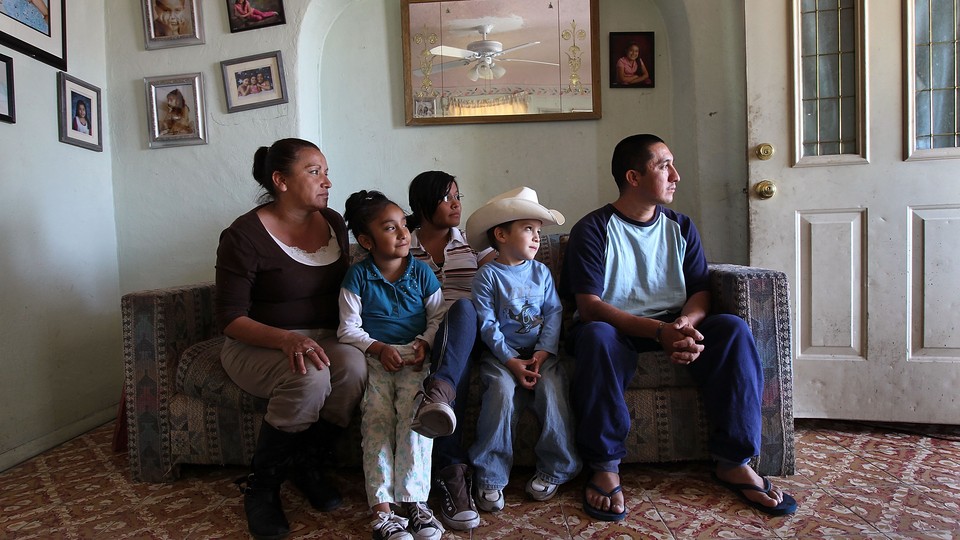 Enrollment numbers aren't in yet, but the Obama administration already knows it has fewer Latinos signed up than it would like. One of the reasons they're not enrolling? People in mixed-immigration status families worry personal information submitted under the Affordable Care Act could be used to deport someone in their family.
"That's a big fear and something that the campaign is trying to address," said Hilda Martinez, a campaign manager for California Endowment's "Get Covered" campaign, which has spent tens of millions of dollars on Spanish-language media outreach. Unwilling to take a chance with their family being torn apart, some immigrants are taking a chance with their health or their children's health.
The issue is especially critical in California, which has a big Latino population and has employed one of the most vigorous public-outreach campaigns in the country.
Authorities have deported a record number of immigrants in recent years — more than 1.9 million since President Obama took office. With immigration reform stalled, it looks like more of the same will occur in the new year.
U.S. Immigration and Customs Enforcement has issued a letter assuring people that information submitted as part of applying for health insurance under the Affordable Care Act will not be used for immigration enforcement.
But Daniel Zingale, senior vice president with the California Endowment, says this assurance isn't enough. "I think something from the president himself would be helpful," he told Victoria Colliver of the San Francisco Chronicle. Martinez added it would be especially useful to have something in Spanish.
Beyond deportation fears, Latinos who've avoided the health care system in the past lack experience with the complex insurance landscape. Another difficulty is providing enough enrollment counselors to assist Spanish-speaking residents, who typically prefer face-to-face interactions over the anonymity of a website.
For those who want coverage Jan. 1, the deadline to sign up was Monday. The overall enrollment period will continue through March 31. These problems of Latino enrollment, however, will be difficult to resolve in just a few months.
The White House certainly has motivation to publicize and emphasize these assurances to the Latino population, whose enrollment is considered key to the success of the Affordable Care Act's rollout. Younger and healthier than the average uninsured American, Latinos would help create a balanced and affordable health insurance pool.
And yet, given ICE's policy of prosecutorial discretion, you can't blame these families for worrying. More than 368,000 people were deported this fiscal year, and that's actually a decrease from the 409,000 deported during fiscal 2012. In 2011, about 397,000 were deported.
"These families are just very fearful whether it's true or not," said Martinez. "We don't have any reason to doubt the administration," she added in reference to ICE's reassuring message this fall, "but there's this fear in the community that isn't just going to go away with a letter."