Democrats Threaten to Oppose Budget Deal Over Unemployment Benefits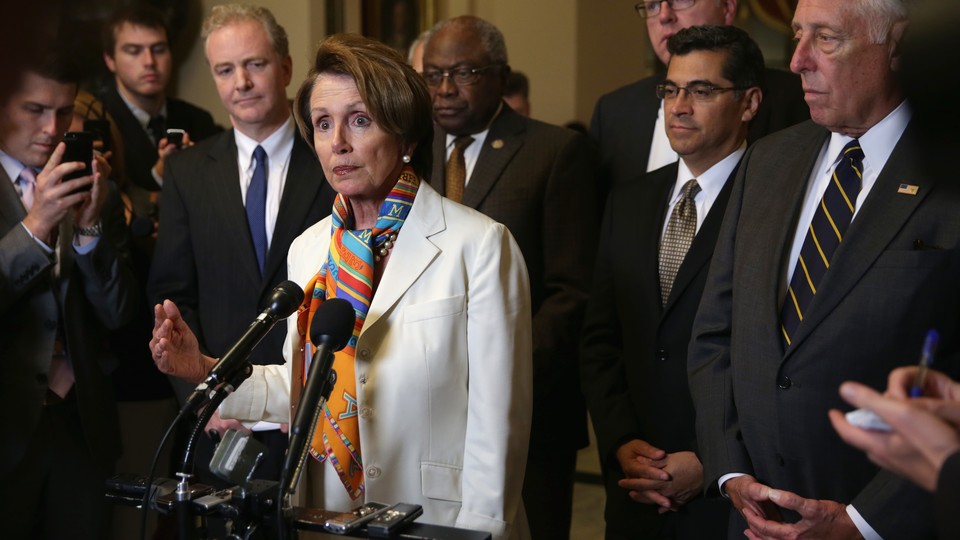 Less than 24 hours after Rep. Paul Ryan and Sen. Patty Murray unveiled their two-year budget agreement, some House Democrats were already trying to derail it.
At issue is a three-month extension of the formula used to reimburse physicians under Medicare that Republicans worked to add to the budget bill Wednesday afternoon. The "doc fix" has widespread support in both parties, but it wasn't a part of the initial budget agreement hashed out by Ryan and Murray, and its inclusion has some Democrats angry.
"As a supporter of the budget agreement itself, it could be put at risk," Rep. Chris Van Hollen told the House Rules Committee Wednesday. "This is a new development, post-agreement. The ink was barely dry."
Democrats had hoped to use the sustainable growth rate extension as a legislative vehicle to extend the long-term unemployment insurance program, which expires Dec. 28, leaving 1.3 million unemployed Americans without benefits. Now the formula will likely be included in the budget deal, leaving Democrats with few options to get an unemployment extension passed.
House Democratic leadership initially said that their party's votes for the budget agreement would not hinge on extending unemployment insurance. But with a separate doc-fix bill off the table, that may be changing.
The implicit message to House Speaker John Boehner is that Democratic leadership can't promise the caucus's votes without unemployment insurance on the floor, either as a part of the budget agreement or as a separate measure.
House Rules Chairman Pete Sessions said he added SGR to floor rule for the budget deal at the request of the lawmakers involved in the doc-fix negotiations, including Senate Finance Chairman Max Baucus, House Ways and Means Chairman Dave Camp, and House Energy and Commerce Chairman Fred Upton. Yet Democrats charge they were blindsided.
"They can be blindsided; the bottom line is it's the worst-kept secret in town that there was an SGR deal that was trying to be done," Sessions said.
Now Democrats are pushing hard for a short-term unemployment extension to be included as an amendment to the budget deal, alongside the doc-fix provision. Rep. Sander Levin, D-Mich., offered an amendment in a House Rules Committee hearing Wednesday afternoon to extend unemployment insurance benefits for three months and pay for it with cuts to direct-payment subsidies from the farm bill.
As for the underlying budget bill, reaction from Democratic leadership on Wednesday was largely tepid. Asked whether she would support the measure, House Minority Leader Nancy Pelosi said, "We'll see."
They are not pressing their membership to support it either. Minority Whip Steny Hoyer said Wednesday that he is not whipping votes on the deal, leaving it unclear how many Democrats will join with Republicans in passing the final budget agreement.
But large numbers of Democratic votes may not be needed. While outside groups are encouraging conservatives to vote against the bill, House Republican leadership expressed confidence after meeting with their caucus Wednesday. "We believe a majority will vote for it," Ryan said Wednesday.
The message from House Democratic leaders in a caucus meeting Wednesday morning was that it is "Ryan's budget" and members should vote their conscience, even though some left-leaning groups are lined up against the deal. Democracy for Action, for example, said in an email that the deal "isn't a 'compromise.' It's a sellout."
But some Democratic votes will likely be needed and that's where leadership hopes to find leverage. "Obviously once the budget passes you don't have much leverage in terms of votes on the things that remain," Hoyer said.
Absent movement on unemployment insurance during Thursday's budget vote, Democrats are left with few options. Hoyer said Democrats may vote against adjourning for the holidays without an unemployment extension, a vote that will have little practical consequences but would give Democrats a messaging opportunity.
"We may not be able to control it, but we're not going to support ending this session without unemployment insurance," Hoyer said.
Progressive Caucus Cochair Raul Grijalva predicted the bill would pass in the House, with some Democratic support. But adding a doc fix without unemployment benefits?
"If they do that, then the equation gets a lot tighter, because you lose a lot of Democrats," he said.