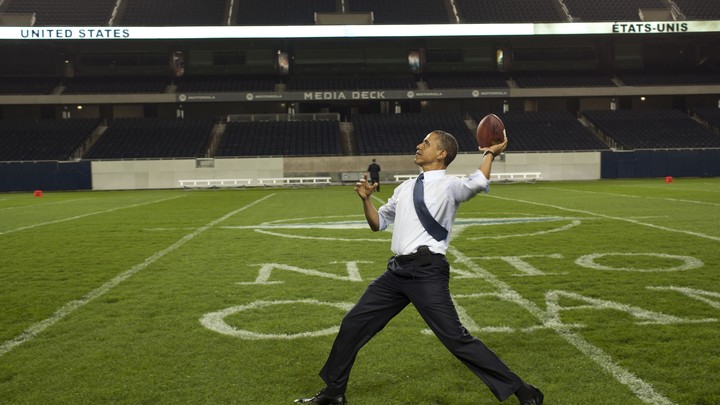 President Obama recently allowed that on several occasions, he and his administration had "fumbled" with regard to the rollout of the Affordable Care Act and suggested it wouldn't happen again. "I am very frustrated," Obama said, "but I'm also somebody who, if I fumble the ball, you know, I'm going to wait until I get the next play, and then I'm going to try to run as hard as I can and do right by the team." It appears he's making good on his word.
In the past few days, Democrats have taken up the offensive on the health care law, sounding off on the consequences of repeal for the GOP as part of a three-week drive to refocus the public on the law's benefits. Buoyed by improvements in HealthCare.Gov, the Democratic Congressional Campaign Committee is targeting 60 House Republicans who have criticized the Affordable Care Act, blasting out statements that tout the benefits of the legislation and linking opponents' criticism of the law with things like immunizations for children and covering those with preexisting conditions. Lawmakers in heated races around the country are getting in on the action as well.
In New Jersey's 2nd District, Democratic candidate Bill Hughes, who's running in a hotly contested race to replace Rep. Frank LoBiondo, called on the congressman to cease his participation in Republican attacks on the president's health care law. "Last month, Congressman Frank LoBiondo repeatedly voted to shut down government and brought us to verge of default, all to advance an agenda that would take South Jersey back to a time when insurance companies could deny his constituents coverage for having preexisting conditions," wrote Hughes in an email to Garden State residents. Republicans' mission, Hughes contended in his missive, is to put insurance companies back in control so that they can drop South Jersey families' coverage at a moment's notice.
Another blast, sent out by Pete Aguilar, the top Democratic candidate in a race to unseat Republican Rep. Gary Miller in California's 2nd District, sounded a similar tune. "The rollout of the Affordable Care Act has not been without its problems," wrote Aguilar in a blast to voters Wednesday night. "But, repealing the law is not an option. We can't go back to putting big insurance companies in charge of our health, where preexisting conditions would exclude you from coverage, or where simply being a woman would increase costs."
It all sounded uncannily like the case Steve Israel, chairman of the Democratic Congressional Campaign Committee, made on Hardball Wednesday night when he argued that House Speaker John Boehner and fellow Republicans were willfully misleading the American people on the ACA. In a conversation with Chris Matthews, Israel summed up the new campaign. "They know that they cannot afford as Republicans, politically, for the Affordable Care Act to succeed. And you know what? We're going on offense now. We're going to let the American people know that every single Republican who talks about repealing the Affordable Care Act is imposing, for example, a $1,200 tax on seniors by reopening the donut hole. So when these Republicans talk about repeal, what they're talking about is hitting the middle class and seniors in their pocketbooks."
Perhaps the DCCC is making inroads already. At least one Republican, Rep. Scott Rigell in Virginia, has admitted the law is actually helping some people and that Republicans would do better to focus on making changes to the law, rather than insisting on outright repeal. "It's not in dispute that many Americans' lives are being disrupted in an important way by this law," Rigell told The New York Times. "Is it also true that some Americans' lives have gotten better? Yes, and to not acknowledge that is to deny reality."
Below is an example of an email the DCCC sent to residents in Republican Rep. Mike Fitzpatrick's district in Pennsylvania. Similar information about preexisting conditions will be sent out in five dozen Republican-held districts.
#CostsOfRepeal: Congressman Fitzpatrick Would Deny Coverage for 5,489,162 Pennsylvanians With Preexisting Conditions

 

Because of Congressman Mike Fitzpatrick's obsession with repealing the Affordable Care Act, 129 million Americans "" including 5,489,162 people in Pennsylvania "" could be denied coverage simply because they have a preexisting condition, sending us back to the days when insurance companies were free to deny care to people with everything from cancer to diabetes to asthma.

 

Data from the Department of Health and Human Services reveals that since 2010, up to 17 million children with pre-existing conditions, including 656,877 in Pennsylvania, can no longer be denied care because of their health, and beginning this January, that protection will extend to all adults "" unless Congressman Fitzpatrick gets his way, sending us back to the old system where insurance companies were free to deny and drop coverage simply for having asthma as a child, or even getting strep throat.

 

"Living in a constant state of dread whether your insurance company might drop you because of a preexisting condition is simply wrong, but that's exactly what Congressman Fitzpatrick would do to 5,489,162 Pennsylvanians. For all those families, that means Congressman Fitzpatrick's repeal plan would rob them of their peace of mind and security and instead could drive them into bankruptcy because of their health conditions," said Emily Bittner of the Democratic Congressional Campaign Committee. "While Democrats work to improve the law to make it work better for the American people, Congressman Fitzpatrick is forging recklessly ahead with his repeal obsession that leaves the 129 million Americans out in the cold simply because they have preexisting conditions like asthma or cancer."

 

BACKGROUND

 

Repeal Could Deny Coverage to 129 Million Americans with Pre-Existing Conditions, Including 17 Million Children. "As many as 129 million non-elderly Americans have a pre-existing health condition that puts them at risk of being denied affordable coverage without health care overhaul, according to a government report. The estimate represents nearly half of Americans younger than 65, and 86 percent of people 55 to 64 ["¦] The act already prohibits insurers from limiting lifetime coverage to a fixed dollar amount or denying coverage to a child younger than 19 because of a pre-existing condition. As many as 17 million children younger than 18 have a pre-existing condition, according to the report." [ABC News, 1/18/11]

 

House Republicans Have Voted 46 Times to Repeal or Dismantle the Affordable Care Act."Republican elected officials have seen the Affordable Care Act as essentially unfixable — that's why House Republicans voted 46 times to repeal or delay the implementation of the law, instead of working with the White House over the past three years to identify and solve problems within it of the sort that tend to accumulate in any such massive piece of legislation." [The Atlantic, 11/27/13]
We want to hear what you think about this article. Submit a letter to the editor or write to letters@theatlantic.com.