Is Cosmopolitan 'Deeply Feminist'?
Editor-in-chief Joanna Coles suggested that the mag does more for feminism than "left-wing academics."
This article is from the archive of our partner
.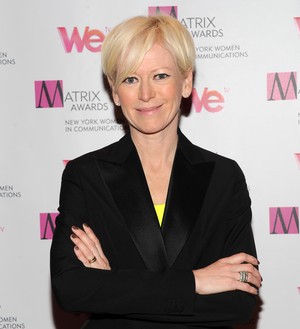 Last night at AdWeek's Hot List Gala, Cosmpolitan editor-in-chief Joanna Coles told Capital New York reporter Peter Sterne that Cosmo is a "deeply feminist" magazine. She suggested that the mag does more for feminism than "left-wing academics." She told Sterne,
"There's nothing more mainstream than equal pay for equal work. I mean, it's completely obvious that's what feminism should be for, and for women's right to choose what happens to their own bodies. It's unbelievable in 2013 we happen to be talking about this, but the battle over healthcare, the battle for women's right to choose their own contraception, that ludicrous panel full of old men in Washington ruling what women could and couldn't do—where is feminism then? Where are all the left-wing academics?"
Coles has latched on to two key feminist issues: equal pay and women's health. She later added that Cosmo also favors "sensible control for guns." Certainly all are important feminist issues.
But plenty of women may not agree Cosmo is a leading feminist publication. At Oxford University (home to some of those lefty academics), at least a few women think Cosmo is a "shit magazine."
The most common complaint is that the mag features too many "X Ways to Please Your Guy With This Household Item" articles. But you can't deny that Coles has made an effort to smarten up Cosmo since she took the reins last year. The Washington Post Style section profiled the editor in October, revealing that she's made at least four visits to D.C. during her tenure to meet with politicians and progressives like Stephanie Schriock of Emily's List. Schriock told the Post,  "Joanna is bringing more women into the political process by virtue of the magazine's ability to give them practical information about the critical issues facing our country."
And Coles is dedicating pages to women's health issues. One recent issue had 12 pages on the different types of birth control. Coles told the Post, "When you have children is the most important choice affecting your life." That's probably true — if you're an upper middle class, college-educated woman. Many women have more life-threatening choices to make before deciding how they'll space their children.
And so Cosmo isn't so much "deeply" feminist as it is mainstream feminist. The magazine preaches equal pay, access to birth control, and sex-positivity, which are all important issues. But it rarely touches on the race and class issues that necessarily intersect with gender issues. It's Sheryl Sandberg who's offering advice to readers, not bell hooks.
Still, it's hard to complain when a popular women's magazine wants to call itself feminist. Many of its cover stars won't say as much.
This article is from the archive of our partner The Wire.