Can Women Save Democrats in 2014?
The beleaguered party is hoping female candidates and women's issues will be a winning combination—again.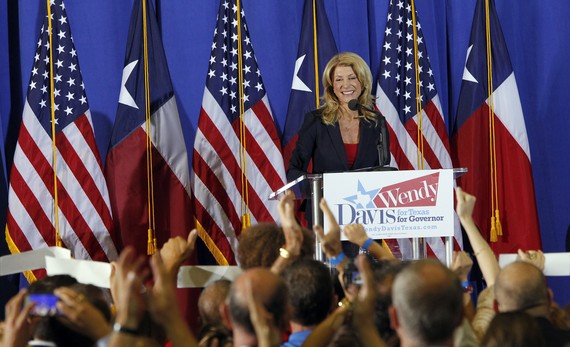 Wendy Davis. Alison Lundergan Grimes. Mary Burke. Allyson Schwartz. Michelle Nunn. Natalie Tennant.
The Democratic Party is hoping 2014 will be a Year of the Woman—again.
As party operatives prepare for the midterm elections, Democratic women are being cast in starring roles, on the ballot and at the ballot box, as the party tries to take back politically important governor's mansions and keep its fragile majority in the Senate.
"The importance of women to the Democratic Party in 2014 cannot be overstated," said Jess McIntosh, a spokeswoman for EMILY's List, which recruits and supports Democratic women candidates. "They are running in our biggest, most important races in the country."
President Obama rode to reelection in 2012 with strong support from female voters, and Democrats gained seats in the Senate and House thanks in part to prominent Republican stumbles over rape and abortion.
Now, Democrats are pushing to carry over that 2012 "gender gap" to 2014, hoping the support of female voters will shore up the party amid a traditionally tough political atmosphere of a presidential midterm and the rocky debut of Obama's healthcare law. They believe the slate of prominent women on the 2014 ballot will make the contrast with Republicans all the clearer.
There is Davis in Texas, who captured the hearts of liberals nationwide with her standing filibuster to block an anti-abortion law and is now running for governor. Burke and Schwartz are two of the Democrats running to oust incumbent conservative GOP governors, in Wisconsin and Pennsylvania, respectively.
In the Senate, two of the four most endangered Democratic incumbents, Senators Kay Hagan of North Carolina and Mary Landrieu of Louisiana, are women. Tennant is trying to keep Democrats' hold on a tough West Virginia seat. And Nunn and Grimes are the party's lone shots are picking up Republican-held seats, with Grimes trying to oust Senate Minority Leader Mitch McConnell in one of 2014's marquee match-ups.
Most of these female candidates are running in tough places, red states Mitt Romney won, or against entrenched incumbents. They aren't favored to win—and many may end up on the 2014 political scrap heap—but party operatives believe they give Democrats the best shot in such hostile political territory.
"The 2012 election showed that we have problems with female issues," said Ron Bonjean, a GOP strategist. "There is a widespread recognition by Republican strategists that this needs to change—as soon as possible."
The recent victory of Democrat Terry McAuliffe in the Virginia governor's race showed that issues of abortion and contraception remain salient. McAuliffe bombarded the airwaves on those topics en route to running up his margin of victory among unmarried women voters to 42 percentage points, according to exit polling.
"It's a deep problem for the Republicans," said Ilyse Hogue, president of NARAL Pro-Choice America.
The Supreme Court's announcement last week that it will take up a case about whether employers may refuse to provide contraceptive coverage means that the volatile issue of birth control again will be injected in the midst of the 2014 campaign. The case will be decided in the middle of next year.
Democrats have made plain that the "war on women" playbook will be key to their efforts to unseat McConnell. Last week, Grimes rolled out the endorsement of Lilly Ledbetter, the namesake of the pay-equity law signed by Obama, and her campaign issued a memo on women's issues, noting that Grimes is an "advocate for women" and would be "Kentucky's first female United States senator."
Meanwhile, in a November memo, the Democratic Senatorial Campaign Committee's Matt Canter blasted "Team McConnell's misogyny." The DSCC and Grimes have taken umbrage with everything from the National Republican Senatorial Committee's male spokesman, Brad Dayspring, calling Grimes an "empty dress" to the NRSC's tweeting a link to a photoshopped image of her.
"The NRSC should stand for Notoriously Repeating Sexist Comments. They cannot relate or connect with the women of Kentucky or our country," Grimes said in a statement after the latest incident.
Brook Hougesen, an NRSC spokeswoman, said the DSCC is "dangerously overreaching." "Every day, the DSCC is claiming to be offended," she said.
Of course, men also can appeal to women voters on traditionally women's issues. McAuliffe is the latest example. Anna Greenberg, a Democratic pollster, noted that television ads about abortion, birth-control access, or defunding Planned Parenthood aired in nearly every competitive congressional race last cycle, whether the contest featured a Democratic women against a Republican man, or vice versa.
"There are lots of reasons women make great candidates," Greenberg said. "It's not because they can just talk about abortion."
Still, Republicans are actively trying to appeal to women, both as candidates and as voters, to cut into the current Democratic advantage. The National Republican Congressional Committee, for instance, launched Project GROW this year to woo more women candidates. GOP strategists like to note that four of the five current female governors are Republicans. And at least some of the GOP's 2014 Senate candidates will be women, including Representative Shelley Moore Capito in West Virginia, Terry Lynn Land in Michigan, and potentially in Iowa and Georgia, as well, depending on the primaries there.
But Bonjean, the GOP strategist, said the Republican Party needs to do more than that, suggesting that GOP congressional leaders should unveil a comprehensive women's agenda.
"They need to have legislation that has a positive [message] that will help female voters in an attempt to soften their image going into the elections," he said.