Can Paul Ryan Put Down a Revolt From the Right?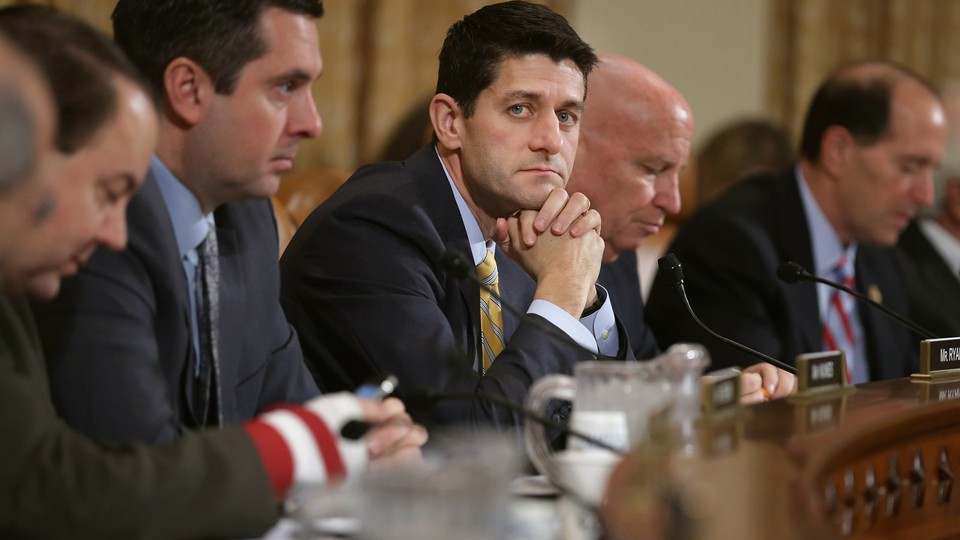 After weeks of closed-door talks, House and Senate negotiators finally unveiled a two-year budget deal Tuesday that attempts to calm the long-fought feud over spending on Capitol Hill. But the question remains whether they can sell it to rank-and-file lawmakers.
The deal is far from a grand bargain. But if approved by the House and Senate, the compromise would not only keep government funded and open beyond Jan. 15, but also would provide $63 billion in sequester relief over two years — all without new tax revenue.
"This is the first divided-government budget agreement since 1986," said House Budget Chairman Paul Ryan, the chief Republican negotiator.
Whether the deal holds up could play out quickly. The House is expected to adjourn for the year on Friday, and leaders there are moving for floor action on the measure as early as Thursday. Ryan may face the most immediate challenge, meeting behind closed doors Wednesday morning to explain the agreement to skeptical House conservatives, many of whom have voiced opposition to any deal that raises spending levels.
Some Senate Republicans were also balking at the agreement Tuesday night.
"I'm concerned about it," said Minority Whip John Cornyn of Texas, before the deal was even announced. "What I've heard is that it basically raises revenue through fee increases — doesn't do anything to deal with the unsustainable entitlement issues and bust the budget caps."
After the plan was released, Cornyn, who faces reelection in 2014, called it "concerning" and characterized it as "a more-spending plan."
The deal sets top-line spending at $1.012 trillion for fiscal 2014, which exactly splits the numbers in the House and Senate budget proposals passed earlier this year. In fiscal 2015, the overall spending level would rise to $1.014 trillion.
The $63 billion in sequester relief is split evenly between defense and nondefense programs. In fiscal 2014, defense discretionary spending would be set at $520.5 billion, and nondefense discretionary spending would be set at $491.8 billion.
The sequester relief is described as being fully offset by savings elsewhere in the budget. In fact, the agreement includes dozens of specific deficit-reduction provisions, with mandatory savings and nontax revenue totaling roughly $85 billion. In all, the proposal would save $28 billion over 10 years by requiring the president to sequester the same percentage of mandatory budgetary resources in 2022 and 2023 as will be sequestered in 2021 under current law.
The plan does not deal with the debt ceiling, which is anticipated to be reached sometime after Feb. 7.
"This doesn't solve all of our problems," said Senate Budget Chairwoman Patty Murray, the principal Democratic negotiator. "But I think it's an important step in helping to heal some of the wounds here in Congress, to rebuild some trust and show that we can do something without a crisis right around the corner."
She acknowledged disappointment "that we weren't even able to close a single corporate tax loophole as part of the plan."
Ryan, whom conservatives describe as the most highly respected member of the House GOP when it comes to fiscal matters, seems up to the task of selling the deal. He repeatedly framed the agreement as "conservative" on Tuesday, emphasizing at the outset: "It reduces the deficit without raising taxes."
However, some conservative lawmakers have been openly agitating for GOP leadership to pass a "clean" continuing resolution at sequester levels. That effort received significant outside support on Tuesday when the Conservative Action Project, an umbrella group representing a host of influential right-wing leaders, sent a letter to congressional Republican offices urging them to embrace sequestration and oppose the Ryan-Murray deal.
"Though conservatives support more spending restraint, the discretionary spending limits defined in the Budget Control Act represent a promise to the American people to marginally slow the growth of government," says the letter, which is signed by Heritage Action CEO Michael Needham, Family Research Council president Tony Perkins, and American Conservative Union chairman Al Cardenas, among others.
The letter represents a sweeping rebuke of Ryan's proposal from a broad coalition of influential conservative actors. "Legislation that raises federal revenue and spending levels is unacceptable to conservatives and the majority of Americans and should be rejected by Congress," the letter says.
Ryan seemed to sense the looming challenge on Tuesday, and took care to frame the debate on his own terms.
"As a conservative, I deal with the situation as it exists. I deal with the way things are, not necessarily the way I want things to be," Ryan said. "I have passed three budgets in a row that reflect my priorities and my principles and everything I want to accomplish. We're in divided government. I realize I'm not going to get that."
At one point, Ryan seemed to speak directly to his House GOP colleagues, perhaps previewing the pitch he'll make to them at Wednesday morning's conference meeting.
"As a conservative, I think this is a step in the right direction," Ryan said. "What am I getting out of this? I'm getting more deficit reduction. The deficit will go down more by passing this than if we did nothing. That's point No. 1. Point No. 2 is, there are no tax increases here. Point No. 3: We're finally starting to deal with autopilot spending, that mandatory spending that has not been addressed by Congress for years."
Ryan acknowledged that some conservatives will vote against the proposal, but predicted, "I think we will pass this through the House."
There are potential sticking points for some lawmakers in the measures to help pay for the added spending, including increasing federal employee contributions to retirement programs by 1.3 percentage points. The proposal affects new employees hired after Dec. 31 of this year with less than five years of service.
Another provision would increase the premiums that private companies pay the federal government to guarantee their pension benefits.
Other revenues would come through a range of measures, from increasing Transportation Security Administration fees to repealing the requirement that the Maritime Administration must reimburse other federal agencies for costs associated with shipping food aid on U.S. ships.
Despite efforts by Democrats, an extension of unemployment benefits was not included in the deal. Those benefits for 1.3 million workers unemployed for longer than 26 weeks are set to expire on Dec. 28.
While both sides expect tough days ahead as Ryan and Murray attempt to sell the plan, it got a boost from President Obama, who released a statement supporting the deal late Tuesday.
"This agreement doesn't include everything I'd like — and I know many Republicans feel the same way," he said. "That's the nature of compromise. But it's a good sign that Democrats and Republicans in Congress were able to come together and break the cycle of short-sighted, crisis-driven decision-making to get this done."
{{ BIZOBJ (video: 4618) }}
---
Michael Catalini contributed to this article