Budget Negotiators Still Crunching Numbers as Anxiety Grows in Congress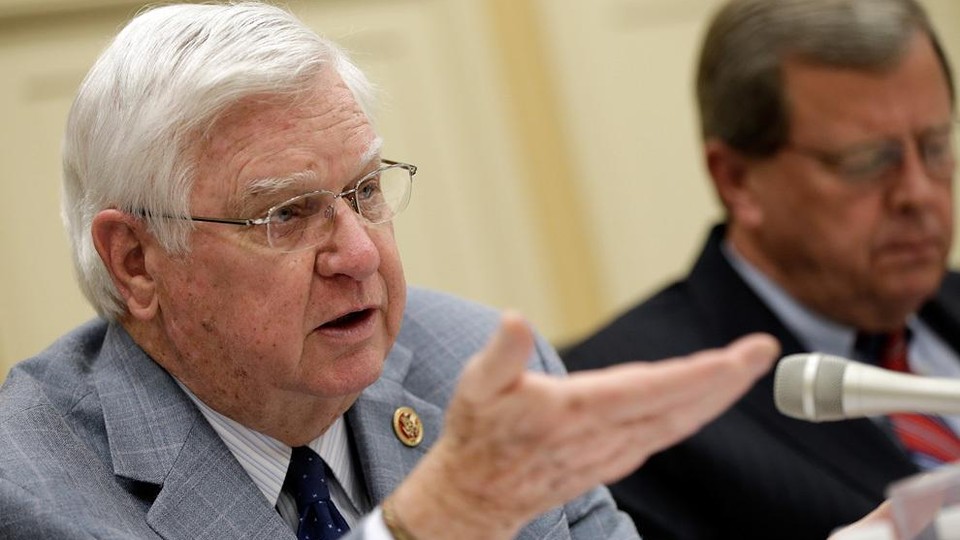 The budget conference committee missed its first deadline of sorts on Monday, failing to reach an agreement on top-line budget numbers within a time frame requested by anxious congressional appropriators.
House Appropriations Committee Chairman Harold Rogers, R-Ky., penned two strongly worded letters to budget conferees in recent weeks, requesting that they release top-line budget numbers by Dec. 2 "at the latest" so that his panel could begin drafting funding bills for fiscal 2014. "If a timely agreement is not reached," Rogers wrote last month, "the likely alternatives could have extremely damaging repercussions."
That deadline came and went Monday and Rogers is still waiting on his numbers. "They're not there yet," he said of the conference committee.
But according to Rogers, negotiators are saying privately that they are making progress and could reach an agreement by next week, ahead of the committee's Dec. 13 deadline to report recommendations to Congress.
"Well, they seem optimistic. And I'm hoping that they do" reach a deal, Rogers said after emerging from a closed-door meeting with other House GOP committee chairmen, including Rep. Paul Ryan of Wisconsin, the cochair of the conference committee.
Rogers said Ryan was among those expressing such optimism. Asked about Rogers's characterization Monday, Ryan said only that he and Sen. Patty Murray, D-Wash., are "making progress" and continuing to talk.
"But it's premature to say anything right now," he said.
Earlier Monday, a senior House Democratic aide also said that there are some indications that the budget conference may be closing in on a deal. The aide said the deal is being described as also carrying some type of "sequester relief" to address the next scheduled round of cuts with a menu of new fees or fee hikes instead.
But how far along negotiations really are is far from clear.
A House Republican aide with knowledge of the talks said Monday that the discussions were at "probably the same" point as before the Thanksgiving break. "One person's "˜optimistic' is another's "˜so-so,' " the aide said. "I think Rogers's comments reflect the very broad thought that there is optimism while still understanding there is no agreement yet."
Rep. Tom Cole, R-Okla., a member of both the House Appropriations and budget conference committees, said: "The two chairmen are working pretty hard, trying to close a deal. Maybe we can get it done this week, early next week.... If we get a deal then all of my frustrations will disappear."
Senate Budget Committee spokesman Eli Zupnick declined to characterize the progress of the talks, but said that Murray, the Democratic cochair of the conference, will return to the Capitol on Tuesday to continue her discussions with Ryan. (The Senate is not in session this week.)
"She'd like to get a deal as quickly as possible and is hopeful that we'll get a deal by the 13th," Zupnick said.
That deal can't come soon enough for congressional appropriators who are eager to get to work on spending bills to finish out the fiscal year.
"We hear that the budget committee is getting much closer in reaching a deal, so we're cautiously optimistic about that," a House Appropriations aide said Monday. "In the meantime, though, every day that goes by makes it exponentially harder for our committee to complete our work in funding the government before the deadline of January."
The Appropriations Committee no longer has the time to draw up — much less pass — 12 appropriations bills for fiscal 2014 before the current continuing resolution expires on Jan. 15. "We couldn't do 12 appropriations bill in a year, we can't do them in a week," a House Democratic aide said Monday.
At this point, the best-case scenario for appropriators would be if budget negotiators get a deal by Dec. 13, giving Congress the chance to pass an omnibus spending bill before the January deadline that deals with sequestration, particularly $20 billion in defense cuts. The alternative is that Congress passes another last-minute CR to avoid a shutdown, leaving sequestration in place.
Cole suggested Monday that if the budget committee does get a deal by its deadline and the House recesses as planned on Dec. 13, some appropriators could stay behind to craft an omnibus spending bill for Congress to vote on when legislators return in January.
"It's tougher over the holidays obviously, but again, most of the work's been done when you have a top-line number," he said. "I think we could narrow the differences pretty rapidly. So I think we could get there. If not, then we might need a very short-term CR."
He added: "The sooner we get to a deal, the better."