Bring Out the Cots. The Senate Is Throwing a Slumber Party.
'Twas the night of voting, when all through the halls, not a creature was stirring, not even the Udalls.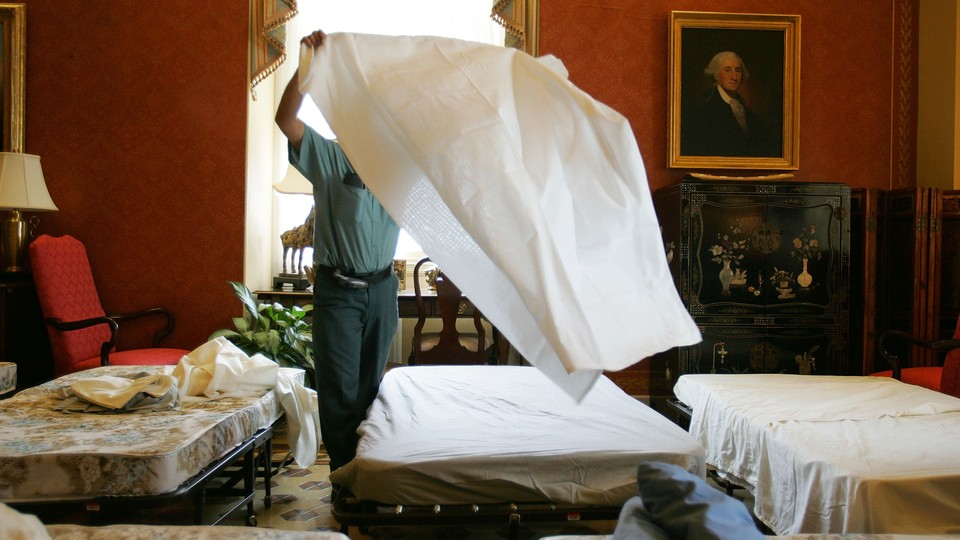 It's going to be a late night for senators on Capitol Hill. But worry not: Just a few feet away in the Old Senate Chamber, there'll be cots for the lawmakers to rest.
Breaking out the cots is a rare occurrence, but they're always available for the tired legislator. On Wednesday, senators are expected to be up until the wee hours of the night, debating and voting on presidential nominees.
"We haven't seen this in a while," one Senate Historical Office staffer said. In fact, the office has documented the "all-night sessions" since 1915, ranging from debates on the Sugar Act of 1960 to the debt limit in 1981.
The keeper of the cots, the Senate sergeant at arms, coordinates with Capitol Facilities, which stores the cots and sets up proper napping areas when senators need it.
Cots are lined up on July 17, 2007, during an all-night debate before voting on an amendment to the defense authorization bill. (Joshua Roberts/Getty Images)Here are some of the times they've been used:
From The Washington Post in 1977 during the debate of the Natural Gas Policy Act:
Not since the fight over the 1964 Civil Rights Act, when cots were set up in the old Supreme Court chamber near the Senate floor, has the Senate sat up all night to try to break a filibuster."
The next day, the newspaper reported:
In contrast to these lonely debates, bells dominated this one, summoning senators from their naps on nearby cots and couches for a steady succession of roll calls. All but 12 of the Senate's 100 members answered to their names at a 2:15 a.m. reading of the roster. Eighty-six of them showed up at another roll call an hour later. Many of the senators were seething.
Reading like a line from a children's book, The Post document another time the cots were pulled out in 1982 for the budget:
Not far away, Democrats napped. Signs on the Mike Mansfield Room, where cots had been installed, allowed "senators only."
So, no matter how late the senators stay up, they'll always have a place to rest their heads when debating gets too tiresome.
---
Brian Resnick contributed to this article