Best Time(s) to Help a Kid Succeed
A timely intervention can help a disadvantaged youngster find economic success as an adult. Stepping in early, scholars say, is cheaper and more effective.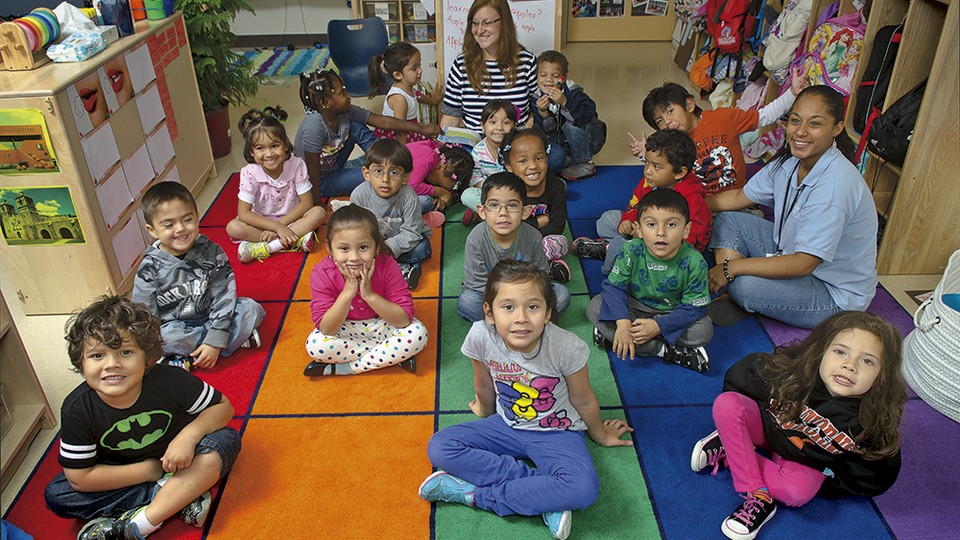 SAN ANTONIO — Early last month, Maricella Perez thought she had all the pieces together. Her essays were done. The letters of recommendation, requested and complete. Her 99.7 grade-point average, and her track record of coordinating student blood drives, raising money for cancer research, and serving as Theodore Roosevelt High School's student-council president were described in detail. Perez's application for the University of Texas (Austin), her dream school, was done.
One Saturday afternoon, however, sitting on her living-room couch, the pieces of her application spread across the coffee table, the 18-year-old spotted a problem: The application cost $90 to file. "Honestly, I filled out the whole thing "¦ and then kind of sat on it," she says. "I thought my mom was going to kill me when it came time to put $90 in the mail."
In Perez's family, money is tight and experience with college applications is limited. Her mother, the sole support for Maricella and two younger siblings, works as a medical assistant and attends night classes to become a licensed vocational nurse. Perez's aunt, the only person in the extended family who has graduated from college, earned a degree from an online university last year.
During the next two weeks, Perez grew so anxious that a high school guidance counselor noticed and pulled her into his office. Perez, with her sterling record, wasn't even sure she would be able to apply. The counselor introduced Perez to a novel concept: a fee waiver for low-income students.
Perez's guidance counselor may have changed her life — a reminder that an intervention at the right moment can have huge payoffs that endure. Indeed, there are multiple points during the life of a disadvantaged child when a timely intervention can help hugely. But in an era of slow economic growth and tight budgets, the resources aren't available to help every child at every critical point. This raises a question: Which of these interventions promise the most bang for the buck?
Consider the choices. The first point of leverage arrives before birth: An expectant mother's mental and physical health can help avoid a premature delivery, thereby improving the child's chances of learning later. Then, expanding access to high-quality prekindergarten programs can increase a child's odds of entering school with essential skills, ready to learn more. Once they're in school, extending the amount of time children spend in the classroom has been shown to boost students who've fallen behind. Later come the college conundrums — helping disadvantaged students get into college and then complete a useful degree.
Intervening isn't always as simple or inexpensive as meeting with a guidance counselor. As scholars grapple with the costs and benefits of intervening at crucial times, policymakers around the country have started to weigh the advantages and political risks of these competing — and worthy — objectives. Any debate that touches on poverty, pregnancy, or how to educate America's children is bound to raise ideological hackles.
In San Antonio, as in Washington, the result of such a calculus has produced a push for greater access to preschool. "We know a lot about the rewards of providing high-quality early-childhood education," said Cecilia Muñoz, director of President Obama's domestic policy staff. "The return on investment is huge."
But things aren't so simple. "We've looked at the numbers," said Isabel Sawhill, codirector of the Center on Children and Families at the Brookings Institution. "Early is always better. It's often cheaper." Still, she urges caution. "There is no one program, one investment. The magic bullet does not exist."
THE DEMOGRAPHIC VANGUARD
The fate of Maricella Perez, and of others like her, matters not only to them but to everyone else. The notion that the United States can maintain its global economic edge by relying on a shrinking share of relatively affluent whites — who attend good schools with good teachers and ample resources, prekindergarten through college — amounts to a national form of magical thinking. But disadvantaged youths of every race and ethnicity find it hard to succeed in an economy that increasingly requires more than a high school diploma to survive in a shaky middle class.
Young Americans of color will soon dominate the nation's workforce. Black and Latino students, nearly half of them from low-income households, are already two-fifths of the public-school population. By 2038, federal prognosticators say, racial and ethnic minorities will make up a majority of the country's workforce — and of the entire population by 2043. Latinos alone are projected to account for 38 million new members of the labor force by 2050 — about 80 percent of its growth.
Few if any places in the United States are working harder than San Antonio to prepare minority youths to join an educated workforce. The city pretty much has to.
"San Antonio is really at the vanguard of the way in which the demography of the United States is changing," said Char Miller, the author of a book on San Antonio who was a longtime history professor at Trinity College here. "We have a minority majority. Their educational fate, their health, their economic and social opportunities, are really going to redefine what it means to be an American — who we are and what people understand about us as a country."
Not long ago, San Antonio was known mostly for the Alamo. Now, as a city of 1.3 million, the seventh-most-populous in the nation, more than 63 percent of residents are Latino, and 19 percent are poor.
Julian Castro has staked his mayoralty — and his rising national profile — on his ambitions to help young San Antonians from deprived backgrounds move into the economic mainstream. He has the street cred. The second-term mayor and his identical twin, Rep. Joaquin Castro, D-Texas, were born to a poor single mother and — supported by family and good teachers — wound up graduating from Stanford University and Harvard Law School.
"I just want to make sure every other young person has the opportunities that I had," the mayor said in an interview, dashing from a City Council meeting to a commemoration of John F. Kennedy at a nearby Air Force base. "What we are doing is, we are trying to build a brainpower community, meaning a very well-educated millennial generation that is ready, willing, and able to take on jobs for the 21st century. You can't get there without investing in those that we know need the most help."
San Antonio is pursuing a full spectrum of interventions, ranging from dispatching medical specialists and social workers to expectant mothers at high risk for premature delivery, to helping high school seniors fill out college financial-aid forms. The centerpiece of Castro's campaign was last year's referendum on his proposal to raise the city sales tax by one-eighth of a cent to bring quality prekindergarten classes within everyone's reach. Backed by local business leaders, Castro argued that too few 4-year-olds attended pre-K to assure the city's economic future. Despite opposition from the city's affluent precincts, 53.6 percent of voters agreed.
By 2020, San Antonio hopes — "needs," Castro says — to raise the proportion of third-graders able to read at an advanced level from the current 18 percent to 80 percent. Some progress is apparent. The proportion of children who graduate from high school, at 86 percent, has already exceeded the city's goal for 2020. But the proportion of third-graders who can read at grade level has shrunk (albeit on a more rigorous state test) to 73 percent.
"It's a journey," Castro said.
BEFORE THE BEGINNING
On a weekday in early November, at San Antonio's University Hospital, nurses in blue scrubs slipped around the neonatal intensive-care unit. Nearly all of the 43 tiny residents were Latino babies who had been born too soon. Some of the most critically ill lay in cutting-edge incubators that recreate the temperature and humidity of the womb. In the newest section of the unit, dim lights, the sound-suppressing rubber floors, even the bedside reclining chairs for parents have all been designed to minimize the physical and neurological stressors that can cause preemies to lose, rather than gain, much-needed weight.
"We provide a truly essential service for children in San Antonio — and, really, all over South Texas — every day," said Rachel Rivas, the hospital's director of newborn services. "But there is no question that it would be better "¦ if fewer children needed this kind of care."
She's right. A growing body of research shows a strong connection between the social conditions in which children are conceived and brought to term and how well they will learn. Mothers who are poor during their pregnancies are more likely to suffer from chronic stress, a biologically detectable condition, according to Elizabeth Corwin, dean of research at Emory University's School of Nursing. The same is also true, she said, of middle-class black women and second- and later-generation Latinas. They face social and economic discrimination that creates physiological conditions akin to the struggles of the poor. A recent study by Corwin and colleagues, monitoring more than 100 mothers-to-be during their third trimester, found that chronic stress was associated with poor regulation of inflammation, a risk factor for premature birth.
This, in turn, can have long-term effects on a child's education. Michael Kramer, an epidemiologist at Emory's School of Public Health, examined the birth and school records of thousands of Georgians born between 1998 and 2003. When these children took state academic-assessment tests in first grade, those born prematurely were more likely to fail. The more premature the birth, the worse the child performed. Only 13 percent of the babies born on time or less than three weeks early fell short on the first-grade test, compared with a third of the children born 13 to 20 weeks prematurely.
"What we found explains some, but by no means all, of the academic achievement gap," Kramer said. "There are real differences we can make in education by investing in what happens long before children reach school."
Last year, a ninth of American children were born before 37 weeks' gestation, the highest rate in the industrialized world, according to Edward McCabe, medical director at the March of Dimes. That included nearly 17 percent of African-American babies, nearly 12 percent of Latinos, and 10.5 percent of whites.
At least one state with a sizable presence of minorities has made strides in reducing premature births. California, where 38 percent of the populace is Latino and nearly 7 percent is black, has been investing in expanding health care coverage for women of child-bearing age and in helping them stop smoking. The state reduced its rate of premature births from 10.9 percent in 2007 to 9.6 percent in 2012. The rate in Texas, which has rejected the Affordable Care Act's expansion of Medicaid services for the poor, stands at 12.4 percent.
GETTING READY FOR SCHOOL
Just after 7 a.m., on the north side of San Antonio, children barely bigger than their back- packs hurry into the Pre-K 4 SA center. It's unseasonably chilly this fall morning, and the preschool is surrounded by live oaks that filter the sun. But that isn't the only reason for the sense of urgency, as the children, parents, teachers, and administrators make their way in.
San Antonio is in the first year of a citywide experiment in all-day preschool. The program, which voters agreed to fund a year ago, reserves most of its slots for students who are poor, don't speak English at home, or face other disadvantages. The city's first two Pre-K 4 SA centers serve 660 students this year; two more schools are to open in 2014. Within eight years, the system is expected to reach about 20,000 students — only a fifth, however, of the children under 5 who currently live in San Antonio.
Even the lawmakers in this small-government state have joined in. For decades, the Texas Legislature has financed half-day pre-K for children who are poor, homeless, deficient in English, in foster care, or (since 2005) have a parent on active military duty. Still, fewer than three-fifths of the eligible children in San Antonio are enrolled. Nationwide, about 70 percent of 4-year-olds went to preschool in 2012, according to an Organization of Economic Cooperation and Development study that ranked the U.S. 28th among 38 industrialized nations.
Children of similar socioeconomic backgrounds but of different races arrive in preschool and kindergarten without much of an academic-skills gap, according to a study by economists Roland Fryer Jr. and Steven Levitt. But racial and ethnic differences emerge early in a child's schooling. By the spring of first grade, a gap between white, black, and Latino students is found at all income levels. As children advance through school, the disparity between black and white students generally grows — because of effectively segregated schools of uneven quality, experts say — while the distance between white and Latino students shrinks but doesn't disappear.
The evidence is compelling that quality preschool matters. Nationally, poor children who are subpar readers in third grade are 13 times less likely to graduate from high school by age 19, according to a new study issued by the Hechinger Report, a nonprofit news organization. A recent Brookings study found that 76 percent of youngsters who entered first grade well prepared went on to perform strongly on assessment tests in middle school, while only 41 percent of students who lacked a quality preschool did the same. A long-term study of 123 children that began in the 1960s found that, at age 40, the ones who'd attended a quality preschool were more likely to hold a job, and at higher pay, and were less likely to have committed crimes than those who hadn't.
"There are many studies — and when I say many, I mean many, many studies — that show that early intervention, especially before age 5 or 8, can be potentially very effective," said Seong Hyeok Moon, a University of Chicago economist. "You can do things for your kids that are hard — very hard — and more expensive when they get older. That's what makes quality early education a bargain." Moon cites neurological evidence that a child's first five years are critical; if certain skills aren't learned by then, researchers doubt they can be picked up later.
In his State of the Union address this year, Obama called for universal pre-K, citing research by Nobel economist James Heckman that every $1 invested winds up saving $7 that would otherwise be spent on remedial and special education, publicly financed health care, and other social supports. Legislatures in 23 states (as of 2010) provided enough funding to create pre-K programs that meet eight of 10 benchmarks for quality, according to the Pew Center on the States.
The most effective preschool programs have highly qualified teachers, small classes, a full-day curriculum, and parental engagement, according to Tomoko Wakabayashi, director of research at High Scope Educational Research Foundation, a Michigan-based nonprofit that specializes in early childhood education. Some of what children learn is practical, not academic, as Sawhill points out; even so, knowing how to sit still, pay attention, and follow rules prepares students for academic success. In San Antonio, Kathleen Bruck, the CEO of Pre-K 4 SA, is persuaded that quality pre-K programs bring the biggest bang for the buck.
A FEW EXTRA MINUTES
During the 2009-10 school year, a teacher in San Antonio's East Central School District ran a small but revealing pilot project. Jananne Healey had spent a year leading a classroom of a local charter school operated by the San Antonio affiliate of the Knowledge Is Power Program, a national network, and wanted to bring some of its techniques into her East Central fifth-grade classroom.
At this city's four KIPP academies, where 93 percent of the students are Latino and 84 percent are poor, more than three-fourths of the fifth-graders earned satisfactory or advanced scores on state reading and math assessment tests, in line with students in San Antonio's wealthiest neighborhoods. KIPP officials attribute this success, in large part, simply to having students spend more time in school — an average of 1,755 hours a year, some 585 more than in the traditional U.S. public school.
The 33 fifth-graders in Healey's East Central public-school experiment spent most of the hours between 7:30 a.m. and 5:30 p.m. in class. She offered extra instruction, sometimes one-on-one, and broke students into small groups to focus on particular needs. She monitored what children mastered and what left them confused. At year's end, all but one of them passed their state assessment exams. This year, the predominantly low-income school district added 20 minutes to every student's school day and an hour of optional extra time for students in high school.
"A few minutes of extra time can have a huge impact," said Ashley Cholis, the school district's director of executive services. "Twenty minutes may not sound like much, but that adds up to an hour and 40 minutes of extra instruction time a week. When used correctly, the way that we are working very hard to do, that's something."
Cholis can look to a growing body of research. A 2011 study of two dozen charter schools by the National Bureau of Economic Research found that for high-risk students, extending learning time was more effective than reducing class sizes, spending more per pupil, or upgrading teachers' credentials. In a troubled middle school in Fall River, Mass., parents and school leaders added 300 hours to the school year starting in 2006 to assure more academic time and the survival of art, music, and foreign-language instruction. Within four years, the students' scores on state exams rose by 34 percentage points in math and by 10 points in reading.
Adding to a student's school time isn't always popular. "You are talking about changing school schedules and logistical arrangements that have, in many places, been largely left unchanged for more than 100 years," said Jennifer Davis, president of the National Center on Time in Learning, a Boston-based nonprofit. Teachers and their unions are wary of longer hours, local budgets can't afford extra compensation, and voters are reluctant to raise teachers' pay. Still, Davis said, "after years of hard work to isolate the effects of extended learning time, we have the proof."
ASPIRING TO COLLEGE
Maricella Perez is hardly the only high schooler in San Antonio in need of practical help in getting to college. "What we are doing in San Antonio is rolling up our sleeves and getting into the nitty-gritty," said Eyra Perez (unrelated to Maricella), executive director of San Antonio's Education Partnership.
One of the nonprofit's projects is Café College, where students can get help in completing applications and can meet with college admissions officers. The project has trained dozens of business owners and financial advisers to help students fill out the federal application for financial aid, which includes pages of complicated questions — boosting by almost 6 percent the number of San Antonio students who completed the forms last year. Students who apply for aid are half again as likely to enroll in college and nearly 75 percent more likely to finish their freshman year, according to an analysis in 2011 by the National Association of Student Financial Aid Administrators. The numbers are even higher for low-income students.
Still, Eyra Perez is quick to acknowledge that inspiring more young San Antonians to attend college won't be easy. This city sees more of its students finish high school than does the nation as a whole (86 percent versus 78 percent), but fewer of those graduates go on to college (50 percent versus 68 percent). Fixing that would require creating what Perez calls a "college-going and college-completing culture," including making it clear to parents and children which careers are expected to blossom or wither.
Nationally, the once-vast gaps between the share of white, black, and Latino teenagers heading to college have nearly disappeared. Indeed, Latino high school graduates outpaced whites (70 percent versus 67 percent) in starting college in 2012, according to federal data. Some 56 percent of black graduates and 81 percent of Asian-Americans did the same.
However, these numbers conceal the tenacity of educational inequality, as measured by the sorts of colleges in which students enroll. According to a Georgetown University study this year, 82 percent of newly enrolled white students went to selective colleges and universities between 1995 and 2009, compared with only 13 percent of Latinos and 9 percent of blacks. Some 72 percent of Hispanic freshmen and 68 percent of first-year African-Americans head to less-selective schools or those that accept anyone with a high school diploma (or the equivalent) and a checkbook.
This isn't simply a matter of prestige. Highly selective schools tend to boast larger endowments, spend more per pupil, and offer more financial aid as grants rather than loans. This increases the chances, the Georgetown study found, that their students will finish college and earn substantially more money over their lifetimes than students who attend less-selective schools.
Stella Flores, an assistant professor of public policy and higher education at Vanderbilt University, says the popular notion that a two-year community college is always the pragmatic, frugal route is too simplistic. Black and Latino students, she says, are often encouraged to attend schools — community colleges and for-profit private colleges — in which graduation rates lag.
Consider the experience of Daniel Flores (no relation to Stella), a native of Peru who graduated from San Antonio's Earl Warren High School in 2009 with a 4.0 GPA. His guidance counselor told him not to bother applying to a program that connects promising minority students with elite colleges willing to provide scholarships — that a local or community college seemed a better fit, where "someone like [me] can get in," as Flores recalled. He applied anyway, with a few teachers' help. One afternoon, he got home to find his mother in tears: Northwestern University had offered him admission on a full scholarship.
"I knew, even at 17, what this was going to mean for my life," the 21-year-old Flores says now. He will graduate in June and then attend Northwestern's business school.
THE LAST SHOT
Students in community colleges, where 45 percent of the nation's undergraduates enroll, are 9 percent to 14 percent less likely to earn a diploma — by Stella Flores's analysis of federal data — than students at four-year schools. Among students who score in the top half on entrance exams, the Georgetown study found, 51 percent of whites earn a bachelor's degree, compared with 34 percent of blacks and 32 percent of Hispanics.
The biggest reason for these disparities is that so many students arrive unprepared, according to a recent study by the University of Missouri and the National Bureau of Economic Research. It found that the difference in academic skills of incoming students accounts for 65 percent of the gap in graduation rates between white and minority women, and for 86 percent of the gap among men.
Remedial courses, which offer no credit toward a degree, must be taken by 28 to 40 percent of all students who enroll in college and often by 50 percent of those attending community colleges, the National Conference of State Legislatures has found. Students who need this sort of help are more likely to drop out. Efforts to improve remedial education include short-but-intensive courses — algebra in a single term, say — and classes that integrate remedial training into credit-bearing courses. These options seem to increase the chance that students return to school the following year, according to Thomas Bailey, a researcher at Columbia University's Teachers College.
"We should not nix community college," Bailey said. "They are still the last and only shot for some students — in many cases, students that have been failed all along the line."
It's unfortunate that so many disadvantaged students reach college age facing their last shot at preparing for a life of economic security. All too often, their previous chances have fallen short, and no one has stepped in at the right times to help. Research has confirmed what we know by instinct: Starting out badly in life makes it harder to succeed as an adult. The surest route to a middle-class life is to start out well. (See pp. 10-11.)
But for young Americans who don't, at which points does it make the most sense to step in? By the time a student reaches college, trying to make up for past deficiencies is expensive and less likely to succeed. The surest and cheapest way to assure disadvantaged youths a place in an economy that needs them is by stepping in early rather than late. Early interventions can have cascading effects, scholars explain, because they stave off the need for interventions later.
The optimal solution was on display one recent morning outside the Pre-K 4 SA center, as a father fumbled with a seat belt.
"Come on, Daddy," his 4-year-old daughter exhorted in Spanish, tugging at her father's hand. "They need me in my class."
We all do.
The author is a New York journalist who is writing a book on race and economic inequality, to be published next year.
CLARIFICATION: The Hechinger Report was inaccurately described in an earlier version of this story; it is a nonprofit news organization.