As Budget Deal Heads to Passage, Senators Are Already Eyeing Changes
Lawmakers are looking to tweak a pension provision and other measures next year.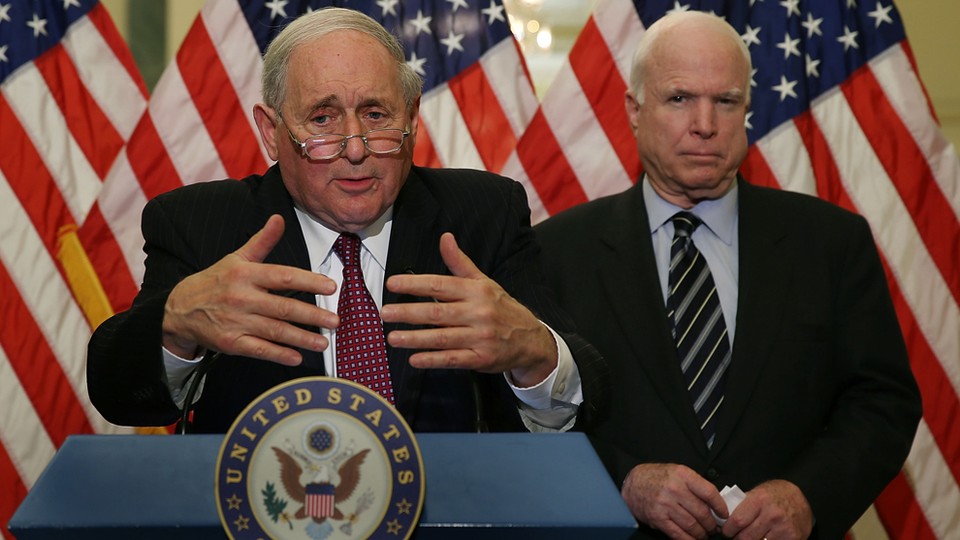 Though the Senate is poised to pass the Bipartisan Budget Act on Wednesday, lawmakers in both parties are already working to alter some of its provisions in the weeks and months ahead.
The measure is expected to pass handily, sending a bill to President Obama's desk that will reduce sequestration cuts by $63 billion and fund the government through Sept. 30, 2015. But that has not stopped lawmakers from making preparations to tinker with it after it passes, most notably with a provision reducing military pensions.
"Nothing is written in stone around here," said Sen. Carl Levin, chairman of the Senate Armed Services Committee. "This is a budget. A budget could be amended next year."
Levin said Tuesday that his committee will look into nixing the cuts to military pensions before they take effect in 2016. Under the budget agreement, military retirees under the age of 62 will see reductions in cost-of-living adjustments, but the committee could alter or eliminate that change, Levin said.
Republicans and Democrats in both chambers mentioned concerns about the pension provision when Sen. Patty Murray and Rep. Paul Ryan announced the budget deal last week. But Levin's commitment to a review eased some of that tension. Republican Sens. Rob Portman and John McCain both said that the possibility of changing the provision played a role in their decision to vote to bring the budget deal to the floor.
"That gives some of us some comfort," Portman said.
But apparently not every senator felt comforted. Sen. Jeff Sessions, R-Ala., called a vote Wednesday evening that would have allowed Republicans to add an amendment to the budget deal eliminating the military-pensions provision. The measure failed, predictably, on a nearly party-line vote in which only Sen. Kay Hagan, D-N.C., broke with her caucus to support the measure.
Sessions said that he pushed for the vote as a protest of Senate Majority Leader Harry Reid's decision to fill the amendment tree on the budget bill, preventing Republicans from filing amendments of their own. The vote also forced Democrats who have said they are sympathetic to veterans facing pension cuts to choose between getting rid of those cuts and siding with their leadership.
With the 46-54 vote, any changes to military pensions will likely be pushed into the New Year when the Senate Armed Services Committee takes up the measure. Levin and McCain cautioned Tuesday that the pension changes may not disappear. "I can't promise that we will repeal it," McCain said. But even Ryan, who worked the pension measure into the final budget deal over Democratic objections, has said that he is open to making changes.
"We delayed this provision so that it doesn't take effect until the year 2016, which gives Congress and the military community time to address the broader compensation issue, including this provision, if people believe there's a better way to solve this problem," Ryan told The Weekly Standard.
The budget bill cleared its biggest hurdle on Tuesday, when the Senate invoked cloture on a 67-33 vote, setting up final passage for Wednesday. A dozen Republicans joined Democrats to clear the 60-vote threshold, which was the last chance Senate Republicans had to derail the budget agreement.
A simple majority is needed to pass the measure Wednesday, and it is likely to hit that target easily. All 53 Democratic senators and the two independents who caucus with them support the bill, and some Republicans like Portman have agreed also signed on.
But the budget deal isn't set in stone, and with the specter of another government shutdown effectively off the table, even senators who supported the deal are talking about making changes when Congress returns in January.
Many Democrats cite concerns that the final deal did not include an extension of unemployment-insurance benefits, which expire shortly after Christmas. Reid has said the Senate will take up the issue after the holidays.
Murray acknowledged before Tuesday's vote that not everyone got what they wanted in the final deal. "This deal is a compromise, and it doesn't tackle every one of the challenges we face as a nation. But that was never our goal," she said on the Senate floor. "This bipartisan bill takes the first steps toward rebuilding our broken budget process. And, hopefully, toward rebuilding our broken Congress."
But with lawmakers already plotting to alter some of the provisions that allowed the compromise in the first place, that first step may be on shaky ground. Levin conceded Tuesday that changes to certain aspects of the budget bill could open up a Pandora's box, allowing Congress to re-litigate the entire deal when it returns in January. But the Michigan Democrat said that he wasn't too concerned.
"It's not — you know, there's nothing here that's permanent," he said.