Apartheid's Useful Idiots
For many years, a large swath of this country failed Nelson Mandela, failed its own alleged morality, and failed the majority of people living in South Africa.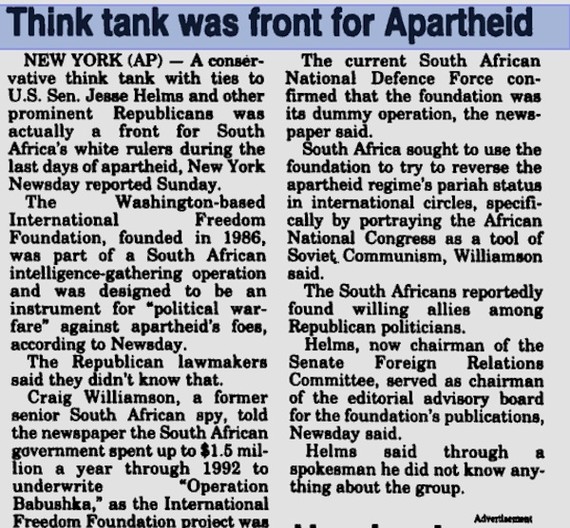 Nelson Mandela died yesterday, and all around the world, much-deserved hosannas are coming in, praising the life of one of the most important figures in modern Western history. That last bit reflects my own bias. What's become clear in all my studies of our history of World War II, of the Civil War, of Tocqueville, of Rousseau, of Zionism, of black nationalism, is that understanding Enlightenment ideals requires understanding those places where ideals and humanity meet. If you call yourself a lover of democracy, but have not studied the black diaspora, your deeds mock your claims. Understanding requires more than sloganeering, and parroting—it requires confronting our failures.
For many years, a large swath of this country failed Nelson Mandela, failed its own alleged morality, and failed the majority of people living in South Africa. We have some experience with this. Still, it's easy to forget William F. Buckley—intellectual founder of the modern right—effectively worked as a press agent for apartheid:
Buckley was actively courted by Chiang Kai-Shek's Taiwan, Franco's Spain, South Africa, Rhodesia and Portugal's African colonies, and went on expenses-paid trips trips to some of these countries.

When he returned from Mozambique in 1962, Buckley wrote a column describing the backwardness of the African population over which Portugal ruled, "The more serene element in Africa tends to believe that rampant African nationalism is self-discrediting, and that therefore the time is bound to come when America, and the West ... will depart from our dogmatic anti-Colonialism and realize what is the nature of the beast."

In the fall of 1962, during a visit to South Africa, arranged by the Information Ministry, Buckley wrote that South African apartheid "has evolved into a serious program designed to cope with a melodramatic dilemma on whose solution hangs, quite literally, the question of life or death for the white man in South Africa."
Buckley's racket as an American paid propagandist for white supremacy would be repeated over the years in conservative circles. As Sam Kleiner demonstrates in Foreign Policy, apartheid would ultimately draw some of America's most celebrated conservatives into its orbit. The roster includes Grover Norquist, Jack Abramoff, Jesse Helms, and Senator Jeff Flake. Jerry Falwell denounced Desmond Tutu as a "phony" and led a "reinvestment" campaign during the 1980s. At the late hour of 1993, Pat Robertson opined, "I know we don't like apartheid, but the blacks in South Africa, in Soweto, don't have it all that bad."
Not all prominent conservatives were so dishonorable. When Congress overrode President Ronald Reagan's veto of sanctions of South Africa, Mitch McConnell, for instance, was forthright—"I think he is wrong ... We have waited long enough for him to come on board." When Falwell embarrassed himself by condemning Tutu, some Republican senators denounced him.
But the overall failure of American conservatives to forthrightly deal with South Africa's white-supremacist regime, coming so soon after their failure to deal with the white-supremacist regime in their own country, is part of their heritage, and thus part of our heritage. When you see a Tea Party protestor waving the flag of slavery in front of the home of the first black president, understand that this instinct has been cultivated. It is still, at this very hour, being cultivated: 
He won the country's first free presidential elections in 1994 and worked to unite a scarred and anxious nation. He opened up the economy to the world, and a black middle class came to life. After a single term, he voluntarily left power at the height of his popularity. Most African rulers didn't do that, but Mandela said, "I don't want a country like ours to be led by an octogenarian. I must step down while there are one or two people who admire me."
That is the Wall Street Journal, offering a shameful, condescending "tribute" to one of the great figures of our time. Understand the racism here. It is certainly true that "most African rulers" do not willingly hand over power. That is because most human leaders do not hand over power. What racism does is take a basic human tendency and make it it the property of ancestry. As though Franco never happened. As though Hitler and Stalin never happened. As though Pinochet never happened. As though we did not prop up Mobutu. As though South Carolina was not, for most of its history, ruled by Big Men as nefarious and vicious as any "African ruler."
To not see this requires a special disposition, a special blindness, a special shamelessness, a special idiocy.