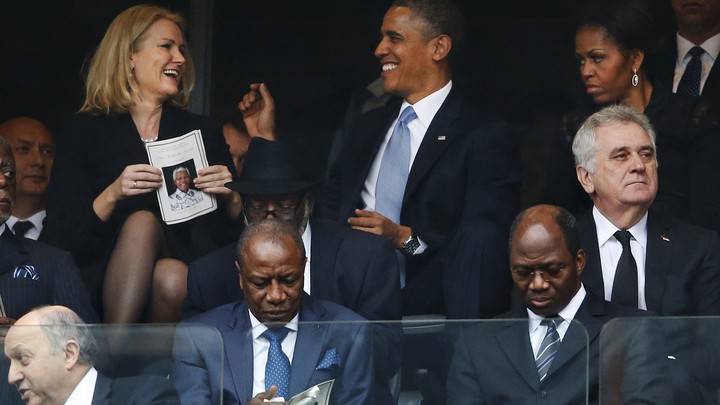 This article is from the archive of our partner
.
At the memorial service for Nelson Mandela today, Michelle Obama was photographed looking not amused with her husband and his friendly relationship with the blonde prime minister from Denmark, so much so that she may have switched seats with him. A lot of that is us reading and creating some magic presidential fan-fic, and part of it stems from people finding something fun from the very serious event. 
Let's be clear right now and say the faces Michelle  Obama makes — and whether  they're directed at fair-haired PM Helle Thorning-Schmidt — was not the most important thing to happen at the Mandela service today (for more on that click here).  But it was kinda fun. That said, here's our completely unscientific analysis and explainer on Gucci-Gate: 
'Gucci Helle' a.k.a. Helle Thorning-Schmidt
Until today, many Americans probably did not know who Thorning-Schmidt is. She is, in fact, the prime minister of the majestic country of Denmark and has held that position since October 2011. According to the BBC, her gender wasn't really harped on during her campaign or election season, but people seemed to notice that she had a taste for expensive things. The BBC explains:
While her gender may not have been hugely significant in the campaign, her stylish appearance and taste for designer clothes have come under fire as being inappropriate for the leader of a traditional workers' party, earning her the nickname Gucci Helle.
Gucci Helle sounds like the name of Gucci Mane's sister from a different mister, who may or may not walk around in mink coats. But, alas, Thorning-Schmidt does not appear to be a rapper.
The Selfie Shade
The first appearance of Ms. Obama's apparent annoyance with Gucci Helle was captured when President Obama, Prime Minister David Cameron, and Thorning-Schmidt all took a selfie together (I do not share the beliefs of my misinformed colleague Philip Bump, this is a selfie): 
Michelle Obama is not making eye-contact here. But she could just have been paying attention to the memorial service, which is what our mothers have taught us all to do when you're at a memorial service for one of the most respected men that has ever walked the earth. 
Gucci Helle and President Obama's Touchy-Feely Relationship
Fine, fine, maybe Michelle wasn't throwing shade while three world leaders who command armies and people and things decided to act like 16-year-olds with their phones. But it's a bit harder to explain the shade and side eye and not fun Michelle was having when Gucci was making jokes and petting her husband:
Michelle is looking annoyed there for very good reason — funeral programs, even in Mandela's case, are not very interesting. Nor do they need to be explained. And it looks like that Gucci Helle is asking a question like, "So when are you speaking?" or "Who's that guy?" or "What's that guy's name?"  
Gucci Helle runs part of the world. So does Obama. There is nothing on that program that a woman who runs a country wouldn't know the answer to. There is nothing on that program that Barack Obama wouldn't know the answer to either.  It is not an instruction manual to the Malm Ikea bed, it is a program that you read that tells you what time and what people are speaking:
Michelle Obama knows this. Again:
At this point, Gucci or Obama may have said something funny. And both are now laughing or at least smiling politely. Again, Michelle Obama's side eye here could be because she doesn't think jokes are appropriate at Nelson Mandela's memorial service. Or she knows that nothing in a funeral program, or a joke about a funeral program, or a joke about a dignitary named in the program is that funny. Michelle still is not amused:
Despite these side eyes, Barack and Gucci kept whispering. It is perfectly reasonable to be annoyed when your significant other is whispering to someone when he or she is less than three feet away from you. Barack, why are you whispering? Stop whispering: 
But maybe this is a funny joke about David Cameron? Anyways, that's three or four shots of Michelle Obama looking mildly irritated that a lady is speaking or flirting with her husband. If this were done at a real-life party, Michelle Obama would have asked Barack to grab her a drink and then started conversation with Gucci Helle herself and put her body in between the Gucci and Barack — it's a switcheroo or a bait and switch. A flirtation buffer of sorts.
After President Obama left, when Michelle Obama saw the opportunity to pull off the switch. Here's Michelle cordially engaging Gucci, daring Gucci to test her Danish sense of humor on someone her own gender:
"I'm going to come closer. I can't hear your meek Danish voice from over there," Michelle Obama's probably saying, but her eyes say otherwise. Also, Eric Holder, is pretending not to witness the smooth move that's about to occur. And boom — the switch:
Funniest 3-panel comic in history: #DOGHOUSE RT @KarlreMarks: pic.twitter.com/10WmanN4pF

— rob delaney (@robdelaney) December 10, 2013
Of course, it could just be that people like Michelle Obama just make serious faces and sometimes serious faces look like mad faces, and journalists are just having fun in all the wrong places. Or maybe not...
This article is from the archive of our partner The Wire.
We want to hear what you think about this article. Submit a letter to the editor or write to letters@theatlantic.com.