America's Most Admired? More Like America's Most Powerful
Presidents, first ladies, and heads of state almost always win Gallup's annual poll. It's only in the long view that critics, healers, and troublemakers rise to the top.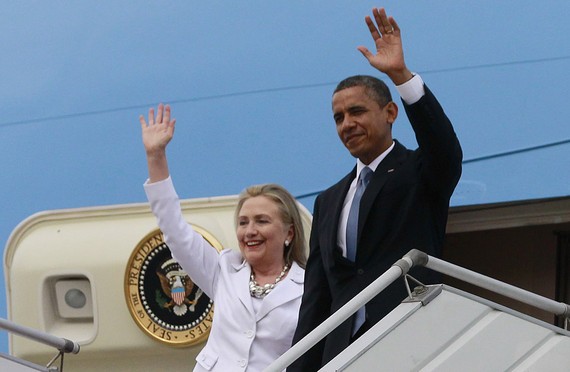 Yesterday, Gallup announced the results of its annual poll to determine which man and woman Americans admire most. The winners: Barack Obama and Hillary Clinton. Surprising? Hardly. Obama's won each of the last six years; Clinton's won each of the last 12. Revealing? Only in this sense: It turns out that when you ask Americans whom they admire most, they tell you who they think has the most power instead.
Start with the women. Gallup's been asking the question since 1948. Until about 1970, the winners are almost all first ladies. Then, as women become leaders of high-profile countries, female politicians start supplanting them: Golda Meir wins three times in the 1970s; Margaret Thatcher six times in the 1980s and early 1990s; Clinton dominates ever since. Back when she was still considered a presidential contender, Sarah Palin did well. When she was secretary of state, so did Condoleezza Rice.
It's hard to discern any ideological judgment in all this. Clinton wins in 1993 and 1994, the two years her husband's approval ratings hit their lowest points. Rice's rankings go up as she gets promoted from national security adviser to secretary of state, even as the Iraq War that she helped promote goes south.
Nor is it true that Gallup merely measures celebrity, since athletes and Hollywood icons are largely absent. Looking at the winners across the decades, the most common denominator is power. Indeed, the only female winners not in close proximity to political power are Mother Theresa in the 1980s and 1990s and Elizabeth Kenny, an Australian nurse who gained fame treating polio, in 1951.
The men tell a similar story. Presidents almost always win. When they're deemed weak or unpopular, the public anoints another strong political figure: Douglas MacArthur supplants Harry Truman in 1946 and 1947; Dwight Eisenhower tops Lyndon Johnson in 1967 and 1968; Henry Kissinger replaces Richard Nixon between 1973 and 1975. Even the religious figures who do best are the ones closest to power. Although he never wins, the Reverend Billy Graham—famous for pastoring to presidents—makes the top-10 list more than other man between 1948 and 2005. The other highest-scoring religious figures are popes. Missing are any of the clergy, like William Sloane Coffin or Daniel Berrigan, who made their names fighting the Vietnam War.
In fact, activists protesting injustice rarely rank highly. That includes Martin Luther King. He doesn't make America's top 10 most admired men in 1963, the year of the March on Washington. King comes fourth in 1964 and sixth in 1965 but then falls out of the top ten again in 1966 and 1967. The same is true for Nelson Mandela. By the mid-1980s, the global anti-apartheid movement had made Mandela a household name. But as far as I can tell, he doesn't crack Gallup's top-10 list until he is elected South Africa's president in 1994. (To be fair, I was only able to check 1983, 1984 , 1986, 1987, and 1992. For 1993, I could only find the top five.) After 1994, Mandela becomes a top-10 regular. But by then, the Cold War is over, the controversy surrounding his communist sympathies has evaporated, and he's become safe.
So should political insurgents and social activists abandon hope of gaining much public esteem? Not exactly. In 1999, when Gallup asked Americans to rank the figures they admired most not for that year, but for the entire 20th century, the answers looked very different. Only one president—John F. Kennedy—made the top five. The other top four spots went to King, Mother Theresa, Albert Einstein, and Helen Keller.
Turns out Americans admire the powerful when they're alive. They start appreciating the critics, healers, and troublemakers once they're dead.