A New GOP Stall Tactic in the War Over Judicial Nominees
With the filibuster removed from their toolkit, Republican lawmakers forced the cancellation of confirmation hearings, even for candidates with home-state GOP support.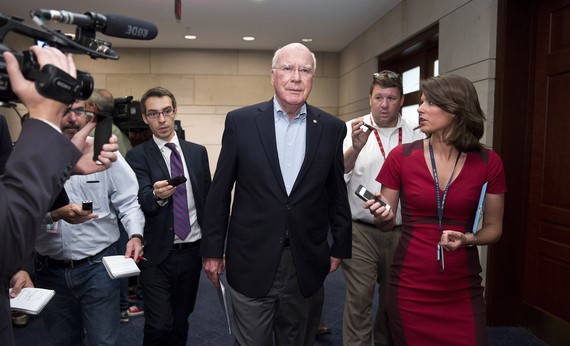 After Senate Democrats last month killed the filibuster for judicial nominees, Senate Republicans had two main options available. They could turn Senate Judiciary Committee confirmation hearings into more substantive affairs. Or they could choose to block those confirmation hearings, using procedural tactics to deny even the most mainstream of judicial nominees the opportunity to defend their records under oath in public.
The first option has two obvious, concrete virtues. It ensures that nominees are fully and publicly vetted through hearings that aren't "vapid and hollow," in the words of Supreme Court Justice Elena Kagan. And it ensures that qualified candidates are quickly allowed to take their places on the nation's federal benches, which have been sorely understaffed for years.
The second option—filibustering confirmation hearings themselves—has no virtue other than political nihilism. It does not help fill the nation's empty benches. It does not help educate the American people about the backgrounds or qualifications of President Obama's judicial nominees. It does not even allow Republican senators to plausibly portray those candidates as "non-mainstream"—either because they demonstrably aren't (see below) or because no one has yet even alleged that they are.
Guess which option they chose? Invoking what's known as the "two-hour rule," a mini-filibuster, Republican senators delayed the scheduled confirmation hearings for five strong judicial nominees, including two from the red state of Kansas and the purple state of Maine whose experience and qualifications had earned them bipartisan support. Here is the list of nominees turned away today:
Daniel D. Crabtree: U.S. District Judge for the District of Kansas
Cynthia Ann Bashant: U.S. District Judge for the Southern District of California
Jon David Levy: U.S States District Judge for the District of Maine
Theodore David Chuang: U.S. District Judge for the District of Maryland
George Jarrod Hazel: U.S. District Judge for the District of Maryland
Senator Jerry Moran, a Kansas Republican, long ago declared his support for the nominee from his home state. "Dan Crabtree is a one of Kansas' most accomplished legal minds and has had a distinguished career in litigation," Moran said three months ago. Today, I suspect he has little to say to Crabtree. What do you tell a good man willing to take a pay cut to serve his country when you don't even have the courtesy to give him a hearing after bringing him to Washington for one that's been scheduled?
The same is true of Jon Levy of Maine. Like Crabtree, he received bipartisan support from his state's congressional delegation. In September, Senators Susan Collins and Angus King, a Republican and an independent who caucuses with Democrats, respectively, issued this statement of support:
During his long and distinguished career as both an attorney and a judge, Jon has had a significant impact on the Maine judicial system by virtue of his intelligence and tireless service to the court. Jon's qualifications and contributions to the Maine legal community make him an ideal candidate for this judgeship. Jon's nomination deserves bipartisan support, and we look forward to introducing him to our colleagues in the Senate as soon as possible
These are the types of nominees Republicans are blocking from confirmation hearings now that the filibuster is dead and such obviously qualified candidates would be assured of confirmation on the floor. Patrick Leahy, the Vermont Democrat who chairs the Senate Judiciary Committee, is furious—to the point of threatening to change committee rules. Here's what he said Wednesday afternoon:
The Republican shutdown of the Judiciary Committee is consistent with the obstruction we have witnessed over the last five years, which has led to record high vacancies in federal courts throughout the country. Home state Senators were consulted with respect to the nominees scheduled to appear before the Committee today who, when confirmed, will fill vacancies in California, Maine and Maryland, and an emergency vacancy in Kansas. 

The families of these nominees invested time and personal expense to travel to Washington for this hearing, losses they will never recover. This escalating obstruction undermines the Senate's constitutional responsibility of advice and consent.
I don't know what the obstructionists' political endgame is. I don't even know if there is an endgame, other than another rules showdown that will benefit the Democratic majority in the short term. If the point is just to temporarily delay the hearing of these nominees it makes even less sense than if it it's part of a broader new tactic to stop nominees.
Leahy is right. It's not that today's stunt is poor governance, though it is. It's not that it is self-defeating, though it is. It's that it is terribly rude to the men and women who were invited by their government to participate in a vital function—the confirmation hearing—only to discover instead that they were props in a partisan game. It will be a long, sad, surreal trip back home to Kansas and Maine and California for them. The rest of us? We're stuck with lawmakers who refuse both to make laws or to timely fill the nation's empty benches.
Update, December 19: Sanity prevails. Wednesday's cancelled hearings have been rescheduled for Thursday after committee Republicans dropped their procedural objections. That's good news for these nominees. But it's still a bad sign that it requires a threat of major rules changes just to get a committee hearing—not even a floor vote!—for qualified nominees with bipartisan support.