A Greek American's Greek Identity Crisis in Athens
It took one week in Greece to question 25 years of Greek pride and identity.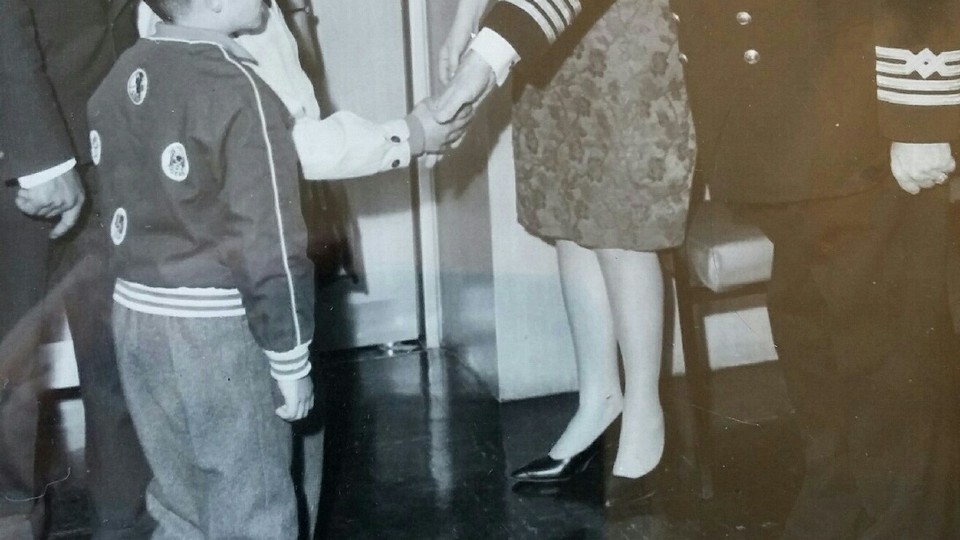 ATHENS, Greece — "Hello, my name is Matt Vasilogambros," I say, introducing myself to a businessman here. I put an emphasis on the "lo" in my five-syllable surname (VA-SI-LO-GAM-BROS), rolling through the end of my name with Mediterranean ease.
It's a strong Greek last name meaning "The King Groom" or "William the Groom," depending on whom you ask. It's the name of my immigrant father who came to the United States in 1966, leaving for the promise of a new life and higher education.
"Are you Greek?" the man asks.
"Yes, my dad was raised in a village near Sparta," I say confidently, thinking he would embrace me as the prodigal son, returning home after a long absence. (I was last here when I was 6.)
I was wrong.
"You don't speak Greek?" he says, concerned.
"I never learned," I say with my tail between my legs. Disappointment pours over this man's face as freely as wine pours during late-evening dinners here.
I'm proud of my heritage. My friends and colleagues know this well. I'm proud of my dad every day for living up to the promises of the American Dream. And I love my Greek family. Thanksgiving dinners were always accompanied by my yia yia's spanakopita, a rich pie made with spinach, feta, and filo. Gatherings with the bigger family tore a page right from the obnoxious but devastatingly accurate blockbuster My Big Fat Greek Wedding. And my name was always the weirdest on class rosters.
The Vasilogambros family in Greece. (Bill Vasilogambros)This pride was overwhelming the first time I saw the Acropolis on Sunday evening, as I emerged from a park at the base of the ancient stronghold. Over 2,500 years of history, beaming from the marble atop the hill. But I soon oscillated between the pride of my heritage and a sense of detachment from it.
In the five days I've been in this beautiful city, three times as many people have expressed concern that I don't speak their native tongue. "How do you not speak it?" asked one waitress.
But what's worse is that my self-identity as a "Greek" might have been misplaced all my life.
The Greek people that I grew up with are relics of the days they left the homeland — at least, according to one man I asked. They are Greek Americans. Not Greeks.
Following a Tuesday night speech from Prime Minister Antonis Samaras here, I turn to my Greek tablemate, John. He tells me he owns a car company here whose business has struggled since the economic crisis. According to my new friend, Greek Americans are living in the '50s and '60s, the decades they left Greece for the U.S. He says most people don't cross themselves at dinner, Greek dancing isn't commonplace at celebrations, and the food is different. My family is a photograph from 1966.
If I had any friend in this fight, it might be a fellow Greek-American. Luckily, I had access to a prominent one: Athens Mayor Giorgos Kaminis.
"I'm a Brooklyn boy," he told me on Wednesday. "I am very proud of my American citizenship."
I ask him if Greeks and Greek-Americans are similar.
"Greeks are people like Odysseus — they can adopt themselves in different circumstances," he says professorially. "So, Greeks, they go to other countries. They have this virtue of being flexible. Greek Americans can say that we are very much alike, but that is not true."
Maybe a store worker on Thursday would give a different answer. "I love them personally, but they're completely different," he told me. I laugh, realizing my hope that I could find similarities was in fact hopeless.
This must be the feeling that many Americans with close immigrants roots get when they visit the motherland. You've been detached from the culture, with few friends and only limited family still there. Their society progresses and you're left behind, with just a slight sense of regret remaining.
On one of the last tours of this media trip organized by the American-Hellenic Chamber of Commerce, showing improvements and signs for hope in the Greek economy, we visit a company that processes meat with olive oil instead of animal fat. As I leave, the press assistant stops me.
"Your name is very weird."
Puzzled, I respond, "But it's Greek."
"Yes, but it's not common," the Greek woman says in hesitant English. "I've never seen it before."
"Oh," I say, now pathetically grasping for what remains of my Greek identity.
She smiles and rubs my arm. "You look Greek, so it's OK."
Well, at least I have that.
"Yassas," I say departing, using what little Greek I know.
"Good bye," she says in English.