Zeke Emanuel Reveals Obamacare's Original Sin
All problems with Heathcare.gov flowed from one bad decision, he said.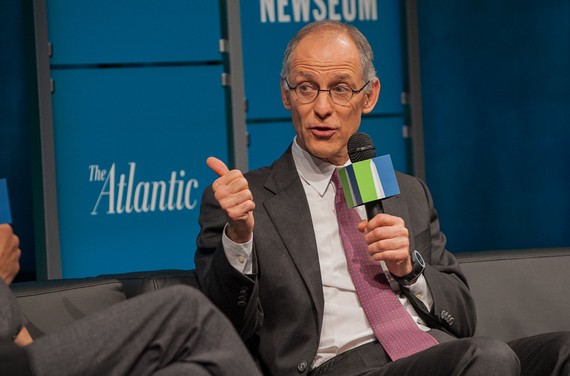 The Atlantic
At a Washington Ideas Forum panel on Wednesday, Washington Post columnist Gene Robinson asked the question on everyone's mind after the release of the first Obamacare enrollment numbers: "What the hell happened?"
The man to whom he addressed his question was health-care management expert Ezekiel J. Emanuel, a Wharton professor who served from 2009 to 2011 as a special advisor for health policy in the White House Office of Management and Budget.
"I'll give you a technical answer: I don't know," said Emanuel.
"The one thing that didn't happen is—and I've said this before," Emanuel continued, "is we needed a CEO who understood, who's a really great manager understood the health side—especially health insurance, because after all, what's the website, what's the exchanges if not health insurance—and understood how to make sure that... the e-commerce aspects were going to run well."
"No one ever got appointed to really do that of sufficient stature," said Emanuel. "You don't hand this to [the Center for Medicare and Medicaid Services]. This isn't in their wheelhouse. This isn't something they can do.
"And I think if you had to pinpoint one thing that was that should have been done differently in hindsight, that's the thing," Emanuel added, "though I don't know it was hindsight, since I think a lot of people concurrently thought that is what ought to happen."
Such views were laid out for the record more than three years ago by David Cutler, a Harvard economist who worked on President Obama's 2008 campaign as his senior health-care advisor but then did not join the administration. Cutler sent a May 2010 memo to Larry Summers describing his concerns.
"The senior staff at CMS, which has been appointed, is not up to the task" of implementing the Affordable Care Act, Cutler warned.
Now the site need a senior person who is going to see it through to the end of the administration, said Emanuel. Former acting OMB chief Jeff Zients was brought in to play that role during in the immediate post-crisis following the launch of Healthcare.gov on October 1, but he's scheduled to begin a different job within the administration in January.