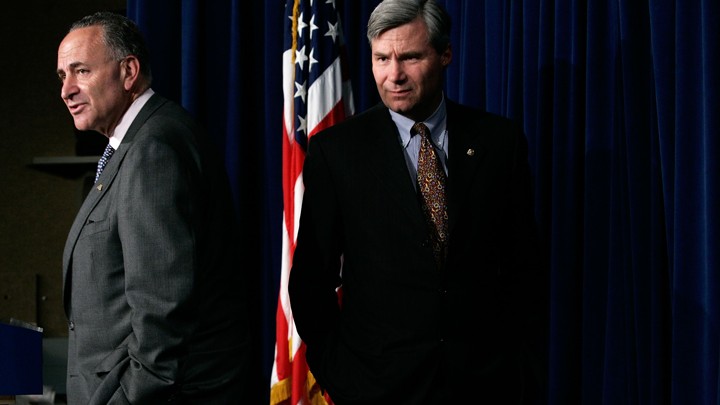 This article is from the archive of our partner

{{ BIZOBJ (video: 4563) }}
When Sheldon Whitehouse makes his 50th climate speech on the Senate floor this week, he'll likely face a deserted chamber. Climate change is about as dead a political platform as you can find these days, something most politicians will go to great lengths to avoid. But the Rhode Island Democrat is intent on making it his issue, even if it seems like he's talking to himself week after week.
Does it feel lonely, being the only one up there talking about it?
"Yeah, absolutely," Whitehouse said. "What's frustrating about feeling lonely is that I think this is an issue that we would win, in that the American public would win, if we simply put our minds to it, put our attention to it and took it up."
At 58, and after just a few years in Washington, the former state attorney general has positioned himself to be the next Al Gore, giving weekly floor speeches on the perils of carbon pollution. At an event on Capitol Hill earlier this year, the former vice president seemed to pass him the proverbial climate torch. "Sheldon Whitehouse has become the leading United States Senate advocate for solving the climate crisis, and you ought to be very proud," Gore told an audience of Rhode Island leaders who'd gathered as part of Whitehouse's annual energy and environment event.
Why anyone would want that mantle, though, is another question.
Gore's rise and fall have been well-documented. In the years since his Oscar-winning documentary An Inconvenient Truth and subsequent Nobel Peace Prize, the activist group Gore created has waned, and with it, its mission to build a global nonpartisan movement around climate change.
Its struggles began in 2009, when the cap and trade bill failed in the Senate. There's no Second Coming in sight. Any move to push a climate-change bill forward is completely at odds with current political reality: Comprehensive legislation has zero chance of passage in the Republican-controlled House and little chance even in the Democrat-controlled Senate.
Whitehouse knows this, and to date has focused his efforts on simply making noise — educated, informed, deliberate noise. Working with Henry Waxman in the House, he formed a bicameral climate task force of a few dozen Democratic lawmakers who give speeches about climate change on the House and Senate floors every day Congress is in session. "Silence is the enemy," Whitehouse said.
He's certainly not the only climate hawk in the Senate. There's Sen. Barbara Boxer, chairman of the Environment and Public Works Committee; John Kerry, who, before he left to head up the State Department, spent the better part of 2009 and 2010 tucked away in a host of Senate offices, proselytizing on climate change; and Edward Markey, the staunch Massachusetts environmentalist who recently moved over from the House following a special election.
So far Whitehouse, a junior senator who's been trying to find an issue on which to distinguish himself, has been the most vocal on the issue. But it's Waxman, whom Whitehouse listed as among his mentors, who's been the legislative muscle behind the movement. Had Waxman not overreached with the climate bill in 2009, he might have masterminded climate's signature reform.
Now, however, he and Whitehouse are locked in a waiting game. "It took us a decade to get AIDS legislation. It took us 15 years to get tobacco regulations," Waxman told National Journal earlier this year. "Sometimes when you play the long game, you get a stronger result. You put everything in place, you do the work, and you wait for the right moment to arrive."
Climate policy has inched forward in a number of the states most affected by Hurricane Sandy, but the broader U.S. public has shown little interest in extending that conversation at the national level. For Rhode Island, known as the Ocean state, the effects of climate change can have serious implications along its almost 400 miles of coastline and in its coastal rivers, industries, and infrastructure. A change of just a few degrees in the temperature of the water, for instance, can mean the death of an entire fishing industry.
"It's really on people's minds," said Janet Coit, director of the state's Department of Environmental Management, who oversees natural-resource issues and environmental protection issues in Rhode Island. "Even since I've had this job, we've had week-long power outages from Sandy to Irene, and when we have these storms it really gets people's attention."
But nationally, that's not the case.
Whitehouse insists it's just a matter of time. "The future is on our side, inevitability is on our side, the economics are on our side, the facts are on our side, science is on our side and the frustration is, why am I alone now when this is a battle if we simply joined it, we'd win?"
There's a sticker on the computer on Whitehouse's desk that quotes Winston Churchill: "Never, never, never give up." Corny, maybe, but apt.
This article is from the archive of our partner National Journal.
We want to hear what you think about this article. Submit a letter to the editor or write to letters@theatlantic.com.