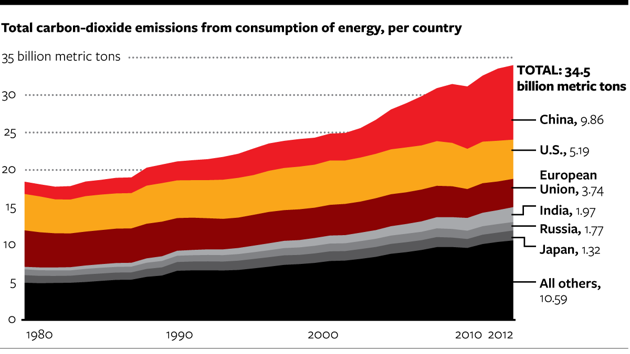 In 2005, China and the U.S. posted nearly identical levels of carbon dioxide emissions. Today it's not even close. While the North American superpower has cut its emissions by a small but measurable amount, the burgeoning Asian giant has become far and away the world's top emissions producer — with no signs of slowing down.
Few believe that this week's U.N. climate talks in Warsaw will produce a significant agreement, but it's worth noting the extent of the global community's role, particularly developing nations, in the planet's yearly increases of carbon emissions.
Not until 2006 did the U.S. cede its place as the world's worst emitter, but since then the reversal in trends has been stark. The U.S. and the European Union have dropped carbon emissions by a combined 9 percent; the rest of the world has seen its emissions spike by more than 33 percent. Put another way, the U.S./E.U. share of global carbon emissions has dropped from nearly 35 percent to less than 26 percent in just seven years.
In total, global emissions have climbed nearly 18 percent since 2006, despite notable cutbacks by many of the planet's industrialized nations. Most troubling is that the continued rise leaves the world well short of where scientists say it needs to be to avoid the worst consequences of climate change.