Why Obama Can't Fix Climate Change
And why this week's talks in Poland should be getting more attention.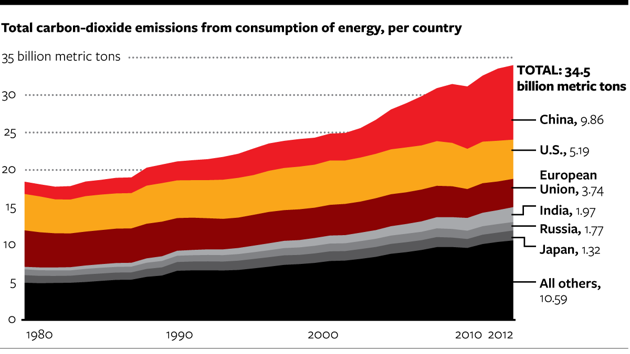 In 2005, China and the U.S. posted nearly identical levels of carbon dioxide emissions. Today it's not even close. While the North American superpower has cut its emissions by a small but measurable amount, the burgeoning Asian giant has become far and away the world's top emissions producer — with no signs of slowing down.
Few believe that this week's U.N. climate talks in Warsaw will produce a significant agreement, but it's worth noting the extent of the global community's role, particularly developing nations, in the planet's yearly increases of carbon emissions.
Not until 2006 did the U.S. cede its place as the world's worst emitter, but since then the reversal in trends has been stark. The U.S. and the European Union have dropped carbon emissions by a combined 9 percent; the rest of the world has seen its emissions spike by more than 33 percent. Put another way, the U.S./E.U. share of global carbon emissions has dropped from nearly 35 percent to less than 26 percent in just seven years.
In total, global emissions have climbed nearly 18 percent since 2006, despite notable cutbacks by many of the planet's industrialized nations. Most troubling is that the continued rise leaves the world well short of where scientists say it needs to be to avoid the worst consequences of climate change.
Most scientists believe we need to keep temperature increases below 2 degrees Celsius this century to avoid the most serious fallout. To achieve that, they've laid out incremental goals for emissions reductions. But by 2020, says a U.N. report released last week — even if every nation that has pledged cutbacks meets its self-imposed standards — carbon emissions will still be 18 percent to 27 percent higher than needed to stay off a pathway to 2 degree rises without significant costs.
The year 2020 could also signal another milestone in the shifting climate paradigm. It's estimated that, by then, developing nations will have accounted for more than half of all carbon emissions since 1850.
Still, that doesn't get the United States off the hook. America is still the leading carbon emitter in all-time cumulation, and it's responsible for many of the technologies that have led to continued emissions spikes elsewhere. And, of course, it will still bear the consequences if a rise in temperature isn't halted.
Worse, there's little the U.S. can do to reverse that trend. Even if America had discovered a way to cut its emissions to zero between 2005 and 2012, it wouldn't have been enough to prevent global emissions from climbing. And it's unlikely — even with the most ambitious agenda, regulations, and technological advances — that we will make anything but incremental progress for the foreseeable future. Meanwhile, emissions in places like China are climbing by leaps and bounds, and there's not much we can do to stop it.
That doesn't mean we're not trying. Last month, the Obama administration announced a near-complete end to financing of overseas coal plants, joining World Bank policies set this summer that would cut investments on such projects. It may be a matter of time before those new standards show results, as other donors and the private sector are likely to fill the void. Still, administration officials expressed optimism that public backers would follow the lead of federal policymakers.
So while President Obama's climate directives at home have sparked a firestorm of controversy, the U.S.'s ability to dent the global onrush of climate change is marginal at best. Meanwhile, few Americans will be paying attention as the global community assembles this week in Poland, in what could be one of our few chances to make a meaningful difference on climate.