Why Assange Evades U.S. Charges While Manning Sits in Jail
Prosecuting Julian Assange would mean implicating the journalists who worked with him.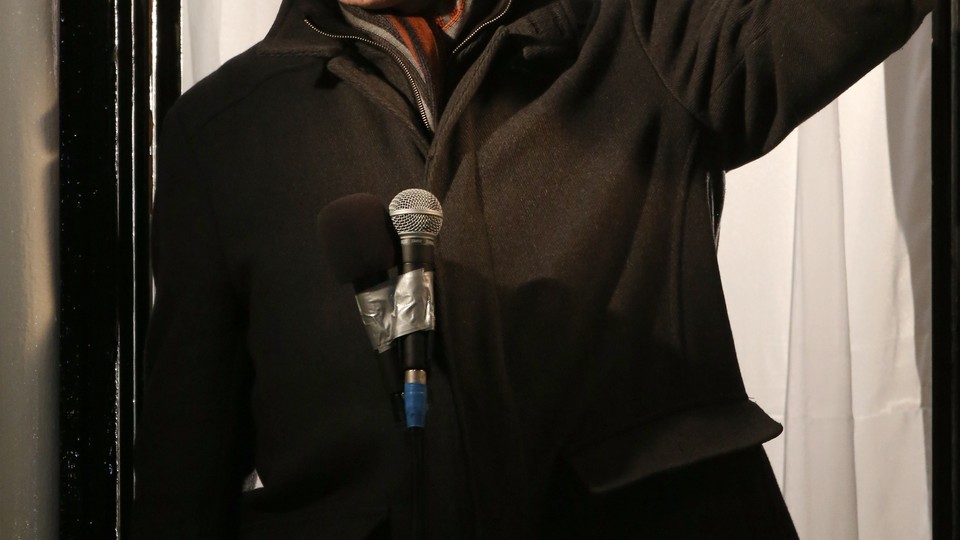 From a U.S. legal standpoint, Julian Assange made a smart move in 2010 — he decided to share his bounty of 500,000 leaked cables with traditional news outlets like The Guardian and The New York Times. Today, The Washington Post reports that Assange is unlikely to face U.S. charges for his role in facilitating the greatest intelligence leak in American history. Why? Because doing so would implicate the journalists who worked with Assange. The Post reports:
Justice officials said they looked hard at Assange but realized that they have what they described as a "New York Times problem." If the Justice Department indicted Assange, it would also have to prosecute The New York Times and other news organizations and writers who published classified material, including The Washington Post and Britain's Guardian newspaper, according to the officials, who spoke on the condition of anonymity to discuss internal deliberations.
The Obama administration has not been soft on leakers, and it has been criticized for being too aggressive with the press. But the government makes a careful distinction here: Chelsea Manning and Edward Snowden are clear criminals. They leaked classified documents they swore not to release. They did so because of a sense of activism. Assange facililated, in Manning's case, the leaks. But yet Assange will not be charged with aiding the crime because he was the messenger, despite the fact that his intent to leak the documents is also based in the same vein of protest or activism as the others.
Bill Keller, the former Times executive editor, wrote that Assange was an "elusive, manipulative, and volatile" partner to work with. His 2011 recount of the episode makes Assange out to be more of an activist seeking a megaphone than a journalist who wants to uncover the truth. For instance,  "He was angry that we declined to link our online coverage of the War Logs to the WikiLeaks website," Keller wrote, "a decision we made because we feared — rightly, as it turned out — that its trove would contain the names of low-level informants and make them Taliban targets."
At surface level, one can argue that Assange is no different from Manning and Snowden. But as The Post reports, "Justice officials said [Assange] would almost certainly not be prosecuted for receiving classified material from Manning."
Which is to say, if you don't want to be indicted for leaking information, don't steal the information yourself.