What the Low Obamacare Enrollment Numbers Mean
The bumpy performance of the new insurance exchange shows what's working and what's not.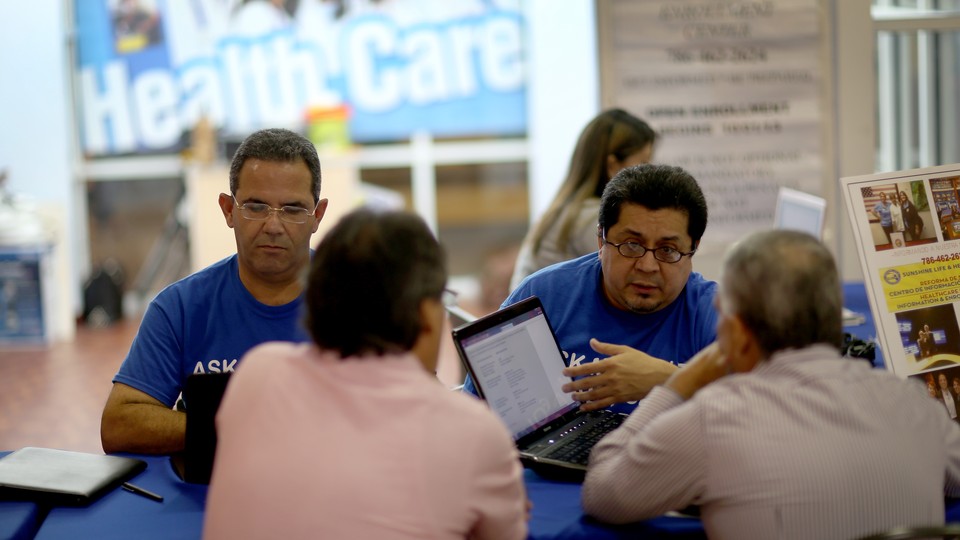 Roughly 100,000 people enrolled in health insurance through Obamacare last month — far short of the administration's goal. The much-anticipated statistic was not surprising, but it does help shape a clearer assessment of President Obama's signature program.
The enrollment numbers the Health and Human Services Department released Wednesday were, as expected, dismal. Roughly 106,000 people have picked an insurance plan (they haven't necessarily paid their first premium yet) through one of the health care law's new insurance exchanges. Another 396,000 people have been approved for Medicaid benefits, according to HHS.
That's far short of where enrollment ought to be at the end of the first month.
Republicans were happy to highlight the administration's enrollment problems, while the White House shrugged and said we all knew this was coming. The first month's numbers can tell us only so much about the law's future, but the figures do provide a couple of clear indications about what's working — and what isn't:
HHS is behind schedule, but there's time to catch up.
The numbers HHS released Wednesday are kind of useless, largely because it's so early in the process. The first month's enrollment numbers were never going to determine whether the Affordable Care Act lives or dies. Before the release, health care experts agreed that the October enrollment figures would help answer one question: Just how far behind are we? The answer: Pretty far.
HHS made two arguments to downplay the October numbers: Enrollment was always going to be low in the first month; and, obviously, it was going to be low with such a badly broken website. Both are true, as far as they go.
HHS set a goal, before the website launched, of enrolling 500,000 people in the first month. It set that goal for a reason — that's what it would require to be on track to hit 7 million sign-ups over the next six months. So, expectation-setting from the past month aside, the administration is still only 20 percent of the way to where officials said it would need to be.
There's still time to catch up. Most experts agree that if the website is fixed by the end of the month, the law can still hit its overall target of enrolling 7 million people, or at least get close enough.
HealthCare.gov is terrible.
The federal government is running the insurance exchanges in 36 states. Yet it pulled in a paltry 25 percent of the first month's enrollment totals.
Only 14 states and the District of Columbia are running their own marketplaces, but they're blowing past the federal government so far — more people have enrolled in California alone than in all 36 states that rely on HealthCare.gov. And HealthCare.gov covers some very big, very important states. Texas and Florida, the primary targets in the administration's outreach campaign, enrolled only about 6,500 people between them.
It's certainly no surprise that the website is terrible. It's been terrible since its Oct. 1 launch, and it is noticeably less terrible now than it was then. But it still has a long way to go, and it has to actually work for the enrollment process to make up the ground it lost in October. HHS officials repeated their assurances today that the site would be "working smoothly for the vast majority of users" by the end of the month. If it's not, this bad news will get much worse.
People are still shopping.
Not many people have picked a plan yet, but a lot of people could still be shopping. More than 1 million people have applied for private coverage through the law's exchanges and been deemed eligible — and 975,000 of them haven't selected a plan.
There are many possible explanations. That figure includes people who (successfully) tested out the site without really intending to buy coverage. And some of those eligible individuals might not buy a plan at all, if the costs are too high. But HHS is confident that a decent number of those 975,000 people are simply still shopping, and will pick a plan eventually. Roughly one-third of the eligible population is also eligible for tax credits to help cover the cost of their premiums.
{{ BIZOBJ (video: 4569) }}