What Obama Needs to Do to Turn His Presidency Around
Yes, it sounds prosaic, but he needs to be patient for the political climate to improve and continue to talk about the economy, former aides say.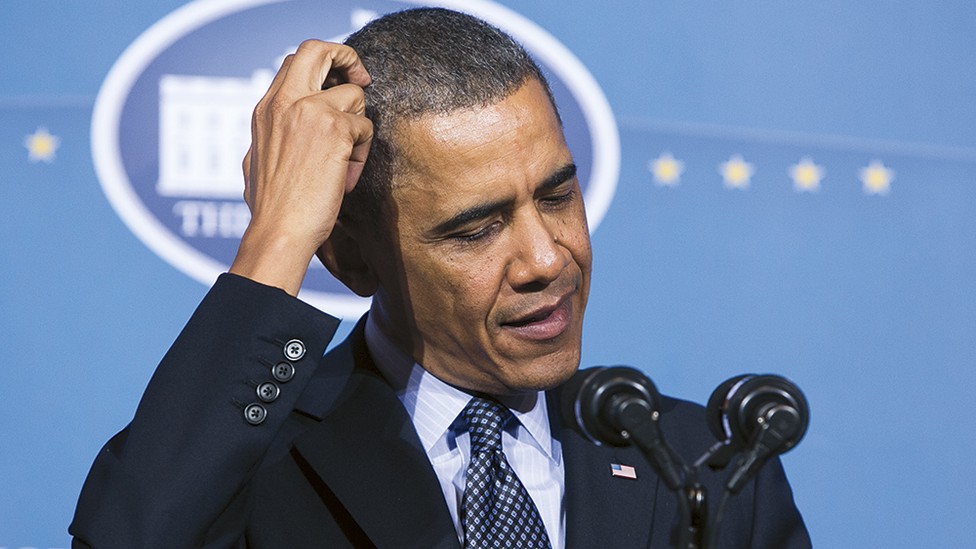 It may be that only those who have weathered crises inside the White House can appreciate the challenge to President Obama's team as it tries to recover from the self-inflicted wound of the botched unveiling of the Affordable Care Act. They are the ones who know how difficult it is to think beyond just getting through the current week; they are the ones who know how many of the president's plans have been shoved aside by the controversy dominating the news coverage.
That Obama is going through the worst days of his presidency is undeniable. He is at his lowest point in the polls. His competence and trustworthiness are in question like never before. His allies in Congress are wavering. But the message from history — and from veterans of the Obama White House — is also undeniable: Fix the problem, but don't let it push everything else off the agenda. That is a theme that runs through conversations with Obama veterans as well as the oral histories of presidents and presidential aides archived at the Miller Center of the University of Virginia.
Jimmy Carter was bitter about the impact of the Iranian hostage crisis on his administration and how it overshadowed everything else he was trying to accomplish. "No matter what else happened, it was always there. It was painful," he said. "It was just an overlaying of feeling  distraught, or ill at ease, or uncomfortable."
Gerald M. Rafshoon, Carter's White House communications director, recalled, "After the hostages were taken, it really became impossible to think about your priorities or themes. After Nov. 4, 1979, we never had a meeting with the president when he didn't have that on his mind." Stuart Eizenstat, Carter's chief domestic policy adviser, complained of "a tremendously strained atmosphere" as the crisis blocked action on other agenda items. "There was an enormous diversion of presidential time and attention from a whole variety of issues.... It was a very difficult, tense, and unhappy time." The White House chief of staff, Hamilton Jordan, lamented that he was "totally preoccupied with the hostage thing" to the detriment of other priorities.
When Ronald Reagan succeeded Carter in the White House, some of his aides saw the same thing developing when controversies arose over Iran-Contra or Chief of Staff Donald Regan. With the Carter experience in mind, aide Michael Deaver showed some "tough love" toward his boss, demanding that Reagan "fire somebody" or move on. "If we get too deeply into this," he told the president, "we're going to have a serious problem, once again diverting us from our real goals." When Reagan balked, Deaver insisted, telling him, "You're going to get stuck in this forever."
Indeed, that is the danger facing today's White House. Obama can take Deaver's advice, hold aides accountable, fix the website, and move on with his agenda; otherwise, he risks getting "stuck in this forever." At stake are both his second term and his reputation.
Appreciating that, David Axelrod, the former Obama aide who has long been one of his closest confidants, believes the White House has absorbed the lessons of past stumbles. But he thinks bouncing back will require more time and discipline. "They've sort of hit the nadir, and the website is going to get better. I think you see signs of that already," he told National Journal. But the challenge is great. "If you look back, right from the beginning of the year, there has been a series of events — shootings, natural disasters, international events, the shutdown, and the self-inflicted wounds of the website — all of those have conspired to take him off the main message."
That main message is the economy. Republicans may mock what they deride as repeated "pivots" to the economy. But Obama has always benefited from reminding Americans that jobs are his highest priority and by championing programs to benefit the middle class. "That," says Axelrod, "is home base. But it is very hard to deliver that message in a sustained way when events keep taking you off. So you have to have the discipline to stick with your message." Additionally, he acknowledges, you have to understand that you can't control news coverage. "As intent as the media is now on this health care issue, it is hard to get to other issues. That is not to say you shouldn't try."
Democrats believe that Republicans are overplaying their hand by hammering on a website the administration expects to fix and by continuing to come across as obstructionists. "Even if the president has taken a beating in the short term," Axelrod says, "the Republican Party's ratings have not gained."
To play on that, the White House in coming days will highlight more legislation and more appointments that Republicans in Congress are blocking. "Immigration, jobs, and other domestic priorities will make their way forward as Obamacare fades," predicts Bill Burton, the former White House aide. Ben LaBolt, a former Obama spokesman, adds, "Seeing the president put forward and drive the agenda each day is the most important thing in regaining footing."
But, both inside the White House and in the orbit of former Obama aides, there is a realization that it will take time and a little luck to turn things around. "My sense, looking at the White House and talking to some people over there, is that they are eager to get on to that larger agenda," Axelrod says. "But how you blast your way on to that is a challenge." The reality, hard as it is for Democrats to swallow, is that it may not happen until they get past upcoming health care deadlines and until the president delivers his State of the Union address — two long months from now.