What Do Green Groups Want More: Saving the Planet or Saving the Senate?
Environmental political activists need to decide whether Democratic control or their principles matters more in 2014.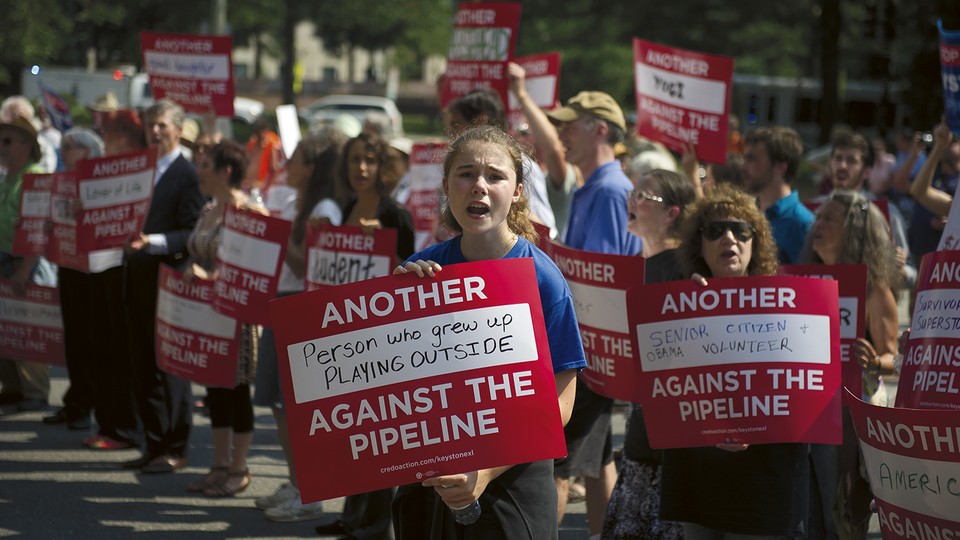 These are heady times to be an environmentalist in politics. The most influential green lobbying group, the League of Conservation Voters, poured a whopping $14 million into congressional campaigns in 2012 and defeated more than 90 percent of its top targets. Green money emerged as a pivotal force in Terry McAuliffe's narrow gubernatorial victory in Virginia after billionaire environmental activist Tom Steyer spent $8 million on the Democrat's behalf. Together, Steyer and LCV dumped millions into the Massachusetts special Senate election, which then-Democratic Rep. Edward Markey won comfortably. "The Politics of Energy & Climate Change Have Changed," headlined a news release from the conservation league this month. "Coal is no longer a winning wedge issue, and denying the problem of climate change "¦ is a much greater political liability."
Indeed, all this success has emboldened the movement. But as the 2014 midterm-election year approaches, green political operatives will face a test that pits their principles against their long-standing reputation for pragmatism. Control of the Senate is in play, and the Democrats' margin is held by senators representing conservative, energy-producing states. Navigating several targeted Democrats' nuanced records on these issues is like wading through an oil slick.
Mary Landrieu of Louisiana has one of the lowest lifetime scores from LCV among Senate Democrats. In Kentucky, Alison Lundergan Grimes has positioned herself as a stalwart supporter of coal and a regular critic of the Environmental Protection Agency, even as she's running against one of the green movement's biggest enemies: Senate Minority Leader Mitch McConnell. In 2011, Arkansas's Mark Pryor was one of only three Senate Democrats to support an amendment offered by McConnell that weakened EPA's ability to regulate greenhouse gases.
Those realities have forced environmentalists to debate whether they can get behind Democratic senators who have taken tough votes on many of their priorities but will assuredly bolt on several other high-profile issues. Mark Begich of Alaska and Kay Hagan of North Carolina, for example, both voted to uphold EPA's authority to maintain air-pollution standards and backed increased funding for renewable energy. But they're also on board with the long-delayed Keystone XL pipeline, which environmentalists vigorously oppose.
Meanwhile, red-state Senate Democrats could use financial support from outside groups, but not at the expense of undermining their carefully crafted message that they're pro-energy — and not beholden to the national Democratic agenda.
"We haven't made decisions for 2014," said LCV spokesman Jeff Gohringer. "What we've seen this year is that the momentum from last cycle is real, but our issues are playing well across the country, including some red states."¦ We still see a path to defend the firewall in the Senate."
In a sign of the hard choices facing the environmental movement in 2014, the group didn't go after any Senate Republicans on the ballot next year in its first ad blitz of the year. Instead, it spent more than $2 million in August attacking Wisconsin's Ron Johnson, who's not up for reelection until 2016, along with several vulnerable House Republicans in swing districts. The only Senate candidate it has endorsed is Brian Schatz in Hawaii, who faces no serious GOP opposition.
By far the biggest decision for the LCV is whether to get involved in the Kentucky Senate race against one of its archenemies, McConnell. The problem: The Democratic nominee, Lundergan Grimes, is unlikely to be publicly supportive of any element of the green agenda — a political necessity in an energy-rich, coal-producing state. Getting behind her campaign would violate one of the group's maxims during the 2012 elections: Only get involved for true environmental champions, not just to replace a pro-drilling Republican with a squishier Democrat.
Several Democratic strategists posited that LCV may end up making McConnell one of its top targets, without openly advocating for Grimes. The group followed a similar strategy in 2008, when it opposed Ted Stevens in Alaska without backing Begich, his Democratic opponent. Begich won, and has become a surprising ally on numerous environmental issues.
"For a Democratic candidate [in Kentucky], it is really a problem. They have to give different speeches depending on their audiences. You have to say something different in San Francisco than in Lexington," said Billy Piper, former chief of staff to McConnell. "In Kentucky, people see things differently and think it's possible to be pro-environment and pro-coal."
League officials point to their own polling in 11 battleground Senate races showing widespread support for new EPA regulations regulating carbon pollution, with majorities worried about the impact of climate change. "Attacking the EPA is a losing message," Gohringer said.
But when it comes to energy issues, the precise framing of questions can elicit dramatically different results. Most voters instinctively want to fight pollution, but not if it comes at the expense of energy-sector job growth or if it means higher energy bills. Many defeated Rust Belt Democrats still blame the cap-and-trade vote in 2009 as playing an unheralded role in the party's historic defeat.
Indeed, unlike many ideological groups on the right, the green lobby has been pragmatic, occasionally using non-environmental themes in ads to hit offending Republican members. One ad last year against George Allen, Virginia's GOP Senate candidate, perfunctorily referenced his support from "big oil" but focused more on blasting his economic proposals.
With President Obama's chaotic health care rollout panicking many vulnerable Senate Democrats, control of the Senate is looking like it will be within the GOP's grasp in 2014. But despite their bullishness about the public's receptivity to their issues, environmental groups could end up sidelined from next year's biggest political battleground. "They're going to assess where they get value for their money," said Democratic pollster John Anzalone, who works with LCV. "It's a candidate-by-candidate, state-by-state analysis."