What Conservatives Don't Get About Obamacare's Holiday Push
It's not about Millennials haranguing their parents. It's about moms and dads making sure the kids are all right.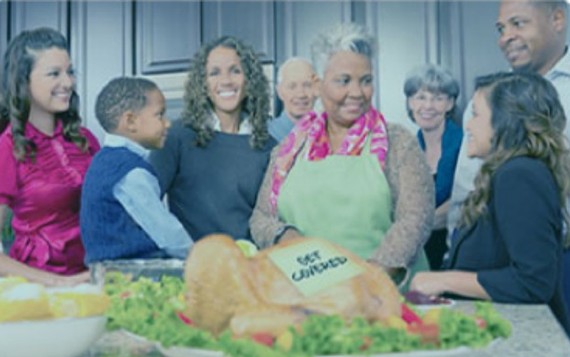 It wasn't long ago that White Houses were content to write some talking points and send them to like-minded pundits for deployment on cable TV shows. Now that's not enough. The Obama administration's closest allies are writing talking points for you to use at Thanksgiving dinner.
"President Obama's online bot army wants you to go to your family Thanksgiving gathering armed with its ridiculous talking points," P.J. Tatler wrote over at PJ Media Monday. "What are the odds some OfA follower starts ripping into Dad the small business owner on Thanksgiving, only to have Dad remind him that he's still on Dad's insurance plan for another year or two? So, pipe down and eat some bird."
Tatler didn't like Organizing for America's video, which he called "horrible," either:
He's not the only conservative coming to this kind of conclusion about those trouble-making Obamanaut kids and their plans to disrupt the holiday table.
Tweeted technologist Jon Henke, cofounder of TheNextRight.com:
Parenting #ProTip: If the kids talk Obamacare on Thanksgiving, tell them there were oven glitches & their turkey is cancelled

— Jon Henke (@JonHenke) November 26, 2013
But the whole point of OFA's Healthcare for the Holidays campaign is not to get kids to pester their parents. It's to get parents to talk to their adult children, nieces, nephews, and other so-called "young invincibles" who might need a bit of a nudge to buy insurance through the new Affordable Care Act exchanges.
"That particular point is backwards," said Jon Carson, executive director of OFA. "Most of this is actually aimed at people who have healthcare … and encouraging them to talk to people about what their options are for affordable care."
"Something like healthcare, someone isn't going to sign up for it the very first time," he said. OFA's campaign is designed to increase the number of times the uninsured are exposed to messages from those closest to them that they should consider getting insurance. Whether that's from a Facebook friend, someone at the coffee shop, or mom, it's going to take a fair bit of communicating to get people in the right frame of mind to sit down and sign up, Carson said. "We do think that moms are going to be a very important force in all this and that is exactly who we've been targeting."
All of this is very obvious from the video, above, which is about parents having "the talk" with their uninsured son—not the other way around.
Enroll America, a group that's come online specifically to help get people signed up through the Affordable Care Act exchanges, has a similar effort, called the Healthy Homecomings campaign.
And even though it's 2013, when it comes to anything involving the word home, that means women.
According to "marketing research and what we hear, especially for young people, the most trusted messenger is mothers," said Justin Nisly, a spokesman for Enroll America. "A big emphasis of it is making sure that women have enough information and have what they need to share that with their families ... our campaign is really focused on getting women the information that they need."
The reality is that women are still the primary caregivers when someone in the family gets sick, and they make about 80 percent of family healthcare decisions, according to the Department of Labor.
"It's the cutest phenomenon ever," said Lynn Quincy, a senior health policy analyst at Consumers Union, told The New York Times. "These people could have husbands, they could have fathers, they may have a nurse who lives next door, but they're all going to their moms" when they need healthcare advice.