Was Obama's Fix for Canceled Policies Really a Fix for Democratic Panic?
The president's plan didn't just provide relief for some policyholders—it took some pressure off lawmakers in his party, too.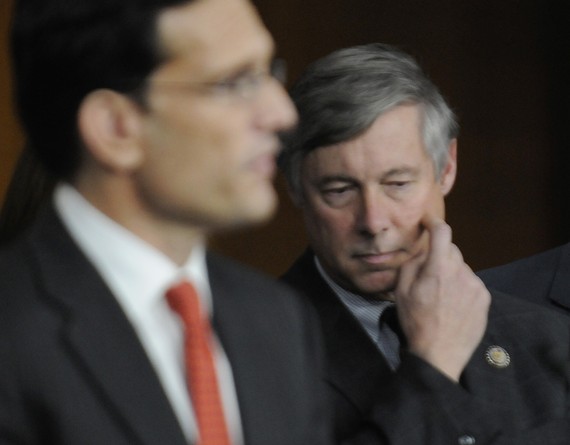 President Obama, in his lengthy remarks Thursday, did not definitively fix the problem of people losing existing individual-market insurance plans that have been deemed unfit for sale under the Affordable Care Act.
What he did is begin the process of creating a fix, to the extent that one is possible without even further roiling the insurance markets. As importantly, his announcement of an administrative fix acted as an important pressure valve in advance of a vote on Rep. Fred Upton's House bill Friday, which Republican leaders described as an important incremental step to Obamacare repeal. Obama's fix took some pressure off congressional Democrats to legislate in a panic in response to the political fallout over the ACA rollout.
On Friday, 39 House Democrats joined Republicans to pass Upton's bill, "The Keep Your Health Plan Act of 2013," which would permit insurers to continue to sell 2013's sub-ACA plans in 2014 and allow customers already on such plans to stay on them if insurers continue to offer them. That number of Democratic defections is high in a caucus famed for its unity, but it was considerably smaller than many feared it might be.
Obama has threatened to veto the Upton bill should it reach his desk, and the Democratic Senate is sure to oppose it. House Democrats have instead put forward a legislative version of Obama's fix, which will allow individuals on sub-ACA plans to stay on them if their insurance provider agrees to keep offering them and their state insurance regulator signs on to the change. Republicans rejected that based on its inclusion of what they said were unrelated consumer protections.
Some insurance regulators will not agree to the Obama fix, fearing it will confuse people even more and destabilize state markets, while others will be open to it. But politically, it kicks the decision over whether or not a person gets to keep his or her plan over to state-based insurance regulators and insurers. D.C.-based insurance associations have loudly objected to efforts to keep plans they want to kill alive on life support for another year or longer.
"It is unclear how, as a practical matter, the changes proposed today by the President can be put into effect," Jim Donelon, president of the National Association of Insurance Commissioners said in a statement Thursday. "In many states, cancellation notices have already gone out to policyholders and rates and plans have already been approved for 2014."
America's Health Insurance Plans President Karen Ignagni warned: "Changing the rules after health plans have already met the requirements of the law could destabilize the market and result in higher premiums for consumers.
But by Friday afternoon, the fix was already starting to have an impact, as Florida Blue offered 300,000 plan-holders facing the cancellation of their policies over the year the option of staying in the same plan in 2014.