Unemployment Insurance for 1.3 Million Will End at Christmas Unless Congress Acts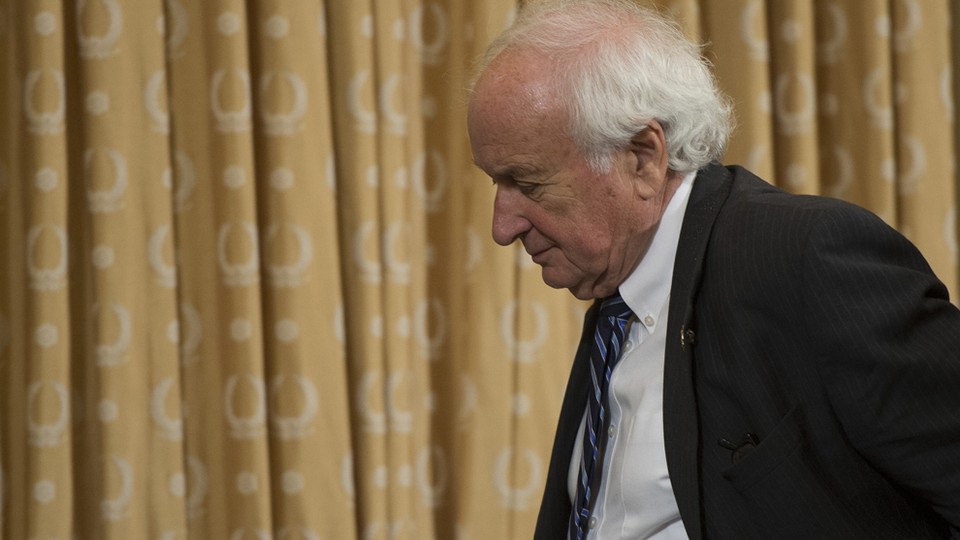 Republicans in budget negotiations have said repeatedly that the Dec. 13 deadline to get a deal could pass without consequence. But Democrats warn that a real budgetary cliff does loom: Emergency unemployment insurance will expire by year's end.
The extension has been a part of ongoing budget talks, but as concerns mount about the budget conference committee's ability to reach an agreement, several Democrats are taking the matter into their own hands by raising the issue via stand-alone bills.
Unemployment insurance is just one of dozens of pieces of legislation set to expire by the end of the year if Congress does not act. Others include the Trade Adjustment Assistance program, the farm bill — which is also going through conference — and several other provisions related to Medicare, charitable deductions, energy, community assistance, and disaster relief.
On Wednesday, Rep. Sander Levin, D-Mich., and Sen. Jack Reed, D-R.I., introduced companion bills to extend unemployment benefits through 2014. Unlike the last time benefits were slated to expire, there is no phaseout period when the program expires at the end of the year, so 1.3 million current recipients stand to be cut off all at once, Democrats say.
The budget conference committee is supposed to reach an agreement by Dec. 13, the same day the House packs its bags for the holidays. Without a deal on the budget, which could include an amount for unemployment insurance in 2014, the program will expire on Dec. 28 unless Congress deals with it in a separate bill.
With expectations for the budget conference low, Democrats are pulling the extension out as a separate issue. Levin and several other Democrats, including Rep. Chris Van Hollen, D-Md., and Sen. Debbie Stabenow, D-Mich. — both members of the conference committee — held a press conference Wednesday to highlight the implications of not extending benefits.
The Democratic efforts come a week after the White House announced it would push for an extension through the end of 2014. The federal benefits kick in after individuals max out on state aid, which runs for 26 weeks in many places.
Van Hollen said the extension has been brought up in both public and private meetings with conference committee members and that he would prefer to deal with unemployment insurance in the context of those discussions. But he emphasized there is little time left for a deal.
"Look, the main thing is that we get it done.... There's a distinction between a good discussion and a good negotiation and a willingness to compromise. So, I've seen evidence of one, but not the other," Van Hollen said of the ongoing budget negotiations.
There are other vehicles, aside from the budget conference, to extend unemployment insurance, said Stabenow, who pointed to a pending change to the Medicare formula for doctor reimbursement, which is also slated to expire at the end of the year.
"There are two or three options, and I think we would all agree while we'd like to see this get done as part of a budget agreement, we don't care how it's done for the families involved and the economy, it just needs to get done," Stabenow said.
Senate Democratic leaders also want the insurance benefits extended, and it could happen through floor action before the end of the year, according to a leadership aide.
But the prospects for a stand-alone bill may not be strong in the Republican-controlled House. The last two times Congress extended unemployment insurance it was tied to larger issues — the fiscal-cliff deal in January and the payroll-tax-cut extension last year. On its own, the measure faces opposition among Republicans who say the benefits keep individuals from looking for work. House Ways and Means Committee Chairman Dave Camp, R-Mich., said last month that he hopes that the program will be allowed to expire.
"After a record five and a half years of this "˜temporary' program and $265 billion spent, people need more than reruns of failed policy — they need policies that will actually lead to a paycheck," Ways and Means spokeswoman Michelle Dimarob said Wednesday.
But Democrats are hopeful that this time around, public pressure on Republicans to extend the program will be high, with so many Americans slated to lose their checks on Dec. 28, according to one House Democratic aide. "We're obviously optimistic that an extension can pass," the aide said, though he acknowledged that the easier path to passage is through a larger budget deal.
Levin said he didn't want to diminish what could be produced out of the conference committee or predict how exactly unemployment insurance could be extended, but that it has to happen "one way or another."
"Anything is possible. It's hard to predict courses of action here, that's why I was emphatic that it'd be nice to have it be part of the budget discussions," Levin told National Journal Daily. "But if any of you are sure what we're going to be doing the next six, seven weeks, just call me up and I won't tell anybody the source."
---
Billy House contributed contributed to this article