TSA Spent $878 Million on Screening Program That Probably Doesn't Work
There's no evidence to suggest officers can reliably spot a threat by scanning the behavior of people in a crowd.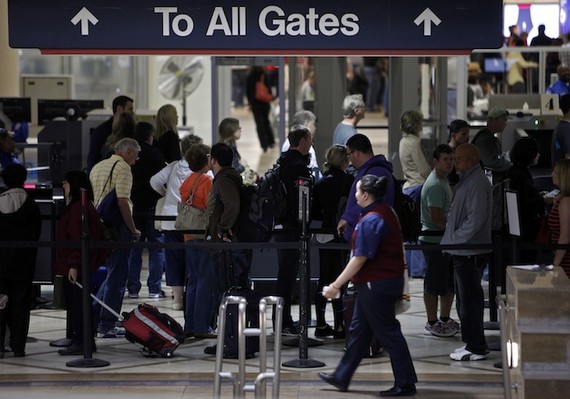 The Transportation Security Administration has spent almost $900 million dollars since 2007 on a program to scan crowds for signs that someone is a terrorist. The Government Accountability Office reviewed the program. Their finding: Congress ought to shut it down, because there's no evidence that the tactic works.
The Washington Post reports:
Rep. Bennie Thompson (Miss.), the top-ranking Democrat on the Committee on Homeland Security, said the GAO report confirmed that the program "is fundamentally flawed, cannot be proven effective, and should no longer be funded with taxpayer dollars." The TSA defended the program Wednesday. 

"Behavior detection is vital to TSA's layered approach to deter, detect, and disrupt individuals who pose a threat to aviation," the TSA said in statement responding to the report. "Looking for suspicious behavior is a common sense approach used by law enforcement and security personnel across the country and the world." 

The Screening of Passengers by Observation Techniques (SPOT) program employs 2,800 TSA personnel. 
A bit more context:
Behavior-detection officers work in pairs at airport checkpoints, using an evaluation system of behaviors that suggest that someone should be scrutinized. The TSA workers may ask a police officer to talk with the passenger. If that doesn't resolve the concerns, the person may not be permitted to pass through to the boarding area. During a one-year period ending in September 2012, TSA records show that 37,370 passengers were targeted under the SPOT program, 2,214 were referred to a police officer and 199 were arrested. 
Some civil-libertarian critics of the program believe that it also leads to racial profiling. It is conceivable to me that highly trained, highly intelligent security officers could spot a threat with behavioral cues and without racial profiling. But the notion that such a rare and demanding expertise could be scaled up to an organization as large as the TSA, with employees as poorly compensated, beggars belief.